Join us at the ESSEC Asia-Pacific Experience Day in Manila. Hear from our notable alumni as they share their success stories!
About this event
Immerse yourself in our community, and meet our ESSEC alumni in Manila as they share their success stories, and how ESSEC has helped them achieve their personal and professional goals.
Discover ESSEC's top-ranked programs and learn how it drives real-world career growth and greater professional success.
Date: Thursday, 6 May 2021
Time:
7:00 pm to 9:00 pm (GMT +0800)
Venue: ZOOM Online
Agenda:
7:00 pm to 8:00 pm
ESSEC Alumni Panel Discussion
ESSEC Alumni panel discussion will be moderated by Larry Medina, Head of Career Services, Alumni & Corporate Relations.
Discover the value of a postgraduate degree from the perspective of skills and career agility quotient - both critical pivots in a highly competitive and tech-driven marketplace amid a crisis landscape. Hear from our alumni who share their experiences on how ESSEC has helped them prepare and respond to crises and uncertainty.
Alumni Speakers:
- Antoine Weinstein, General Manager at Accor
- Yamini Adya Goyal, Head of HR at Moet Henessy Philippines and Indonesia chez LVMH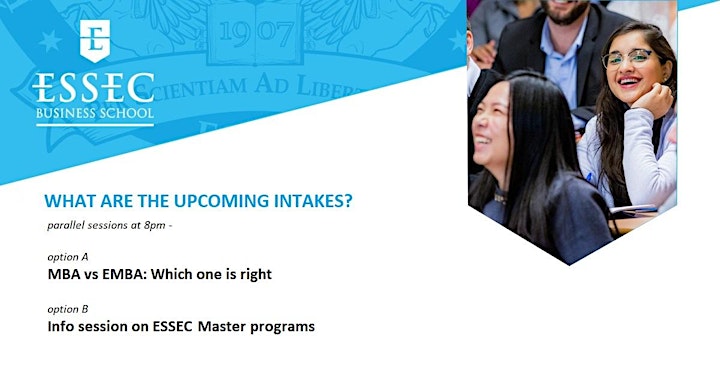 OPTION A - 8:00 pm to 9:00 pm
MBA vs EMBA: Which one is right for you?
The session will be led by Johnny Liang, Assistant Director, Business Development (GMBA) and Marc Nerva, Senior Manager, Business Development (EMBA)
Planning to embark on your MBA journey? Be it a Global MBA or an Executive MBA, these programs address distinct needs. Gain insights into the key differences and learn more about the ESSEC Global MBA and ESSEC & Mannheim EMBA program in this session.
OPTION B - 8:00 pm to 9:00 pm
Info session on ESSEC Master programs
Are you looking for a master's program that will help you further specialize and prepare yourself for a successful career?
1. Get all your program information in one go from our program advisor - Sonya Lau
2. Gain useful advice in building your career beyond Philippines.
3. Learn more about the entry requirements for your program of interest and your options after graduation