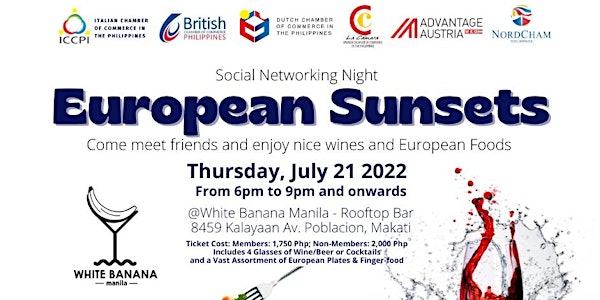 European Sunsets - July 2022
Social Networking Night
About this event
Join us for this first edition of European Sunsets - a social networking night.
This event takes place on July 21, 6pm to 9pm, at White Banana Manila at the Rooftop of the Connector Hostel, 8459 Kalayaan Avenue, Corner Don Pedro, St, Makati.
As we start the (European) summer holidays, we invite you to join the European community in the Philippines for a night in which you may enjoy a vast assortment of European delicacies and finger-food. Ticket entrance includes four complimentary drinks from selected options, including beer, wine and selected cocktails.
Chamber-member representatives are advised to put in their promo-code after selecting their tickets, before pressing "check out". Contact DCCP in case of questions.
This event is brought to you by the Italian Chamber of Commerce of the Philippines, in partnership with the British, Dutch, Nordic and Spanish Chambers as well as Advantage Austria.