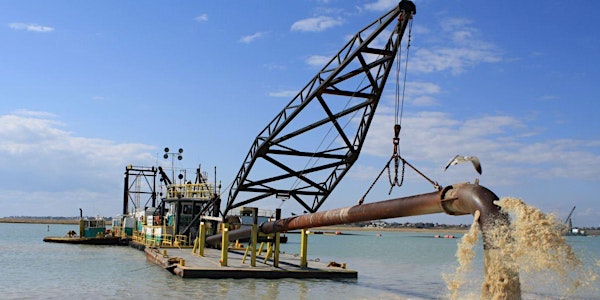 EW on Dredging Techniques & Constn for Ports & Ter
Develop, amongst contracting partners, a constructive approach for planning, design and execution of dredging and maritime construction proj
By Global Ports Forum Pte Ltd
Date and time
Tue, 23 May 2023 09:00 - Wed, 24 May 2023 17:00 +08
Location
Copthorne King's Hotel Singapore on Havelock 403 Havelock Road Singapore, 169632 Singapore
Refund Policy
Contact the organiser to request a refund.
About this event
1 day 8 hours

Mobile eTicket
GPF Executive Workshop on Dredging Techniques and Construction Management for Ports & Terminals, 23-24 May 23, Singapore
Dear Colleagues 
About the Course
Successful maritime construction projects require skilled contractors, consultants and clients, bound by a fair contract, who are willing and able to work together to resolve technical and management difficulties as they arise. This workshop aims to develop, amongst contracting partners, a constructive approach for planning, design and execution of dredging and maritime construction projects. It will highlight the capital intensive nature of maritime construction, in contrast with other civil works that are predominately labor intensive, and will consider the key issues in the preparation phase of such projects including site characterization, feasibility study, preliminary and detailed design, finance management, project administration and dispute resolution.
Who to attend
Dredging and maritime construction projects involve a wide range of skills and professional from different discipline. The target audience comprises of
Consulting Engineers, designers, resident engineers, site staff
Dredging contractors, project managers, site engineers
Legal counselors, construction lawyers and arbitrators
Insurers, projects financiers and financial managers
Advisors - dredging and maritime construction projects
Dredging officers (Deputy Conservators / Harbor Masters / Pilots /  Hydrographic Survey Department Officers / Surveyors / Chief Engineers / Executive Engineers / Engineers (Civil Department of Ports, Law Officers of Ports, Inland Water Transport, Minor Ports,  Maritime States)
Young Engineers, Dredging and Shipping Cadets and Maritime Students
Course Outline
-        Historical evolution of dredging
-        New Dredging Techniques and Equipment
-        Characteristics of Detailed Project Report
-        ​Contracts, Legislation and Engineer Determination 
-        Planning and Execution of the Dredging Project
-        Rivers, Canals, Waterways Dredging 
-        Handling large volume of Projects
-        Potential known and unknown risks
-        Dispute Resolution and Arbitration members
Program Schedule
Day 1
0900 to 1000 Hrs
Historical Evolution of Dredging
Transformation and Development in Dredging
Need of Dredging
Various Dredging Techniques
1100 – 1200 Hrs
Types of Dredgers, advantages and disadvantages
Identification of Dredging Equipments for the Project
Combination of Dredges for Projects
Planning for Dredger Deployment
1200 – 1300 Hrs
Characteristics of Detailed Project Report
Interpretation of Detailed Project Report
Analysis of Detailed Project Report
Strata and Substrata information
Other Project Details
1300 – 1315 Hrs
Recap – Discussion
1315 – 1400 Hrs
Lunch Break
1400 – 1500 Hrs
Dredging and its significance
-        Ports and Harbor
-        Inland Waterways
-        Rivers, Dams and Reservoirs
Equipments identification for the above projects 
1500 – 1600 Hrs
Project Planning
Permission, Permits and Licence
Logistics Planning
Schedule of Works – Detailed Micro level planning
Design and Detailed Engineering
1600 – 1700 Hrs
Design of Tender Documents
Technical Specifications
Special Conditions of Contract
Project Specific contracts 
Day 2
0900 – 1000 Hrs
Technical Data and Information – Dredging Project
-        Bathymetry Data and Topography Data
-        Strata and Substrata Data
-        Climatic Conditions
-        Political Interference
-        Fishermen / Local Interference
-        Shipping  Traffic
-        Cyclone information
-        Hydraulics, waves, currents, swell information
1000 – 1100 Hrs
Soil Analysis and Modeling
Production Calculation for Difference Dredgers
Interpretation of Borehole Logs and other geotechnical data
1100 – 1200 Hrs
Schedule of Program
Planning of Schedule of Works
Methodology Approval
Revised Schedule of Works
Revised Methodology
1200 – 1300 Hrs
Introduction to Basic Works Contract
Essentials of Contracts
Different Types of Contract
1300 – 1315 Hrs
Recap  - Discussion
1315 – 1400 Hrs
Lunch Break
1400 – 1500 Hrs
Dispute Resolution Board – Alternate Dispute Resolution Mechanism
1500 – 1600 Hrs
Arbitration and Legal Recourse
1600 – 1700 Hrs
Discussion – Q and A
Note: There shall be two tea / coffee breaks in a day the timing can be mutually accepted for such breaks
About the Course Director
George Yesu Vedha Victor is from the 6th Batch of All India Dredging Cadre (AIDC) and obtained his Dredge Master Certificate of Competency. He is the General Secretary of Eastern Dredging Association India and Board Member of Eastern Dredging Association (Asia, Australia region). He obtained his Doctoral Degree from Indian Institute of Cultivation of Science, Calcutta. He obtained his licence as Chartered Engineer from Royal Society of Engineers, United Kingdom. He is a Fellow in Indian Council of Arbitration and FICCI – Fact. He is full member in Mediation and Dispute Resolution, United Kingdom. He was awarded the Young Scientist award by TN – DST for his contribution to research work. He is a qualified Marine Lawyer and Arbitrator, appearing for commercial contracts, admiralty law and maritime matters.
Victor is empanelled consultant in Asian Development Bank, World Bank and United Nations – ESCAP. He still pursue his passion for teaching being a visiting professor in maritime institutions. regularly provides his inputs for the betterment of the Industry to the policy makers of Ministry of Shipping, DG Shipping, INSA, EADA, African Ports Association and others. He is a peer reviewer and is on Editorial board for reputed international and national journals. He served as a member in the 12th Five Year Planning Committee for ports – capital and maintenance dredging and is a National Committee Member of FICCI in Infrastructure Development.
15th GPF Anniversary Special. Pay for Two participants, another Two comes free. No other promotion applicable.
Costs:
On or Before 23 Mar 2023: The 'Early Bird' Rate is USD4595 – Save US800!
Special Offer! – 3 Delegates For The Price of 2 in This Category! Save USD4595!
From 24 Mar 2023: The Regular Rate is USD5395
Special Offer! – 3 Delegates For The Price of 2 in This Category! Save USD5395!
Note: All fees stated include luncheons, refreshments and complete set of documentation. It does not include the cost of accommodation and travel.
REGISTER NOW!
To register, please submit the following details to thomasng@globalportsforum.com:
Name: Position: Organisation: Address: Tel: Fax: Email: What Best Describes Your Industry Sector?:
Billing information:
For cheque payments: To be made payable to 'Global Ports Forum Pte. Ltd.' Please do not send post-dated cheque.
For telegraphic transfers:
Account Name:             Global Ports Forum Pte. Ltd.,
Account No. :                695 477 141 001.
Beneficiary Bank:          Oversea-Chinese Banking Corporation Limited, Singapore. (Swift: OCBCSGSG),
Address : 65 Chulia Street #01-00, OCBC Centre, Singapore 049513.
Please supply confirmation via email of the TT from your bank. Transmitting bank charges must be paid by sender. Please quote both delegate and company name as reference.
Kindly note that as we are providing a special rate for 'early bird' sign up, we will need to receive your company payment by 23 Mar 2023 to enjoy the discount.
Look forward to welcoming you at the executive workshop/forums.
Kind regards
Thomas Ng
Chairman
The Global Ports Forum
GLOBAL PORTS FORUM PTE. LTD.
10 Anson Road
#18-11
International Plaza
Singapore 079903
Website: www.globalportsforum.com/
Mobile: +65 9684 3289
DID:    +65 65197662
Fax:    +65 6725 8438
Email:  thomasng@globalportsforum.com
Terms & Conditions:
No delegate registration will be accepted without completing registration details and full payment.
Upon receipt of your registration details and full payment, further programme information will be emailed to you including your proforma invoice and, if required, a letter of invitation for entry visa application.
Delegates will not be admitted unless payment has been received in Full.
Flights, Airport Transfers and Accommodation are not included in your delegate registration fee.
Refund Policy – a reimbursement of the registration fee, minus administrative charges will only be made if the participant has notified Global Ports Forum Pte. Ltd. in writing that he/she is unable to attend the event no less than 45 days prior to the commencement of the event. No cancellation is allowed after that, but a replacement with another participant is allowed.
This programme is subject to change without notice, E&O.E.
About the organiser
Global Ports Forum Pte Ltd
(GPF) is committed to improving global ports and furthering the interests of ports globally!
GPF offers an overview of emerging trends in the ports industry covering ports, harbours and terminals across the globe.
Collaborating with Port Authorities around the world, the Global Ports Forum today bring together members from the ports ecosystem and organises quality port related events, executive workshops and short courses.
Working in collaboration with our senior port experts, we also provide port consultancy services, feasibility studies, survey and research.
Yours sincerely,
Thomas Ng
Global Port Singapore