The VBA Macro Programming training helps you automate routine tasks by recording, and writing/editing the Visual Basic For Applications.
About this event
Module 1: Realizing the potential of Excel using VBA
Recognizing the Power of Excel
Identifying workbooks that support macros
Showing the Developer Tab
Understanding Macro Security
Recording and Running a Macro
Module 2: Understanding the Basics
Exploring the VB Editor
Examining Recorded Macro Code
Introducing the Selection Object
Understanding Properties, Methods and Parameters
Using the Line Continuation Character
Using the With… End With statement
Writing Comments
Module 3: Working with Variables and Constants
Understanding the Scope of Variables
Identifying the different Data Types
Working with Variables
Exploring Object Variables
Declaring and using Constants
Module 4: User Interaction Techniques: Part 1
Using the Input Box
Using the Msg box
Module 5: Overview of Objects
Introducing the Application Object
Exploring Workbooks and Workbook Object
Exploring Worksheets and Worksheets Object
Module 6: Referring to Ranges
Introducing the Range Object
Referencing a range using the Current Region Property
Accessing a range using the Used Range Property
Finding the First Cell with data
Referencing the Last Row and Column in the data range
Using the Cells Property
Utilizing the Offset Property while working with Range
Employing the Resize Property to Change the Size of a Range
Module 7: Control Structures
Using Loop Constructs: For Loop Statement
Using Loop Constructs: For…Next Loop
Using Loop Constructs: Do While…Loop
Using Loop Constructs: Do Until…Loop
Exiting a Loop Early
Nesting Loops
Working with Conditional Constructs: If…Then…Else
Working with Conditional Constructs: Select Case
Module 8: User-Defined Functions
Exploring Commonly Used VBA Functions
Creating User-Defined Functions
Executing User-Defined Functions
Sharing User-Defined Functions
Module 9: Event Programming
Creating a Custom Button to execute code
Understanding Event Parameters
Working with Worksheet Events
Working with Workbook Events
Module 10: Using VBA to Create Pivot Tables
Introducing Pivot Tables
Building and Editing Pivot Tables using VBA
Auto Refreshing Pivot Tables using VBA
Module 11: User Interaction Techniques: Part 2
Creating User Forms
Understanding and Using ActiveX Controls
Programming the ActiveX Controls
Module 12: Creating Charts
Charting in Excel
Referencing Charts Objects using VBA
Creating and Modifying the Chart
Module 13: Handling Errors
Identifying the Different Types of Errors
Debugging Tools: Stepping through Code
Debugging Tools: Break point
Debugging Tools: Immediate Window
Debugging Tools: Watch Window
Handling Errors by Choosing to Ignore Them
Employing Basic Error Handling with the On Error Go To Syntax
Module 14: Useful Macros
Selecting Special Cells
Using Auto filter instead of Loops
Combining Workbooks
Separating data into different Worksheets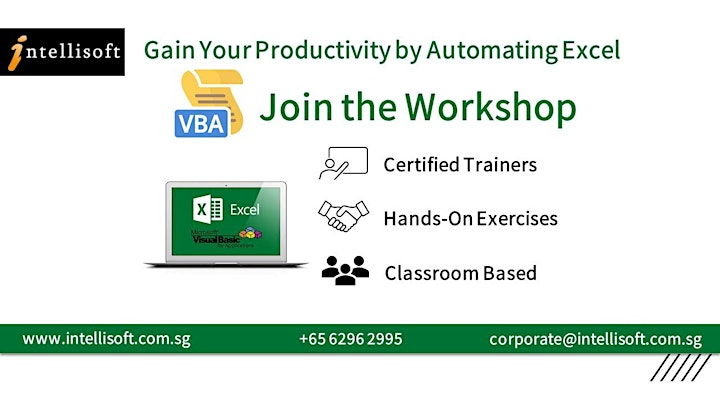 Organiser of Excel VBA (Macro)
Intellisoft Training Pte. Ltd. was setup by industry leading experts from the Education industry for the sole purpose of providing quality training to companies and individuals, which lead to Best-in-Class Industry Certifications.
These short training courses help companies to improve their productivity, efficiency and save time.
Intellisoft Training Pte. Ltd. has partnered with ICDL Asia to highest rated International Computer Driving Test Accreditation to Singapore. We are an Approved ICDL Test Center to conduct all ICDL Core and ICDL Advanced Courses in Singapore.