About this Event
We are living in a vibrational world which sometimes makes it difficult for us to stay away from the negative or low vibration environment. Therefore, we are going to share and guide you on:
• How to maintain your high vibrational energy field
• How to expand and enlarge your protection energy to manifest your goals faster
• Activate your creation self for your highest good
Empowerment +ES Lifestyle Series
Cindy- Expand your energy field
Friday 20 Dec 2019
7.30pm – 9.00pm @ SGD33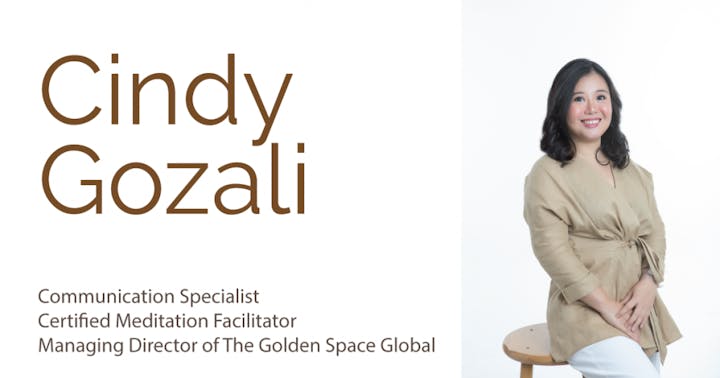 Cindy is the Managing Director, Publisher of The Golden Space Global, Communication Specialist and Certified Meditation Facilitator. Cindy started her self- transformation spiritual journey when she joined the "Awaken ~ the Divine You"® Program by the founder of The Golden Space, International Metaphysical Spiritual Master Umesh H. Nandwani. In the following years, she journeyed to Nepal, India, Thailand, USA, Peru, Chile and Greece.
From childhood to almost all her adulthood, Cindy struggled with loving and expressing herself. She chose to be silent when she learned that whenever she expressed herself, she received anger and disapproval instead of love and acceptance. Through her spiritual journey, the most significant realization that changed the course of her life is that she is the Creator of her own life. She can be whomever she wants to be if she chooses to walk her own path instead of the path of others. For her, being true to herself, living the life that is meant for her by expressing her true authentic self with love, courage and freedom is the only way to live.
Combining her life, leadership, entrepreneurial and self- transformation journey, Cindy is now joyfully living her life purpose and specializes in empowering individuals to express and communicate who they are to create harmony, success and purpose in their lives.
Find out more about Cindy here.