Explore the Future Business Opportunity with IPv6 Technology

Wednesday, 19 March 2014 from 09:00 to 13:00 (Singapore Standard Time Singapore Time)
Event Details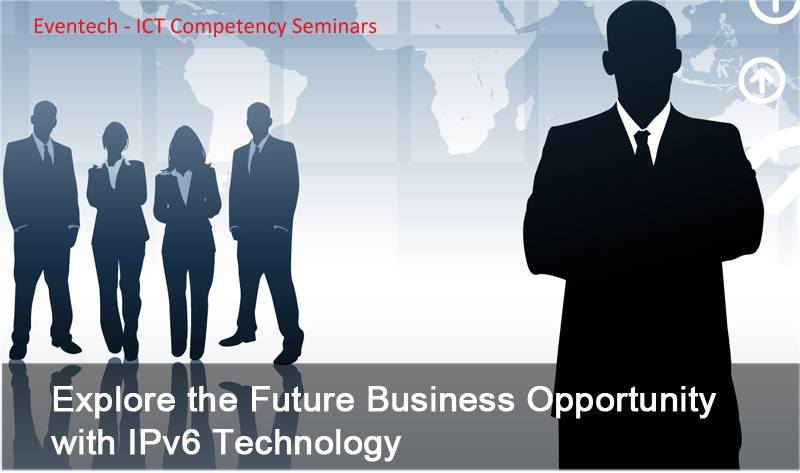 More objects are becoming embedded with sensors and gaining the ability to communicate. The resulting information networks promise to create new business models, improve business processes, and reduce costs and risks.
In what is called the Internet of Things, sensors and actuators embedded in physical objects are linked through wired and wireless networks, often using the same Internet Protocol (IP) that connects the Internet to transfer data without requiring human-to-human or human-to-computer interaction.
Internet Protocol version 6 (IPv6) is an important factor in the development of the Internet of Things. It is the latest revision of the IP which having a huge increase in address space to create a platform for growing innovations and future business opportunities.
As these technologies mature, the range of corporate deployments will increase. Now is the time for executives across all industries to structure their thoughts about the potential impact and opportunities likely to emerge from the Internet of Things and IPv6 Technology.
Objective
This seminar will provide a clear understanding on:
• the definition of the Internet of Things
• how our current technologies is moving towards this new trend without all of us being critically and physically aware that it is creeping into our life and style of working
• how we should prepare to embrace this change and manage the impact
• what is IPv6 and its key benefits
• the future business opportunity with IPv6 technology
Event Details
Date: 19 March 2014, Wednesday
Time: 9.00am - 1.00pm (Registration starts at 9.00am)
Venue: Marketing Institute of Singapore (Room: 205, Level 2) 410 North Bridge Road Singapore 188726
Fees: Complimentary
Target Audience: ICT Professionals & Managers,TDMs, BDMs for Solution Providers, Network Infrastructure Manager or Director, CTOs and CIOs.
Agenda
9.00am      Registration
9.30am      "Internet of Things – IOT" = Things that you do not know about IOT
10.30am     Tea Break
11.00am     Why Does my Business Needs To Know About IPv6
12.00pm      Closing / Q & A
When & Where

Marketing Institute of Singapore (Room: 205, Level 2)
410 North Bridge Road
Singapore, 188726
Singapore

Wednesday, 19 March 2014 from 09:00 to 13:00 (Singapore Standard Time Singapore Time)
Add to my calendar
Organiser
Progreso Training is a Training Partner of AIPMM - Association of International Product and Marketing Management (www.aipmm.com). AIPMM has the Product Management Framework (PMF) that had been adopted by many Global Successful Companies as the Foundation Layer of Product Development and Product Management and Marketing. PMF is a powerful, universal, standardized tool that supports the management and marketing of products (tangible goods or intangible services) throughout all phases of its lifecycle. Hence, we believe with AIPMM's Professional Certifications, it will deepen the competencies and skillset required by all product and marketing professionals in the IT and Financial industry.
Our training portfolio also includes the following; 
1. Big Data Analytics 
Partnering with SunCaged Analytics, a global Analytics and Market Intelligence company based in Singapore. Suncaged provides companies with bespoke solutions to help applying Intelligence into all levels of their businesses. The value proposition is to empower the clients and partners to make better and faster decisions by blending the best of breed and disruptive Analytics as part of their competitive advantage to increase the businesses profitability. The analytics solutions are developed in partnership with Bayes Forecast (www.bayesforecast.com), a group with more than 20 years' experience with projects in 37 different countries including China, India, Indonesia, Thailand, Philippines and Singapore, and offices in Spain, Brazil and Mexico. 
2. Enterprise Architecture
Progreso Training and ATD Solutions are dedicated in changing the way companies use and adopt IT, helping businesses to identify their needs and realise the benefits on how technology can deliver strategic business value to their organisations. With our expertise and specialised services, we will continue to deliver quality education on competencies of business IT architecture through practical training of industry skillsets and frameworks, consultancy and coaching. 
3. Future of Internet Technology – Internet Protocol version 6
Progreso Training is the IPv6 Forum Authorised Training Centre to deliver IPv6 skillset as it is one of the key areas for the new technology product development as well as to expand its audience base in preparation for the Future of mobile device proliferation which requires every device to have its own IP address.
4. Cyber Security
Cyber Security is one of the main national masterplans to reinforce Singapore's cyber security by intensifying efforts in the Government and the nation's critical infocomm infrastructure (CII) as well as the wider infocomm ecosystem which includes businesses and individuals. Working together with Mile 2, a vendor neutral cyber security training developer, Progreso Training will offer the fundamental and advance principles of cyber security certification training for the technology professionals.