Description
Join...
Roger Hamilton studied Architecture at Trinity College, Cambridge, and soon found he preferred building businesses to buildings. He failed many times in his 20's, learning with every failure, and by 30 had secured funding from a large venture capital firm, 3i PLC, to grow his publishing firm in Asia. This led to a multi-million dollar sale, and the creation of Wealth Dynamics - based on his belief (and experience) that when we find our flow, our success accelerates effortlessly.
After creating and discovering in his 30's the power of Wealth Dynamics, it led him to traveling to over 20 different countries, speaking to entreprenuers and growing his social entrepreneur network. He received an award from President Bill Clinton for the philanthropic work he was involved in.
Mari Smith
is one of the top 10 influencers in Social Media according to Forbes; Mari been featured in The New York Times, The Wall Street Journal, Inc. Magazine, Fortune, Forbes, Success Magazine, The Vancouver Sun, The Sunday Herald (UK), on American Express OPEN Forum, and the Social Media Examiner. She has been described as 'the Pied Piper of the Online World' and has shared the stage with Paula Abdul, His Holiness the Dalai Lama, Sir Richard Branson, Lynn Twist, Tony Robbins, Les Brown, Brian Tracy, Harvey MacKay and many, many more.
Alex Mandossian
has generated over $300 million in sales and profits for his clients and partners via "electronic marketing" media such as TV Infomercials, online catalogs, 24-hour recorded messages, voice/fax broadcasting, Teleseminars, Webinars, Podcasts and Internet Marketing.) He is the Founder & CEO of Heritage House Companies – a boutique electronic marketing and publishing company that "repurposes" written and spoken educational content for worldwide distribution. He is also the founder of the Electronic Marketing Institute.
Larry Benet
is the CEO of the Speakers and Authors Networking Group, SANG. The SANG event brings together leading speakers and authors each year. Known as 'The Connector', Larry is connected to the latest trends and developments in the industry. His goal is to raise a billion dollars over his lifetime through his connections, business ventures, and social influence. He has also supported the Larry King Cardiac Foundation, served on the advisory board of the Wyland Foundation and the Soul of Africa, and has helped raise money for Richard Branson's charity, Virgin United
Kerwin Rae
is a businessman, coach, mentor, entrepreneur, author and international speaker. A Sales & Marketing specialist for over a decade, he has taught over 20,000 people all over the world through his seminars and workshops, making over a 100 million dollars for his clients, many of them were small to medium sized businesses and even home based.
He is the author of "The Entrepreneurial Apprentice" training system and co-author of one the bestselling series "Secrets of Marketing Experts Exposed".
Kerwin has been featured heavily in the media including The Australian, Dynamic Business, The Financial Review, Marketing Magazine, CEO Magazine, Anthill, Qantas Business Radio and is also a regular on Talk Back Radio,
Simon Williams
has a background in commercial design, with over 17 years of experience and has a client list that includes Virgin, American Express, Sony, John Lewis and EasyJet to name just a few.
In 2006 he correctly predicted the future in his academic book The Future is Intangible that described the profound shift in consumer behavior that every Entrepreneur and Business person needs to know. That book is now taught in University.
Simon now works exclusively within the Mobile App industry, and is better known by many as The App Man. He has already produced over 100 Apps, across over 30 different industries.His new book Rich App Poor App is already highly acclaimed, and along with his products and seminars has helped thousands of people across 4 continents discover their unique and commercial App-opportunity.
www.AppManSecrets.com
at Fast Forward your business, Our International, Virtual Event that covers the WRAP up of 2012 and what to expect in 2013 for your business
"If you try to catch a wave that others are already surfing,
you are already too late."
The 'Fast Forward' Event is your opportunity to find out, first hand, the precise actions to profit from the coming future.
Match your earning curve to your learning curve
What is the biggest cost when we DON'T apply the right action to the right learning? The cost is that your learning curve continues to grow, but frustration sets in as your growth in income doesn't match your increase in knowledge.
We end up having to suffer "The tyranny of I-told-you-so". That's when we know we should have known better, as we understood in theory what we could have done, but by not being in flow we miss the opportunity, and then see others benefit from their actions.
Yes, you will learn plenty of new, mind-blowing facts on how fast markets and businesses are changing at the event. What is more important, though, is the practical steps you will leave with - so that your earning curve matches your learning curve - now and in the future.
Don't suffer from the "tyranny of I - told - you - so"
From Silicon Valley to Silicon Bali
A life of 'teaching' and 'beaching'
I moved to Bali with my family and asked the question: "Could I run my businesses, make a difference, and stay on the cutting edge from a beach in Bali?"
We all know that the same silicon that we find in computers, we also find in the clarity of glass and the feel of sand under our feet. I began a three year quest to create my own "Silicon Bali".
What I learned was this: Not only was it possible to
run my businesses from a beach in Bali, but the changes I had to make to the business, the way I managed them, what I chose to measure, the technology we used and the global outlook and perspective I gained made my businesses run better this way than before - with less of my time.
In the last five years, I have double my income using half my time, year after year after year. And there's a third measure: Doubling my giving each time I double my earnings.
Today we own a resort in Bali, I am the Chairman of the Green School in Bali, which is transforming education and the environment, I reach more than 80,000 entrepreneurs every month with the Wealth Dynamics system online, our Talent Dynamics business to corporations is taking off, and we are making a positive impact with a range of non-profit foundations, including the XL Nation Social Entrepreneur Incubator.
This is my personal journey, and yours will obviously be different.
What we will have in common in our success (if you choose to commit to the same principles), is that we lived what we loved and we loved what we lived.
While I cherish my time in Bali, and am able to use the latest tools in technology to keep current (something that wasn't possible even five years ago), high-touch is as important as high-tech, and I have one tour to Australia every year (in March), one to USA (in June) and one to Europe & Africa (in September) to connect face-to-face with entrepreneurs and thought leaders. It is during these tours that I share what I am doing,
and invite the leaders I connect with to share what they are doing to achieve sustainable success.
A key ingredient that I have seen in everyone I have seen at the cutting edge is the concept of "Future Presence": A clarity about the future and where it is leading that we are always one step ahead. This is the promise of the 'Fast Forward' event. Book your place today, and I look forward to meeting you there.
What will you learn at 'Fast Forward your Business'?
The 'Fast Forward your Business' virtual event is a four hour high-energy, action-packed program of connection and inspiration. It includes three levels of learning that combine to create a transformational experience.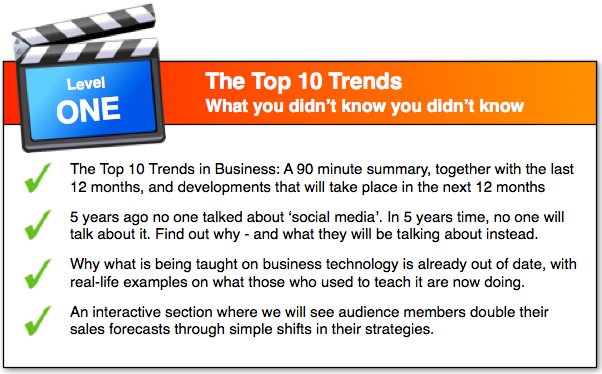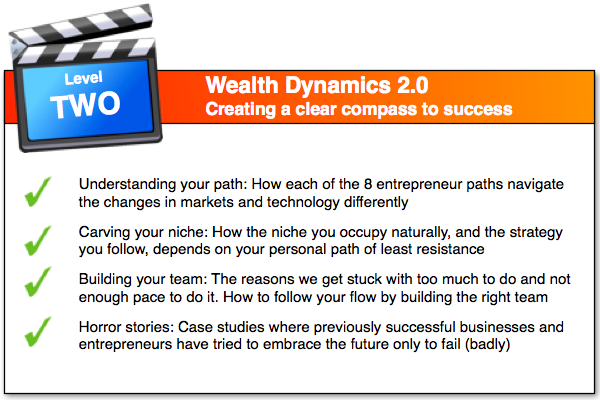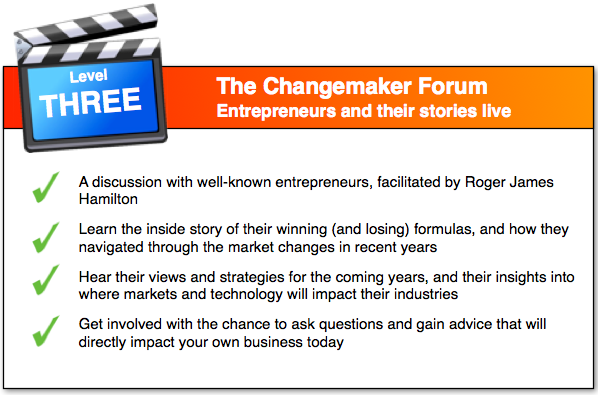 Get ready to have
your questions answered...
If you would like the answers to any of the following questions, you need to attend the 'Fast Forward' event. We will be covering answers to all of these questions and a lot more.
"Should I be trying to build my personal brand or my business brand?"
"How important is social media, and how much time should I spend on it?"
"Do I need to worry about building an Apple or Android app or ebook for my business?"
"How should I be thinking about my pricing strategy, and what do I need to change in my product range?"
"What should I be charging for, and what should I be giving for free?"
"Are there countries overseas I should be outsourcing to, and how do I choose?"
"Are there systems I can use to manage my customers better, and what are they?"
"How much of my time should I invest looking after my existing customers compared to attracting new customers?"
"I know about landing pages, affiliate programs, Facebook fan pages, Youtube channels, Twitter, Google Plus and a hundred other platforms. But I'm not tech-savvy. What should I focus at?"
"Which countries could I be offering my products or services to that would instantly multiply my results?"
"What are the products and services I could offer today that would also transform my results?"
"If I have content I want to package, should I be publishing a book, creating an online training program, producing CDs or DVDs, or something different?"
"What is it that gaming companies are doing that allows them to attract millions of users, and what can I apply today from what they have learned?"
"What are the best systems to manage my accounts and admin?"
"What's the best way to attract and retain a world class team?"
"How do I set up effective partnerships?"
"If I haven't yet decided on what type of company I want to grow, how do I decide?"
"I want to focus more on my bigger purpose. What's the simplest way to do this?"
This event is for...
business owners, leaders, entrepreneurs and individuals who are looking to always stay one step ahead. You will be meeting inspiring people who may just be your next partner or team member in your journey. One thing that every one who attends shares in common is our desire to constantly find the smartest way to 'fast forward'.
That means if you feel you are ready to invest your time wisely, this event is for you!
"When it comes to the future, there are three kinds of people:
those who let it happen, those who make it happen and
those who wonder what happened."
- John M Richardson
This event is NOT for everyone...
… and you'll know it's not for you if:
You are not looking to really grow your business any further. As we say, either your business is growing or it's going backwards. There really isn't an option not to grow even if you have achieved all you want from the business. Maybe then it's time to sell, and I'll be speaking about readying your business for sale and showing the importance in having it ready for the next wave, creating additional perceived value to the prospective purchaser.
You are skeptical about the future of business or your industry. I'm not here to convince you of anything, and what I share and predict will probably go against the opinion of others who are 'established' in your industry - in the same way that the smart people in Kodak, Borders, Newsweek, and even Yahoo, Myspace and Sony (all that have either gone bankrupt, sold or restructured in the last year) were convinced that their 'winning formula' remained the 'right way' for too long. Please only attend if you are willing to learn something new…
You're too busy and don't have enough time to attend 4 hour event. A day in the office WILL NOT be of more value than 4 hours invested in your future - but it needs you to make that commitment. We (both myself and the attendees) really only want self motivated leaders at this event and those who are willing to learn.
Receive over $640 in value at the Early Bird Rate for only $39
Click on the link below, and book your place NOW!
When you book your place today, you will receive the following package: