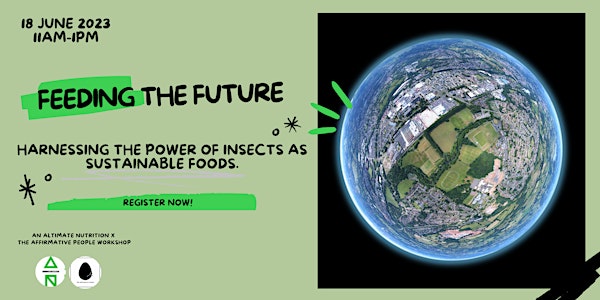 Feeding the Future: Harnessing Insect Proteins for Sustainable Food
Unveil the Next Era of Sustainable Food: Embrace Insect Proteins. Embrace 'Feeding the Future'! #insectproteins #sustainability
By Altimate Nutrition x The Affirmative People
Date and time
Sun, 18 Jun 2023 11:00 - 13:00 +08
Location
PARKROYAL COLLECTION Marina Bay 6 Raffles Boulevard Singapore, 039594 Singapore
Agenda
11:00 AM - 11:15 AM
Registration and Welcome
11:15 AM - 11:45 AM
Keynote Talk by Gavriel Tan, Co Founder of Altimate Nutrition
11:45 AM - 12:00 PM
Keynote Talk by Dean Ng, Co Founder of The Affirmative People
12:00 PM - 12:15 PM
Q&A Session
12:15 PM - 1:15 PM
Interactive Insect Tasting Event
1:15 PM - 2:00 PM
Closing Remarks and Networking
About this event
Join us on an educational and mouthwatering journey with us as we explore the world of edible insects as a sustainable source of nutrition! Throughout history, people from diverse cultures have embraced insects as a vital part of their diets. Discover the rich nutritional value that these tiny creatures offer, including high protein, fiber, and a range of essential nutrients.
In this engaging session, discover the nutritional benefits of edible insects, including crickets and silkworms, and their role in creating a sustainable food system with Gavriel Tan, Co-Founder of Altimate Nutrition, Singapore's pioneering start-up that creates innovative food products from insects. Additionally, Dean Ng, Co-Founder of The Affirmative People, will provide a unique perspective on wellness, emphasizing a holistic approach. Dean's talk will be filled with valuable insights, practical tips, and guidance, empowering us to enhance our overall health and vitality.
Experience a hands-on tasting of a wide variety of delicious insect-based snacks, from the satisfying crunch of roasted crickets to the savory goodness of fried silkworms. These delicious treats will introduce you to the incredible flavors and culinary possibilities that insects offer!
Whether you're an adventurous foodie or simply curious about sustainable nutrition, this event is for you! Don't miss this chance to learn, taste, and connect with others in the community who are passionate about creating a more sustainable future. 🌱🌎
📅 Date: 18th June 2023
⌚ Time: 11am-12pm
📍 Location: 6 Raffles Blvd, #04-00, PARKROYAL COLLECTION Marina Bay, Resolve Resilience Centre, Singapore 039594
Only 30 Tickets Available. Register now to guarantee your place at 'Feeding the Future'!
Frequently asked questions
What will be covered in the keynote talks?
Will there be an opportunity to taste insect-based snacks?
Is the event suitable for vegetarians or vegans?
Are there any allergy considerations for the event?
How can I attend the event?
Is there an entry fee for the event?
Is there an age restriction for attendees?
How many slots are available for this event?