Join us for an hour of God-inspired prayer, worship and a timely message.
About this event
With safe management guidelines in place, Studio 6 will be organised into 2 zones for a total capacity of 100 congregants!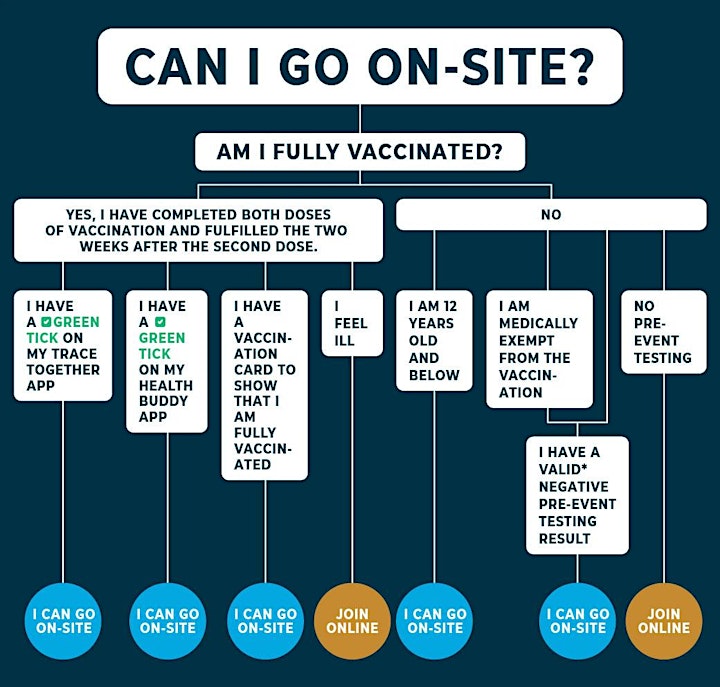 What you can expect
1. Live message
2. Live worship - worshippers are encouraged to convey their worship using other forms of expression other than singing out loud.
3. Communion with individually packaged elements.
4. Offering - Congregants can give at the end of service upon exit.
5. For parents with young children, changing and nursing facilities are available in the cafe area, Zone B only.
Spark Kids Children Ministry
Spark Kids will be held online only. We have programmes for children up to 12 years old. Click here for more information.
Please take note of the following
1. Here is a list of MOH-approved medical service providers for those who require Pre-Event Testing (PET). Present your valid negative COVID-19 test result or other acceptable documents for entry. A PET is valid for 24 hours, so make sure that your test is valid until the end of service, eg. if your service ends at 3:30pm, please do your test after 3:30pm the day before.
2. Arrive 15 minutes before service to clear through the registration process at Level 1.
3. Carpark at FGA@Playfair will be closed to conduct safe management measures. Parking is available at Novelty BizCentre, 18 Howard Road, Singapore 369585.
All participants are to abide by the safe management measures
1. Wear your mask at all times
2. Maintain 1m distancing
3. No intermingling between groups and other people on site
4. No singing
5. No food
Join us online
Same day same time on YouTube.
Organiser of FGA English Service
FGA is a community built on the salvation through Jesus Christ and the scriptures of the Bible. There's a seat at the table for you! Not just in the physical building but to a place of refuge in Him. FGA is a home with an open door, our community includes believers both mature and young, mentors and peers, where friends together pursue Christ-likeness.