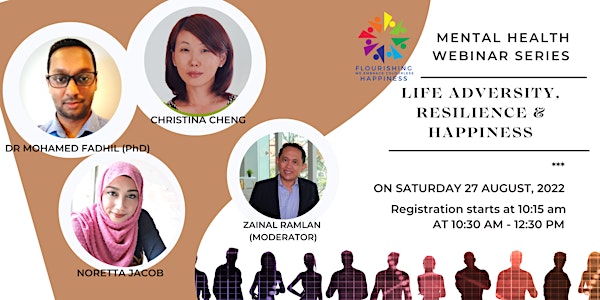 FH Mental Health Series 2022: Life Adversity, Resilience and Happiness
Flourishing Happiness (FH) Mental Health Series 2022: Learning about Life Adversity, Resilience and Happiness
About this event
Flourishing Happiness (FH) Mental Health Series 2022: Learning about Life Adversity, Resilience and Happiness
Are you wondering about the correlation between adversity, resilience and happiness for someone and their family facing life challenges? How can I come out of it to be free and happy? Am I fixated on my world? Stop and let's talk about this!
Join us in this session as we discuss the challenges of adversity, resilience and happiness
Flourishing Happiness (FH) is a vehicle that aims to propagate innovative awareness advocacy and public education to serve the community.
Date: 27/8/2022
Time: 10.30 am - 12.30 pm
Venue: Zoom (online)
FH invites you to join us. organisationalorganisationalorganisationsorganisationrecognisedimpactWalk With Me AgainsorganisationMAS) together, not as individuals or in a group or organization, but collectively to promote anti-stigma and to promote and create awareness of anti-stigma for all populations, hoping to build a sense of positive community.
Learning objectives
By the end of each session, we hope to:
Create awareness to the public on anti-stigma for all populations
See participants fully understand how Mental Health works
See participants help those who are in need, not discriminate have
To understand the detrimental effect of poverty and education on families and children
Learning the impact of substance dependency and poverty
See the person in recovery find meaning in this webinar
See families from all of life can walk the street heads up and be recognised by society and acknowledge
Walk with you against stigma to tell the world we are no different
Christina Cheng
Christina Cheng is the Singapore Director for Theory of Constracation Inc, a not-for-profit organization. She is passionate about helping underserved minority groups overcome core conflicts through systems thinking and conflict transformation tools. Since 2005, she has trained diverse audiences in corporate, education, prison, and government agencies.
Prior to her involvement in social services, Christina was a private equity director with a European investment bank. She was awarded two Commonwealth Bank of Australia Scholarships for her MBA from the University of Western Australia and Postgraduate Diploma of Business from Edith Cowan University. She is a current Rotary Peace Fellow at Chulalongkorn University, Thailand. From her longstanding volunteer work, she serves on the boards of various Singapore charitable organizations.
Dr Mohamed Fadhil bin Mohamed Ismail (PhD) :|: Educator and Researcher
Dr Fadhil is currently an early career researcher after recently completing his PhD in Education at the University of Adelaide. He has undertaken research work with the Institute for Adult Learning Singapore, and his research interests include wellbeing, strengths-based organizational psychology and sensemaking, and adult education. He is also passionate about teaching and has worked as an adult educator across multiple industries in higher education and the professional training industry. He is also a member of the editorial board of the Journal of Applied Learning and Teaching and conducts courses in qualitative methods and behaviour at Kaplan Singapore.
Noretta Jacob
Noretta Jacob is the Managing Director of Safar Training & Consultancy. She has more than 15 years early childhood practitioner and has held leadership positions in the industry, driven by a strong passion for pedagogy, curriculum research and design. Noretta is a change-maker whose aim is to elevate the understanding and building of in-depth knowledge of early childhood education among the Muslim community in Singapore. Noretta was a recipient of the Early Childhood Development Agency's Teaching scholarship at the former SIM University (the current Singapore University of Social Sciences) in 2015. She attained a Bachelor's degree in Early Childhood with Management and Certified ACTA trainer driven to be inspired and be inspired.