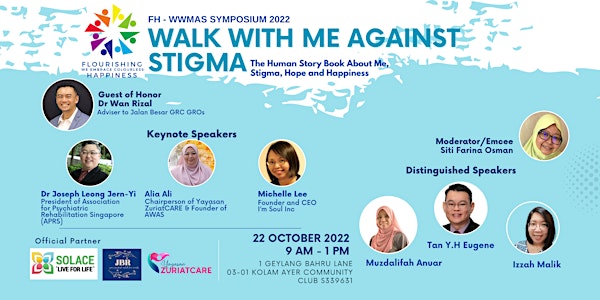 FH WWMAS The Human Story Book About Me Stigma, Hope and Happiness Symposium
The Human Storybook About Me, Stigma and Hope-Seeking Happiness Symposium
When and where
Location
Kolam Ayer Community Club 1 Geylang Bahru Lane 03-01 Kolam Ayer Community Club Singapore, 339631 Singapore
About this event
Synopsis
Flourishing Happiness (FH) is a vehicle that aims to propagate innovative awareness advocacy and public education to serve the community.
The Human Storybook tells a tale of the person in recovery, stigma and hope-seeking happiness. It is a personal story telling the world how screwed I live with the disorder and fear. Only to learn I am bound to fail in every attempt made. In many untold stories, there is an inner voice that whispers. This soul keeps striving and thriving, seeking happiness and sanity.
The multitude of challenges of stigma; no one knows it is a stigma until someone says it is. In many untold stories, we heard souls whisper to seek hope.
By the end of each event, we hope to:
Create awareness to the public on anti-stigma for all populations
See participants fully understand how mental health works
See participants help those who are in need
To understand the detrimental effect of poverty and lack of education on families and children
Learning the impact of stigma and poverty and the growth of hope and happiness
See the person in recovery find meaning in this symposium
See families from all walks of life can walk the street heads up and be recognised by society and acknowledge
Walk with you against stigma to tell the world we are no different affect
Please share with your friends, family and network.
NOTE: Limited seats available
Light refreshment provided.
Registration ends on 21st October 2022