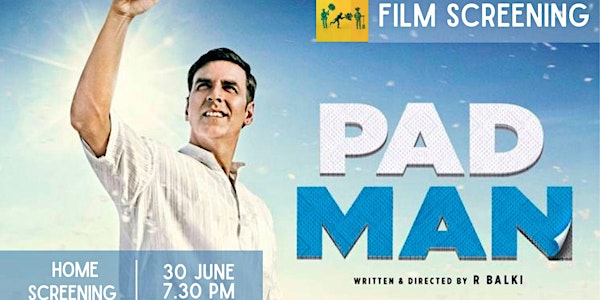 Film screening: Pad Man
Join us to learn about women's special time of the month—and alternative ways to manage it—at this casual film screening and sharing.
When and where
Location
Wilkie Road Wilkie Road Singapore Singapore
About this event
Not everyone knows about Auntie Flo. But everyone knows a sister, mum, grandma, auntie. They menstruate, once a month for about 40 years in their lifetime, and they have all probably had very different experiences with it over the years.
Join us for a screening of the inspirational film inspired by a true story, Pad Man (2 hours 20 minutes) to reflect on some of the societal pressures and issues faced by women, and have frank chats about how some of us manage our periods with the environment in mind.
"The most common menstrual products are a veritable cornucopia of plastic. Tampons come wrapped in plastic, encased in plastic applicators, with plastic strings dangling from one end, and many even include a thin layer of plastic in the absorbent part. Pads generally incorporate even more plastic, from the leak-proof base to the synthetics that soak up fluid to the packaging." (How tampons and pads became so unsustainable | National Geographic)
This hang-out is intended to be chill and encourage a deeper understanding of female issues and personal stories in general. Friends, family, food (especially if vegetarian), and drinks welcome!
Who can come?
Girls, guys, and anyone in between who is open-minded and interested to engage with the stigma often associated with menstruation, has questions about the use of reusable menstrual cups and products, and is curious about the monthly process females experience.
☞ Limited seating available, so please only register if you are sure to attend. Venue location will be sent to registrants closer to the date of event.
About the film
Pad Man (2018) is a Hindi-language biographical comedy drama film inspired by the life of social entrepreneur Arunachalam Muruganantham from Tamil Nadu. Upon realising the extent to which women are affected by their menses, a man sets out to create a sanitary pad machine and to provide inexpensive sanitary pads to the women of rural India.
Readings of interest