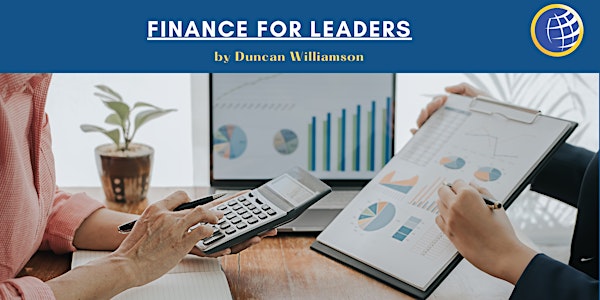 Finance for Leaders
Effectively Communicate And Systematically Analyze Financial Statements
When and where
Location
Royal Plaza on Scotts 25 Scotts Road Singapore, 228220 Singapore
About this event
Training Schedule:
9 & 10 November 2022 at 10:00 AM to 5:00 PM, SGT
Who Is This For?
C-Levels: This course will be valuable to leaders who is faced with quantitative decision making. Includes: CEO, COO, CHRO, CIO, CMO, CTO
Leaders, Managers & Department Heads: This training will be valuable to leaders who is faced with financial and non financial reporting, budgeting and planning. Includes: Directors/Heads/Managers of Strategic Planning, Directors/Heads/Managers of Business Development, Sales & Marketing; Project Managers, Risk Managers, Engineers, Scientists, Human Resources and other Department Heads or Managers
Business Owners & Individuals: This workshop will benefit business owners and individuals who is faced with quantitative decision making, model building, statistical, data analysis and more. Includes: Business Owners, Investors, SME Leaders, Trainers, Speakers, Advisors, Consultants and Freelancers
Do you find it frustrating when you don't understand the financial statements and find it difficult to make decisions?​
Do you believe that you need simpler techniques to analyze data?​
Do you feel stressed that even having attended a few training programmes, you are not always certain how to benchmark financial and non-financial performance?
Why This Program?
Be able to distinguish between the three major financial statements Learn some basics of analysis, benchmark financial and non financial performance based on KPI, KRI and Balanced Scorecards
Review annual report and accounts of organisations Understand the various elements of management accounting and cost management
Identifying trends and strategies contained in financial and non financial data Creating periodic and ad hoc performance reports for management and others
About the Expert
Duncan Williamson combines his extensive academic and training experience with significant manufacturing and commercial work. In addition to working as a teacher and trainer, Duncan has experience of working in a wide variety of settings, ranging from working as a management accountant in process industries in the UK to product cost consulting in several industries in Eastern Europe and the oil and gas industry in the Middle East. Duncan has worked in and around a number of oil and gas-based companies over recent years.
He has published books, articles and case studies. His latest books Introduction to Power Pivot and Introduction to Power BI for Desktop to be published by Bookboon and Amazon
Countries of Work Experience: Bosnia and Herzegovina, Kyrgyzstan, Kazakhstan, Uzbekistan, Romania, United Kingdom, Afghanistan, Dubai, Abu Dhabi, Kuwait, Oman, Saudi Arabia, Switzerland, Hungary, Thailand, Singapore, Vietnam, Philippines, Malaysia, Pakistan, Holland, Sudan, Albania, Qatar, Mexico, Angola
Significant Areas of Expertise: cost and management accounting, financial accounting and bookkeeping, financial reporting under IFRS, financial modelling, spread sheet modelling, and product cost modelling.
Learn More at https://www.ctsolutionsglobal.com/finance-for-non-finance