Fintech Forum
The half-day virtual conference helps you get a head start on the latest technologies that are revolutionizing fintech.
About this event
The fintech industry has seen tremendous innovations and technological advancements in recent years. Digital banking, mobile wallets, ecommerce, and digital insurance are just some of the many creative solutions that now shape our daily lives.
These constantly changing fintech trends can be hard to keep up with. As an incumbent, how can you unlock opportunities and take advantage of the latest innovations in the industry?
Join Tech in Asia's upcoming half-day conference in partnership with AWS to get a head start on how to accelerate your fintech capabilities.
Through a fireside chat, panel discussion, and a session on breaking down the deal, you'll get to hear Asia's best thought leaders discuss the region's fintech landscape, how to build and scale fintech platforms, and more.
AGENDA
2:00 - 2:30 pm: Fireside chat
2:30 - 3:30 pm: Panel discussion
3:30 - 4:30 pm: Breaking down the deal
This is a free event with limited seats available, so make sure to RSVP now!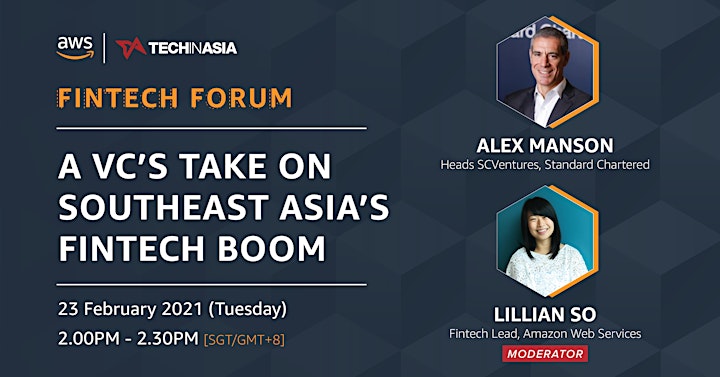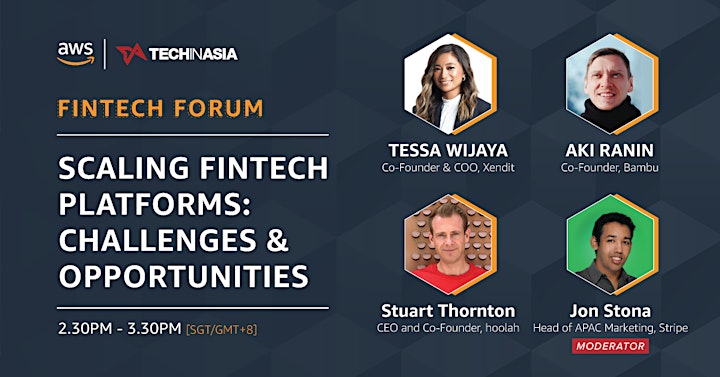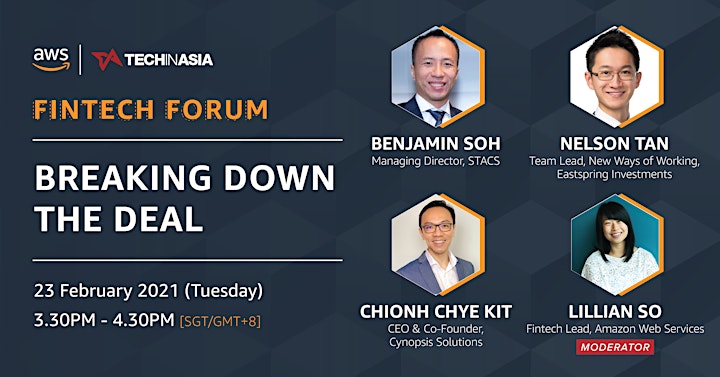 More agenda and speaker updates to come... Stay tuned to this page!
Topics to be covered include:
Southeast Asia's fintech landscape
The challenges and opportunities in scaling fintech platforms
Breaking down fintech startup pitches and deals
Who should attend?
Why should I attend?
To get a head start on the latest fintech trends and solutions
To unlock emerging opportunities in the sector
To get your questions answered by top fintech thought leaders
To foster valuable connections with fellow fintech professionals
About Tech in Asia
Tech in Asia (TIA) is the largest English-language technology media company that focuses on Asia. From the latest news and hottest trends to the boldest startups and strongest titans, TIA covers everything tech in the region. The company aims to build Asia's tech and startup community by bridging the gap between businesses and the information, talent, and connections they need.
About Amazon Web Services
Amazon Web Services provides startups with a low-cost and easy-to-use infrastructure that they can use to scale and grow their businesses. With AWS Activate, startups get access to the resources they need to quickly get started on AWS - including credits, technical support, training, and more.
---
By registering, you're giving your consent to receive marketing and promotional emails from Tech in Asia and its partners.