Get a head start on the latest trends in the fintech industry and gain insights on growing successful fintech businesses in Southeast Asia
About this event
As a result of recent economic growth and innovation, Southeast Asia's fintech industry emerged as one of the most promising areas in recent years. In such a dynamic space, how can organizations keep up with industry trends in order to stay competitive and provide relevant digital services to their customers?
Join us at this year's Fintech Forum, hosted by Tech in Asia and Amazon Web Services (AWS), to stay ahead of the curve in the latest trends and opportunities to scale successful business.
We have brought together Fintech's thought leaders and technical experts in the region to discuss the most important issues facing the sector.
This is a free event with limited seats available, so make sure to RSVP now!
AGENDA & SPEAKERS
Session 1: The Future of Fintech (2:05 - 2:50 pm)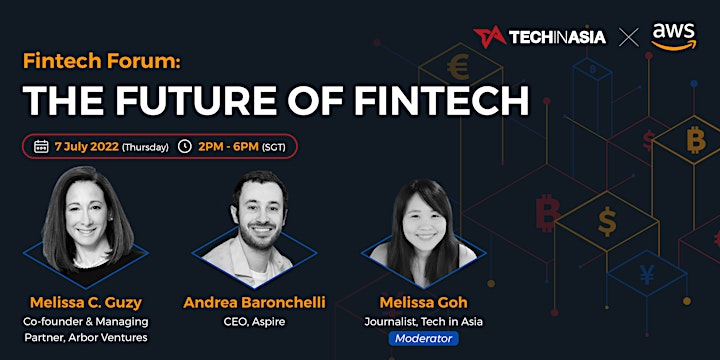 After years of strong growth and unprecedented funding, how will Southeast Asia's fintech start-ups fare in 2022's macroeconomic climate? In this opening session as our tech leaders will explore opportunities, challenges, and predictions for the region's fintech community.
Session 2: The New World of DeFi (2:50 - 3:20 pm)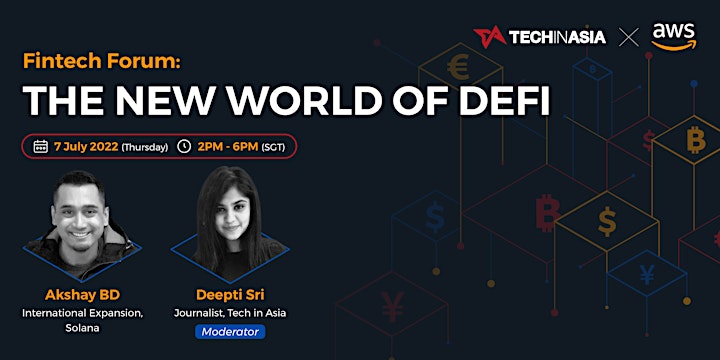 Decentralized Finance (DeFi) sits at the intersection of web3 and fintech, creating a decentralized network of financial services. In this fireside chat session, familiarize yourself with the key concepts and players in the DeFi movement.
Session 3: Helping Fintechs Grow and Scales (3:20 - 4:05 pm)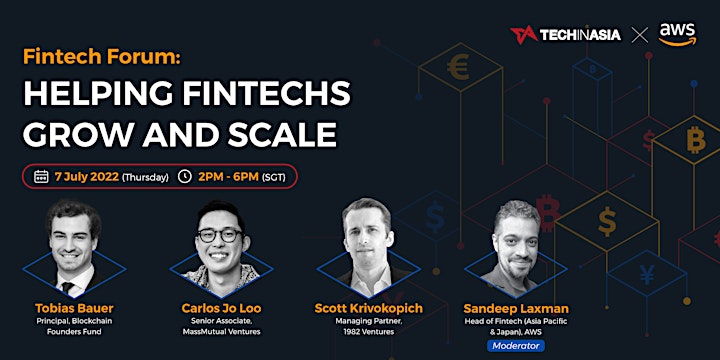 When it comes to scaling, fintechs are frequently concerned with acquiring thousands of new customers and rapidly expanding their team, all while maintaining their tech platform and evolving product. Join this panel session as our tech leaders will dish out how fintechs can navigate the growth and scaling phases.
Session 4: Building for NFTs (4.05 – 4.35 pm)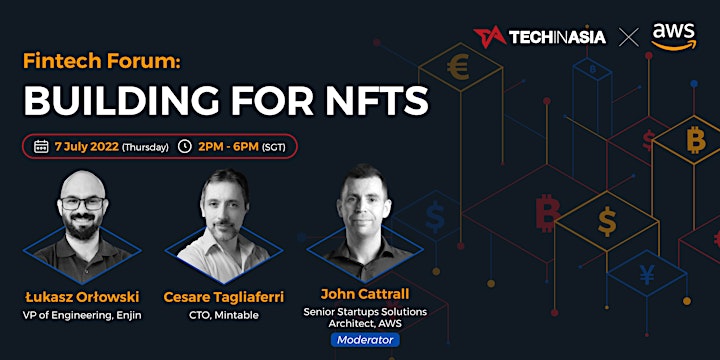 Building an NFT means navigating a whole new world of web3 technology. In this technical session you will gain insights from our experts into the fundamental tools and resources for building NFT, best practices in developing your smart contract and NFT tech stack, common engineering problems and solutions, and how to build for NFT marketplaces.
Session 5: What you need to know when building for Web3 (4.35 – 5.05 pm)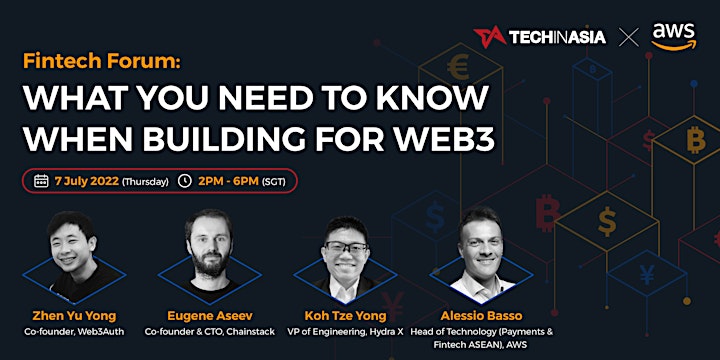 Where to begin to build on web3? Join this session as our speaker will dish out Web3 infrastructure and tools, biggest differences between building web2 and web 3 and explore case studies that will help you to build your business on web3.
Session 6: NFT Trends in Indonesia (5.05 – 5.35 pm)- conducted in Bahasa Indonesia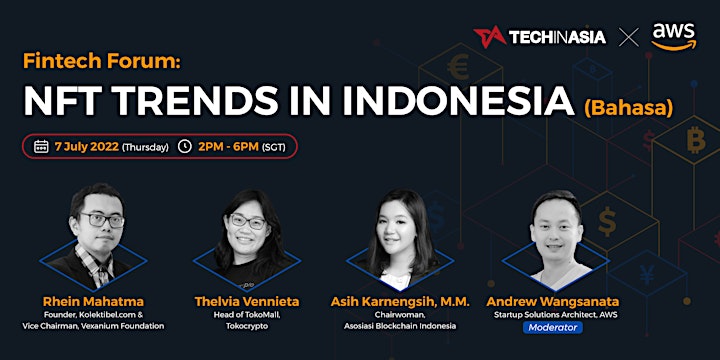 Since the trend of "Ghozali effect", NFT started to gain more attention in Indonesia. Join us in this session as our speakers will share their insights into NFT trends and ecosystem in Indonesia, future business opportunities of NFT in Indonesia and how regulation aspects will influence NFT adoption.
Session 7: Building for Fintech (5.35 – 6.05 pm) - conducted in Bahasa Indonesia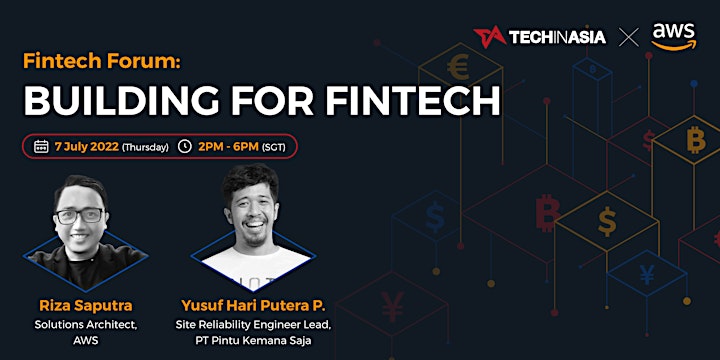 Join in this session to learn how Pintu, as one of the biggest crypto applications, grows using technology in a bullish circumstance. Learn more about Pintu's challenges and opportunities and how they optimize application performance through container technology.
Who should attend?
CTOs
CXOs
Fintech startups
Managers, senior leaders, and decision-makers from fintech across the region
Why should you attend?
Get highlights on the latest fintech trends
Unlock emerging opportunities in the sector
Gain insights from the top fintech thought leaders
Connect with fellow fintech professionals
About Tech in Asia
Tech in Asia (TIA) is the largest English-language technology media company that focuses on Asia. From the latest news and hottest trends to the boldest startups and strongest titans, TIA covers everything tech in the region. The company aims to build Asia's tech and startup community by bridging the gap between businesses and the information, talent, and connections they need.
About Amazon Web Services
Amazon Web Services provides startups with a low-cost and easy-to-use infrastructure that they can use to scale and grow their businesses. With AWS Activate, startups get access to the resources they need to quickly get started on AWS - including credits, technical support, training, and more.
---
By registering, you're giving your consent to receive marketing and promotional emails from Tech in Asia and its partners.