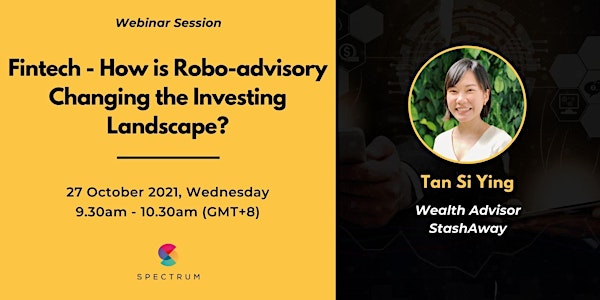 Fintech - How is Robo-advisory Changing the Investing Landscape?
Join our upcoming webinar to learn about the future of investing with robo-advisors and how robo-advisors overcome the challenges they face.
About this event
Digital investing platforms and robo-advisory have seen higher adoption rates as compared to pre-pandemic levels, according to StashAway, an intelligent wealth management platform. Millennials have long been robo-advisors' largest demographic but a growing number of investors across all ages have become more receptive towards managing their wealth online.
With traditional banks entering the space, what are the appetites and trends in Asia and globally for robo-advisory? Will AI-powered robo-advisors completely replace human experts or will the need for human connection still play a crucial role?
Learn more about the future of investing with robo-advisors and beyond with StashAway in our upcoming webinar.
About the Speaker
Tan Si Ying, Wealth Advisor, StashAway
Si Ying is a Wealth Advisor in the StashAway Singapore office, handling investment advisory to the HNW clients.
Previously, she led a team of 20 as a Client Engagement Team Lead at StashAway, serving clients in Singapore, Hong Kong and the UAE region.
Si Ying is a Licensed Representative with the Monetary Authority of Singapore for Asia Wealth Platform, the legal entity of StashAway.