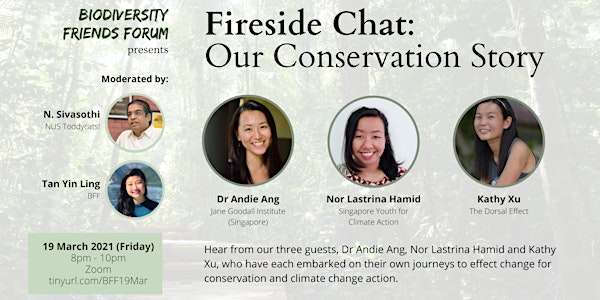 Fireside Chat: Our Conservation Story
What does it mean to speak up for a cause you're passionate about?
About this event
Dr Andie Ang, Kathy Xu and Nor Lastrina have each taken their own journeys in conservation and climate change activism. An important part of their environmental journey was in making their voices heard through various platforms, such as our BFF Challenge participants writing their reflections on a publicly-readable blog.
Take this rare opportunity to have a cosy talk with these passionate eco-warriors and how they stepped forward for the environment!
More about our speakers
Dr Andie Ang: Primatologist specialising in the study of the Raffles Banded Langur. Andie is also part of the Jane Goodall Institute (Singapore) (JGIS).
Nor Lastrina: Co-founder of Singapore Youth for Climate Action (SYCA), a youth group striving to meaningfully engage youths in climate action or environment-related volunteerism.
Kathy Xu: Founder of the Dorsal Effect, an Eco-tourism business based in Lombok, offering alternative livelihoods for shark fishermen in Lombok, Indonesia.