Description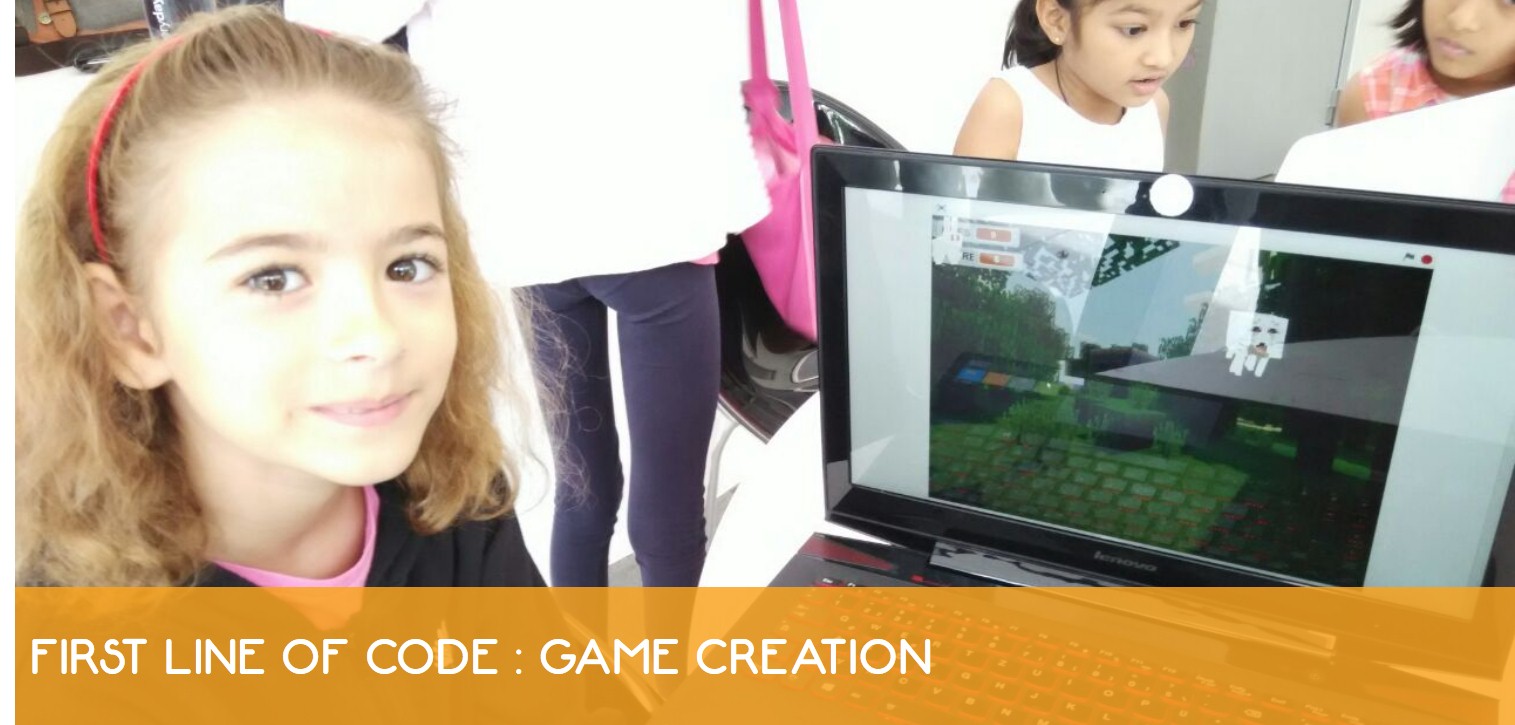 FIRST LINE OF CODE: GAME CREATION - This is an introductory camp that will expose your child to the world of programming and through that, sharpen their logical thinking, creativity and problem-solving skills.

List of Activities and Objectives:
Micro:bit, an MOE-selected programmable computer that brings out the creator in your child through project work

Lightbot, an educational game that sharpens your child's spatial visualisation and problem-solving skills while learning software programming concepts such as variables and loops.

Scratch Programming, a game creation tool, where kids will write their first lines of code and learn to create computer games within a span of an hour.
Date(Sunday): 19 Nov / 3 Dec / 10 Dec / 17 Dec
Time: 8.30am - 12.30pm / 1:30pm - 5:30pm
Price: $140
Venue: Singapore Shopping Centre, #03-14/15, Singapore 239924 (in partnership with Byron Tuition Centre)

Nearest MRT stations: Dhoby Ghaut (Exit C)
Things to bring along: Fully charged laptop and stationery(Let us know if you are unable to do so, and we will make arrangements for a spare laptop)
For more information, visit us at www.tinktanksg.com or www.facebook.com/TinkTankSG

1 to 4 guaranteed student teacher ratio to ensure the best learning experience for your child
Trusted and professional kids-coding partner that have provided coding courses for students aged 6-12 through our centre, partners and affiliated organisations
Students will receive personalised feedback throughout the course on their progress and we value parents' involvement in the child's coding journey

PROMO CODE: TTBUDDY
If you plan to sign up with your friend or sibling, use the Promo Code above when you checkout and enjoy a SGD $25 off for each Child's ticket.
Note: Tink Tank SG reserves the right to cancel a ticket if an incorrect promo code is used.

1) My child is new to computers and programming. Will he/she be able to follow?
Of course! Most of our students come in with no prior programming knowledge and they can still make awesome projects at the end of the day.
2) My child is younger than 7. Can he/she join?
Yes. Scratch was designed for 6-16 year old but is used by people of all ages.
3) Mixing 6-12 yrs old kids, ok?
It is fine for workshop, the workshop content is easy to understand. The aim of the workshop is to expose students to programming and see if they like it, the last thing we want to do is to force students into learning something that they are not interested in.
However, when it comes to regular class, having a 6 year old in the same class as a 12 year old may not result in the best learning environment for the younger student. Hence, this workshop provides us a good chance to assess the learning capability of these students, so that we can better allocate these students into classes that suit their learning paces.
4) I've enrolled my child, what will he/she need to bring?
Please bring along a fully-charged laptop and computer charger, we will be installing the programming software on their computer so that students can continue practicing at home even after the workshop. You might wish to bring a drink, some light snacks and a jacket just in case your child gets cold or hungry. We'll give the class breaks in between so your child can take that time to rest.
5) What if he/she does not have a laptop?
We do provide spare laptop for students.
6) Takeaways for this workshop
What is Algorithm

How Computer Thinks

Basic Programming Concepts

Problem Solving & Logical Thinking Skills (Teach them how to break down big problem to smaller problems and solve them using a series of well-defined logical instructions)
7) My child has a short attention span
Not a problem at all. Lessons at Tink Tank are very hands-on, 20% theory, 80% practice. Students will be working on their computer most of time.
8) What next after the workshop
If they like programming, we will strongly encourage them to enroll into our Tink Tank Journey (See below for more description), where they will get to learn more advanced programming concepts, app & web creation.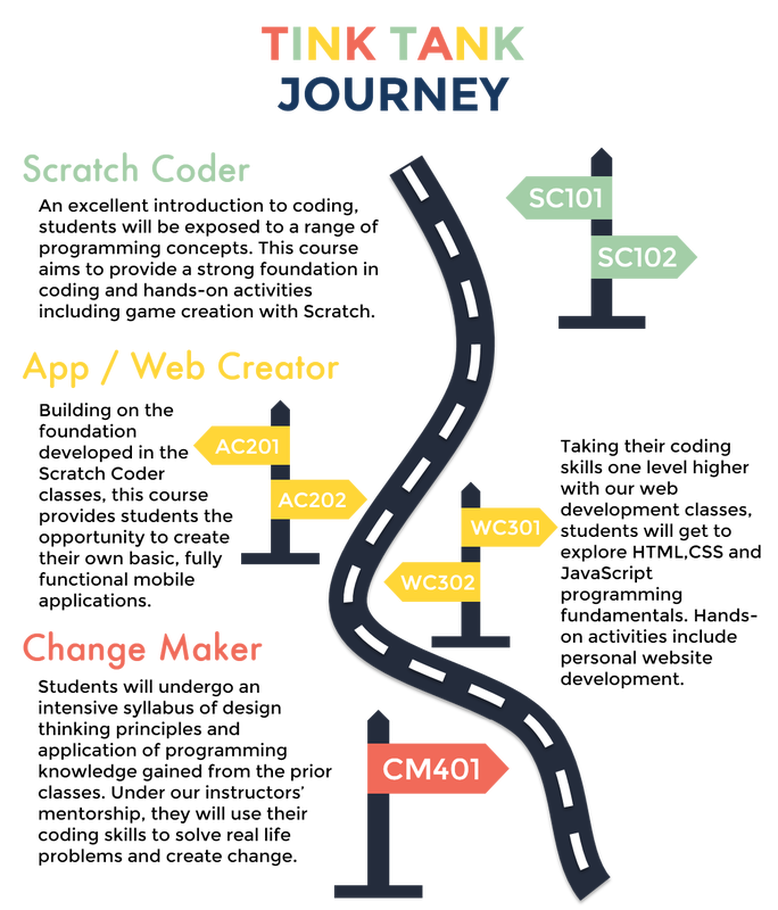 9) How can Tink Tank's lessons benefit my kids?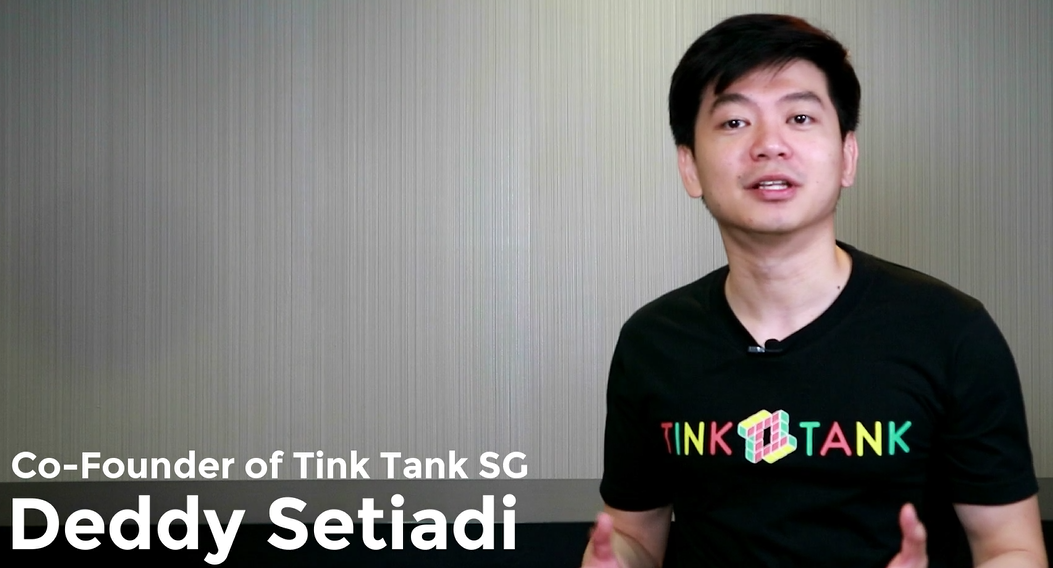 Click on this link: https://youtu.be/jHShYYl1d-U
10) Do ypu do workshop for secondary school students?
Yes, we do have workshops for secondary school students. For this age group, we will be bringing in a more advanced programming language, Python. So instead of learning a drag & drop block based programming like Scratch, they will be exposed to real programming where they will get to type lines of codes. FYI, by next year (2018), Singapore aims to introduce Python to 19 secondary schools as part of the Smart nation initiatives, at Secondary 3 level. Some of the schools that take part in this initiative are Bukit View Secondary School, Chung Cheng High (Yishun) and Zhonghua Secondary School.
(http://www.straitstimes.com/singapore/education/19-schools-to-offer-programming-at-o-levels)

To equip every child with programming knowledge and the power to create change
Tink Tank was founded on the mission to expose children to the world of computer programming and through that, empower them with logical thinking, creativity and problem-solving skills. In today's digital world, programming language is the new literacy. Rather than showing your children how a computer works, we will teach them how to make a computer work for them. We want every child we teach to have fun with coding and learn to be creators and change makers, rather than passive consumers of technology.