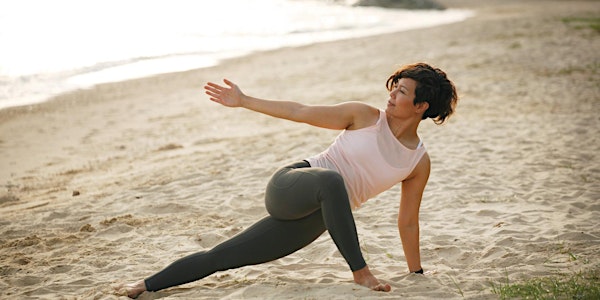 Flex x Food x Feelings - A half day wellness retreat to nourish & inspire!
Trigger your happy hormones with a lovely half-day retreat: sunrise beach yoga, mindful walking, cooking & lunch at One Kind House, sharing.
When and where
Location
One Kind House 136B Lorong J Telok Kurau Singapore, 425966 Singapore
About this event
At Yoga in Common, we have always believed that Wellness is not a luxury, it is a necessity. To live our best lives into old age, whether it is through movement, food, community or cultivating a positive mindset, we can take steps towards a more healthy state of being. Our Food x Flex x Feelings is a unique half-day outing curated to bring all the triggers of happiness to the table, so to speak! Through intentional guided movements (Yoga), mindfulness exercises, harvesting/cooking/eating our own food, uplifting conversations and the sharing of thoughts with like-minded people, we hope that you can power down and leave the mundane behind.
Our Lovely FFF Partner:
After the success of our last outing, we are super keen to reprise Flex x Food x Feelings in 2022. There are lots of places in Singapore to discover or rediscover, and pockets of peacefulness and beauty to seek out. Kim, our participant from last year's FFF observed that the outdoor "yoga practice felt like Bali, and lunch felt like Japan". This year, we have challenged ourselves to change things up so that we can create another unique and memorable FFF outing for our participants.
When we read One Kind House's Mission Statement, we were sold!
"One Kind House is for kind people who are also one of a kind.
People who like growing, cooking and eating their own veggies, learning old traditions and creating new ones.
A place to champion young chefs, artists, inventors, innovators, and do-gooders."
One Kind House sees itself as a "21st Century Kampung". Expect to feel transported back in time when you step into the lush and unaffected compound that houses this wonderful Singaporean institution. You will get to meet the incomparable Mummy Soh, and discover the art of making scrumptious local cuisine. The best part? We get to eat what we cook!
Event Schedule:
7.30am – 9am: Sunrise Beach Flow with Hary
Watch the waves, smell the sea and hear the seagulls as you practise a gentle morning flow with Hary on our East Coast beach. What a lovely way to awaken the body and enliven the spirit. This will also help you work up an appetite!
9am – 9.30am: We will take a mindful walk along the shores with bare feet, tuning out the world and being fully present in the moment.
9.45am – 10am A chartered bus will drop us off at One Kind House.
You are invited to wander around the gardens and see what is being harvested for lunch!
10.30 am – 11.30am Learn to make yummy vegetarian dishes.
11.30 – 1pm Eat what you cook! Enjoy your long lunch with your fellow budding chefs.
1pm – 1.30pm Sharing Circle
Feel free to share your feelings, thoughts and experiences about yoga, food and your aspirations with Hary and the group.
Your investment: Early Bird $265 per person (includes a surprise gift) before 15th August; Regular price $289 per person.
Limited numbers: We would like to keep the event small and intimate so we have limited to the number to 9. Come by yourself or come with a friend, but do sign up early!