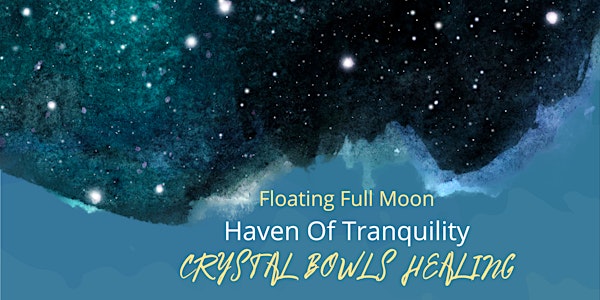 Floating Full Moon "Haven Of Tranquility" CRYSTAL BOWLS HEALING
Take refuge in calming tones from Crystal Bowls, explore inward to find peace & resonance for healing, seeking your haven of tranquility
When and where
Location
Mindful Space 10 Winstedt Road #Block A, 02-02 Singapore, 227977 Singapore
About this event
Floating Full Moon "Haven Of Tranquility" CRYSTAL BOWLS HEALING
Date: 8 October 2022 (Saturday)
Time: 6:00pm - 7:10pm
Venue: Mindful Space
Energy Exchange: $55 - $58.69 (Eventbrite fees apply)
Modern-day spiritual leader and author, Eckhart Tolle says, "If you get the inside right, the outside will fall into place."
We invite you to join with us on one of the most powerful paths to take you within to quiet your mind chatter so that you can harmoniously connect your heart, body and spirit - tuning out the noise of the outside world to find your haven of tranquility and hear your inner voice - the only voice that matters.
The highest grade of Alchemy Crystal Bowls joined by Therapy Harp, Crystal Lyre, Euphone, Metallophone, Chimes, Rattle, Drum, Bells or Sound Tube will lead you to float literally on a tapestry of specially tuned healing frequencies - Ethereal, Captivating and Beautiful, they take the listener on a musical journey.
The feeling with these harmonic vibrations is like being immersed in waves of peace, heightened awareness and relaxation of the mind, body, and spirit. These healing energies move through the body in a way that can help to gently release energetic blocks, reduces tension, stimulates circulation, and also aids the relaxation of the conscious mind and achieves alpha and theta brainwave states that promote that deeper sense of relaxation. This will help to lessen stress, sleeplessness, anxiety, depression, grief, physical pain and addiction.
Sound Healing when boosted by the Full Moon energies, offers a powerful healing opportunity and optimum time for recharging your energy field, and clearing your chakras. Releasing and letting go during the Full Moon will give you a freeing energy, makes you feel invigorated, and renewed from all the things weighing on you. It is a powerful time for looking within and feel empowered in your achievements. Indulging in a therapeutic Sound Bath session at this time can yield incredible healing results, both physically and mentally.
Today, we are reconnecting with these powerful ancient practices and when we learn them from both their indigenous roots and our modern scientific perspective, we can begin to find that inner peace and heal from generations of disconnection of our own selves, families, communities, and the world at large.
Benefits of Sound Healing:
• Deeply relaxing
• Reduced tension, stress, anxiety & depression
• Boosts your health
• Supports mental, emotional & spiritual well-being
• Helps clears energetic blockages
• Improves quality of sleep
• Deeper states of consciousness
• A chance to recharge
• Improved sense of Self-awareness
• Lower blood pressure
• Improves mental clarity and brain functioning
• And many more…
All are welcome! Come with an open mind and heart and no experience in mediation is required.
** You will bring home a Crystal Stone gift with wonderful healing properties as well**
You can DM me directly to make a booking. (No Eventbrite fee and payment can be made through PayNow)
Come in comfortable attire and refrain from wearing clothes with zip and sharp or pointed jewelry/accessories that may damage the hammock.
You are highly recommended to bring your own eye pillow, blanket, jacket or/and cushion in order to thoroughly enjoy the session in total comfort.
The space will be sanitised before and after the event and sanitising spray and hand gel will be available. Please do not attend the class if you are feeling unwell.
Do read through and observe the venue guidelines. Arrive at least 20 mins earlier prior to the session and latecomers will be rejected from attending the session once it starts.
This session will be held at Mindful Space. Address: 10 Winstedt Rd, Block A 02-02, Singapore, 227977 (Beside ACS Junior or Newton MRT).
Direction to Mindful Space will be provided in the order confirmation email.
Minimum 5 to run.
By Sound Therapist Wendy Lum
(FACEBOOK): www.facebook.com/wenyogaheal
(INSTAGRAM): www.instagram.com/wenyogaheal
IMPORTANT NOTE:
There may also be constant changes to the Covid-19 safe management regulations depending on Government announcement and the Covid -19 situation then. We will adapt and change the safe management regulations accordingly and we seek your kind cooperation to adhere to them.
If you have any questions, you are welcome to email to hellowenyogaheal@gmail.com or direct message through Instagram or Facebook.