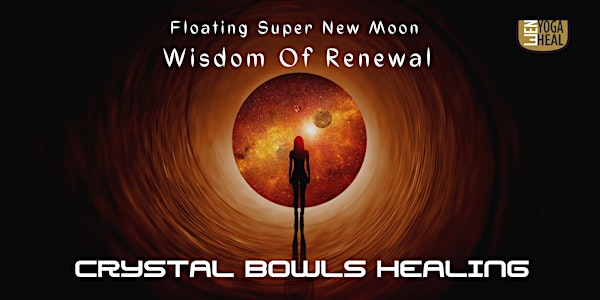 Floating Super New Moon "Wisdom Of Renewal" CRYSTAL BOWLS HEALING
Explore the healing wisdom of crystalline sounds, diving deep into introspection to find Renewal, Joy, Peace and Abundance of well-being
When and where
Location
Mindful Space 10 Winstedt Road #Block A, 02-02 Singapore, 227977 Singapore
About this event
Floating Super New Moon "Wisdom of Renewal" CRYSTAL BOWLS HEALING
Date: 22 December 2022 (Thursday)
Time: 7:50pm - 9:00pm
Venue: Mindful Space
Energy Exchange: $55 - $58.69 (Eventbrite fees apply)
Sound has been used as an ancient healing modality in various cultures for thousands of years, with its ability to generate vibrations with differing frequencies through to our body, mind and soul.
Join us as we co-create an inward journey through the subconscious and on a cellular level, reconnecting deeply to your heart center while realigning physically, emotionally and mentally into harmonic balance and attaining renewal. Through a gentle yet transformational loving sounds and vibrations from the Alchemy Crystal Bowls and other specially crafted healing instruments such as the Therapy Harp, Crystal Lyre, Metallophone, Euphone, Chimes, Drum, Sound Tube or Rattle, they take the listener on a personal entrancing journey.
Take refuge from the hustle and busyness of your life and immerse in waves of peace, heightened awareness and relaxation of the mind, body, and spirit. These healing energies move through the body in a way that can help to gently remove unwanted patterns, calm the nervous system, bring the body into coherence, nourishing every cells inside and help us settle into a deep level of gratitude for all that we have.
A Super New Moon occurs when there is a New Moon around the closest point to Earth. With is super-charged New Moon, it present a fantastic and powerful chance for us to rest and re-set in resonance to the therapeutic sound frequencies. It marks the beginning of a new lunar cycle and a period for introspection, reflection, and re-connection. We harness the energies of the New Moon cycle to shift, open and cultivate. It is a very magnetic time, full of new ideas and opportunities and has the chance to present many spontaneous and unplanned – even unimaginable – experiences, so make sure you are tuned in to benefit in many positive ways.
People loved the experience and asked for more, come join the many others to discover this out-of-this-realm experience simply just by relaxing inside a hammock. It allows you to crowd out the noise of our daily lives through and provides us with an opportunity to find and tap on our wisdom to completely release, renew and be present. A truly musical medicine that awakens and heals the spirit!
Benefits of Sound Healing:
• Deeply relaxing
• Reduced tension, stress, anxiety & depression
• Boosts your health
• Supports mental, emotional & spiritual well-being
• Helps clears energetic blockages
• Improves quality of sleep
• Deeper states of consciousness
• A chance to recharge
• Improved sense of Self-awareness
• Lower blood pressure
• Improves mental clarity and brain functioning
• And many more…
All are welcome! Come with an open mind and heart and no experience in mediation is required.
** You will bring home a Crystal Stone gift with wonderful healing properties as well**
You can DM me directly to make a booking. (No Eventbrite fee and payment can be made through PayNow)
Come in comfortable attire and refrain from wearing clothes with zip and sharp or pointed jewelry/accessories that may damage the hammock.
You are highly recommended to bring your own eye pillow, blanket, jacket or/and cushion for extra comfort and hygiene purposes.
The space will be sanitised before and after the event and sanitising spray and hand gel will be available for usage.
Please do not attend the session if you are feeling unwell.
Do read through and observe the venue guidelines. Arrive at least 20 mins earlier prior to the session and latecomers will be rejected from attending the session once it starts.
This session will be held at Mindful Space. Address: 10 Winstedt Rd, Block A 02-02, Singapore, 227977 (Beside ACS Junior or Newton MRT).
Direction to Mindful Space will be provided in the order confirmation email.
Minimum 5 to run.
Multi-Instrument Sound Therapist Wendy Lum
(FACEBOOK): www.facebook.com/wenyogaheal
(INSTAGRAM): www.instagram.com/wenyogaheal
(LINKTREE): linktr.ee/wenyogaheal
IMPORTANT NOTE:
There may also be unprecedented changes to the COVID-19 safe management measures depending on prevailing regulations. Regulations shall be updated accordingly and we seek your kind cooperation in adhering to them.
If you have any questions, you are welcome to email to hellowenyogaheal@gmail.com , direct message through Instagram or Facebook (Wenyogaheal) or WhatsApps (message only) to +65 8751 1678.