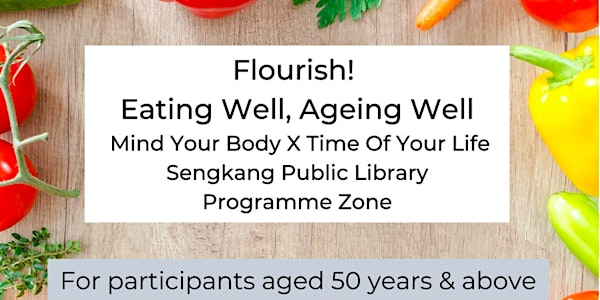 Flourish! Eating Well, Ageing Well (Onsite) | Mind Your Body x TOYL
Location
Sengkang Public Library - Programme Zone
1 Sengkang Square Compass One
#03-28 & #04-19
Singapore, 545078
Singapore
Understand what your body needs in your golden years and feed yourself right!
About this event
About the Programme
Are you finding it hard to choose and enjoy the right food for your body? Join Active Health Nutritionist Cheryl Tan in an interactive session to learn the nutritional needs of the human body that changes as you age. You will also gain insights on how to identify and make healthier food choices when doing grocery-shopping or eating out so that you can stay strong and energised!
Do take a look at this list of healthy recipes (https://www.activehealth.sg/read/tag/recipes ) provided by Active Health and feel free to share your healthy recipe with us during the session.
This programme is suitable for those aged 50 and above, and organised in collaboration with Sengkang General Hospital and Active Health.Speaker's ProfileCheryl Tan is an Active Health Nutritionist at Sport Singapore with a Bachelor's Degree in Food and Human Nutrition from Newcastle University.Often inspired by local traditional flavours, she aims to make healthy eating tasty and suitable for the Singaporean palate. She aspires to help people embrace the beauty of Asian produce, which are highly nutritious but underrated. She also wants to debunk the myth that eating healthy is expensive, by demonstrating how it can be done in an affordable and sustainable manner!
Disclaimer: All content and advice shared during the programme are for informational purposes only. It is not intended to be a substitute for professional medical advice, diagnosis, or treatment. 
About the Series
The Time Of Your Life (TOYL) programme series features informative talks, creative workshops, book clubs, and learning communities for those aged 50 and above. Seniors can expect to stay relevant with these programmes that cover a wide range of topics such as health, personal finance, technology, and the arts.
Please note the following:
All participants are required to register for a ticket. Each ticket admits 1 person only.
Arrive 10 mins before the session commences. Seats of late attendees may be given to waitlist.
Please take note of the prevailing safe management measures and keep your mask on at all times.
NLB reserves the right to deny entry to participants who do not abide by the ground rules.