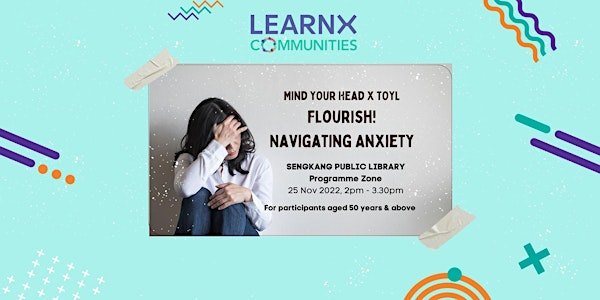 Flourish! Navigating Anxiety (Onsite) | Mind Your Head x TOYL
Take charge of your own mental wellness and learn how to build mental resilience.
By GoLibrary | National Library Board, Singapore
When and where
Date and time
Fri, 25 Nov 2022 14:00 - 15:30 +08
Location
Sengkang Public Library - Programme Zone 1 Sengkang Square Compass One #03-28 & #04-19 Singapore, 545078 Singapore
About this event
About the Programme
The process of ageing can feel unfamiliar and may sometimes result in anxiety. However, as anxiety is experienced at varying intensities, it can be difficult to distinguish regular and severe levels of anxiety – the latter often requiring medical intervention. What are the signs we can look out for to determine if we should seek medical help?
In this interactive workshop, join psychiatrist Dr Seow Su Yin as she takes you through how to recognise anxiety and the ways to differentiate safe levels of anxiety from more serious anxiety that may be indicative of a disorder. Dr Seow will also share tips on self-care and improving both mental and physical health.
Take a look at these pre-reading materials to learn more about anxiety disorder and ways to achieve mental wellness:
1) Understanding Anxiety Disorder (https://go.gov.sg/flourish-anxiety)
2) Achieve Mental Wellness by Practising Mindfulness (https://go.gov.sg/flourish-mindfulness)
3) The Wonder of Aging: A New Approach to Embracing Life After Fifty by Michael Gurian (https://go.gov.sg/flourish-woa)
Disclaimer: All content and advice shared during the programme are for informational purposes only. They are not intended to be a substitute for professional medical advice, diagnosis, or treatment. 
This programme is suitable for those aged 50 and above, and organised in collaboration with Sengkang General Hospital.
About the Series
The Time Of Your Life (TOYL) programme series features informative talks, creative workshops, book clubs, and learning communities for those aged 50 and above. Seniors can expect to stay relevant with these programmes that cover a wide range of topics such as health, personal finance, technology, and the arts.
About LearnX Communities
Flourish! is one of NLB's many LearnX Communities that connect like-minded people to create a modern kampong of communal learning. These communities cover a wide range of topics and can be found in libraries all over the island.  
Interested? Head over to https://go.gov.sg/what-is-a-learnx-community to join an existing community or start one of your own!  
About the organiser
The National Library Board (NLB) manages a network of 28 libraries, the National Library and the National Archives of Singapore. NLB promotes reading, learning and information literacy by providing a trusted, accessible and globally-connected library and information service through the National Library and a comprehensive network of libraries.