Online Access session for you to stay active and healthy with your Body, Mind and Heart.
About this event
Flow Meditation
How we connect with the work matters: Opening your body, allowing the qi, life force to circulate within you. Letting go all the tension, stress, emotions, so you can open your mind and heart. Connecting yourself and the world again.
Flow Meditation is a class specially designed for Work From Home adult. After months of work from home, Hui Lee observed the challenges and side effects of working from home on her personal and client's experiences. As a person who is very sensitive to her body changes, she realised her body circulation and physical health is deteriorating due to lack of movement from work from home lifestyle. She starts practising 'the 5 element flows' and see the benefits after doing these practices. She would like to share these benefits for those who faces similar situation as her through this meditation session.
What is Flow Meditation?
Flow meditation is created based on Qi Gong and 5 elements psychology to help working adults to manage their energy better. It is a series simple foundation movements and stances working on activating and aligning 5 elements energies to allow greater fluidity, open up meridian channels and also directing energy in our body to support the demand of our life. In flow meditation, it is break into 3 parts to direct our energy to what is matter:
Part 1: Moving Meditation (Yang)
Part 2: Passive Meditation (Yin)
Part 3: Planning & Intention
Who is suitable for Flow Meditation?
- If you caught yourself drop into endless thinking and didn't materialised your idea
- If you feel overwhelmed by a mountain of task to be done yet no matter how hard you work, it seems to be endless.
- Lack of body movement because of work from home
- It you find it hard to concentrate on work on hand.
- If you would like to realign your mind-body-emotion and recharge yourself during lunch break
- If your head feel muddle and you would like to have more clarity in life  
Benefits:
- Activate the qi (life force) within us.
- Promote circulation and flow the energy within our body to increase vitality and immunity.
- Destress, let go and allow us to go into a state of flow.
- Alignment of body-mind-emotions and our external environment
- Gain clarity and mental clearness.
- Bring your focus back to what is matter.
Preparation:
- Wear comfortable clothing.
- Place big enough for your to do some stretching and movement.
- Notebook and pen
- Drinking water
About Yii Hui Lee
Yii Hui Lee is a certified Mindfulness and Meditation teacher. She believes that meditation is as importance as literacy. Literacy bring us knowledge and providing us a tools and ability to connect with other. Meditation on the other hand, is a tool to bring us to connect within. It connects us with our heart, so we can be compassion and empathetic when interacting with other. It brings us to connect within, allowing us to relax, de-stress and bring clarity and peace within.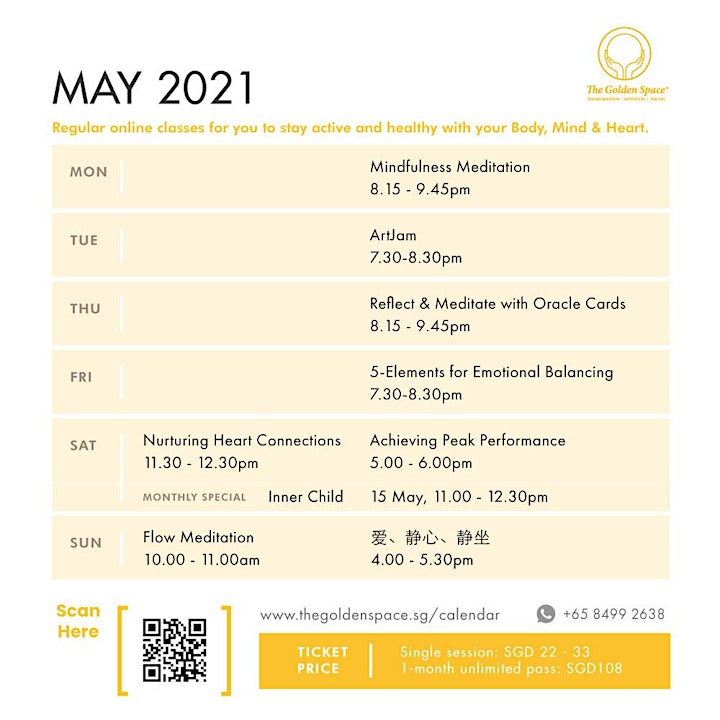 Date and time
Location
Refund policy