About this Event
This class focuses specifically on tangling your feather in Zentangle® method. Allow your self-expression from inside-out and 'go with the flow' freely…
✅ In this session, you will
get to find your flowy expression from inside-out
get to see how beautiful your feather fill with patterns
add colours to create dimension at the art piece.
get to enjoy endless flowy fun!
✅ Who is this workshop for?
Participants must have attended a Basic Zentangle class (or equivalent) conducted by any Certified Zentangle Teacher.
(For Zentangle Beginners course, please check here)
Come join us if:
you are wish to see how your own flowy feather turn out
you want to connect your feel with your feather
you want to learn new tangles and turn them into feather
you just want to have fun!
✅ Instructor: Samantha Lee
+ Certified Zentangle Teacher
+ Japanese Pastel Hope Art Association Instructor
✅Venue
Centre of Joy 喜乐生活空间
540 Sims Avenue, #02-06 Sims Avenue Centre, Singapore 387603
(6-minute walk from Paya Lebar MRT Station Exit D, follow covered walkway, cross Geylang Lor 41 and 39, you will see the blue-white building after Lor 37.)
✅ Language of Instruction : Bilingual in English and Mandarin
✅ Date and Time : 2 Oct (Fri) 7pm – 9 pm
✅ Course Fee : $55
✅ Payment options:
1) Payment through Eventbrite, there will be processing and service fees incurred, to be paid by participants
2) Register through Centre of Joy website and made payment by bank transfer (no other fees)
✅ Material
Please bring your own basic Zentangle materials to class, or purchase one as listed below
All other materials will be provided in class
(optional) Colouring materials such as colour pencils or watercolour
Depend on your need, you may purchase the basic Zentangle material pack at $10 per pack. Basic Zentangle material pack include:
1 pc Sakura Micron pen 01 black
1 pc Tortillion
1 pc 2B pencil
5 pcs 100% cotton square white artist tiles
ANYTHING IS POSSIBLE, ONE STROKE AT A TIME!
For more details or information on other Zentangle courses, please visit : Centre of Joy website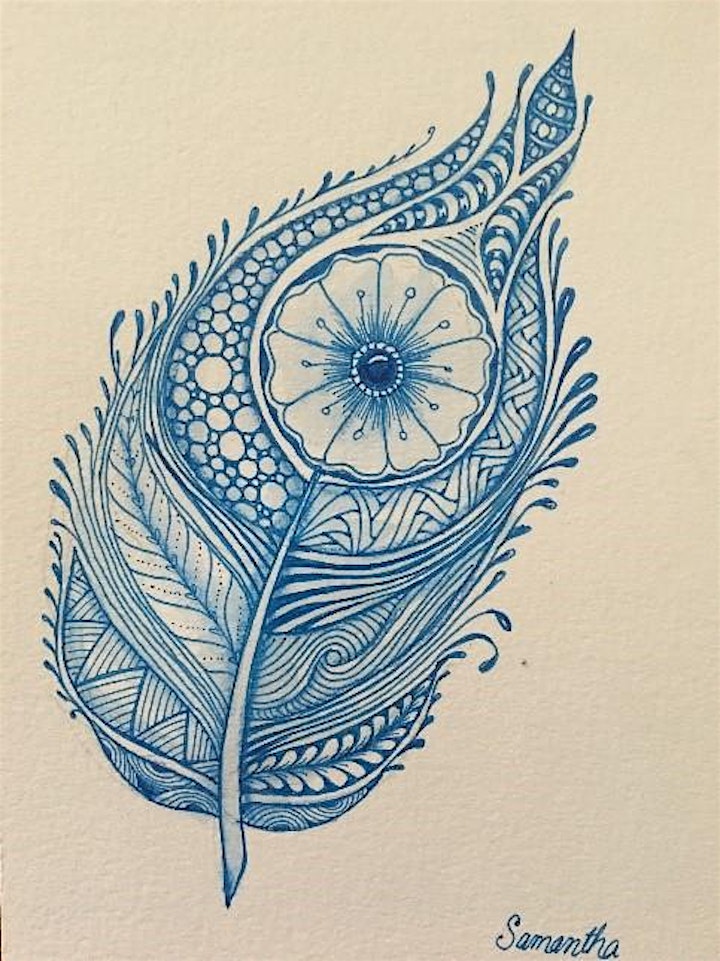 课程将专注于以禅绕式的方法绘出专属您的羽毛。让您的内心指引笔尖顺其自然地绘划,飘逸地划出您心目中独一无二的羽毛。。。
✅ 您将在这两小时中,
找到您内心的呼唤和心声并透过笔尖来表达出来
可以看看您画满美丽图样的羽毛
将羽毛画染色,增添气息
挥画的当下即可以享受无尽的乐趣!
✅ 这个课程适合什么人参加?
学员必须曾经参加由任何禅绕画认证老师带领的,至少1.5小时的初阶禅绕画课程。
(请查看这里了解禅绕画初阶课程详情)
欢迎您一起来探索,若您
希望看到自您的羽毛如何随您的心飘逸。
想试试如何将您的感觉和羽毛连结起来。
想学新的图样,将"它"引变成羽毛的分子。
纯粹想要开心禅绕!
✅ 导师:李慧深
+ 认证禅绕画导师
+ 日本和谐粉彩导师
✅上课地 点 :
Centre of Joy 喜乐生活空间
540 Sims Avenue, #02-06 Sims Avenue Centre, Singapore 387603
(从巴耶利巴地铁站 D出口,顺有盖走廊往前走,经过芽笼第41和39街,我们就在第37街路口的蓝白建筑二楼。)
✅ 授课语言: 双语教学
✅ 上课日期和时间: 10月2日(周五)7 pm – 9 pm
✅课程费用 : $55
✅ 付费途径:
1)通过 eventbrite 报名并缴费,报名者须缴付手续和服务费
2)通过喜乐生活空间网站报名,以及银行转账付费(无需缴付额外费用)
✅ 材料
请携带基础禅绕画材料来上课,或按需求购买(详情如下)
所有这次课程所需的材料将在课堂上提供
(可自备)上色材料,例如彩色笔、水彩笔、粉彩等等
视个人所需,你可以另外购买基础禅绕画材料,每套$10:
基础禅绕画材料包
1支 Sakura 01黑色带针笔
1支 2B铅笔
1支 推影笔
5张100%纯棉方形白色艺术纸
一笔一呼吸,万事皆可能
想了解更多禅绕画详情或课程,可查询 喜乐生活空间 网站
Cancellation Policy
1) There will be no refund for no-show or late arrival to class
2) In the event that the class is cancelled or postponed, a full refund will be returned to the participant