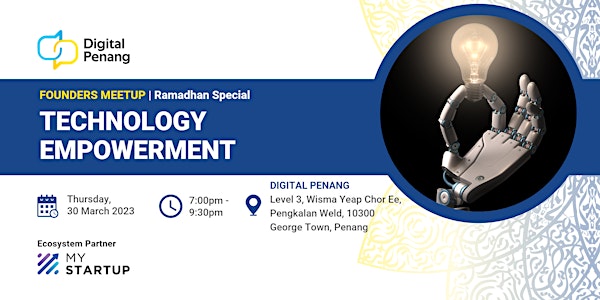 FMU | Ramadhan Special | Technology Empowerment
Come and join us to learn more on the opportunities available in traditional businesses & SMEs into the Digital Age.
Date and time
Thursday, March 30 · 7 - 9:30pm +08
Location
Level 3, Digital Penang, Bangunan Wisma Yeap Chor Ee Pengkalan Weld George Town, Pulau Pinang 10300 Malaysia
About this event
About this event:
As you know, Founders Meet Up is an event where we let the founders and potential founders mingle to network. We would be happy to welcome everyone to our Ramadhan Special, where we will have Iftar with our Muslim founders. There will be two sharing sessions by CC Leong from My.minda and William from Twilight Foundry.
Event Agenda:
6:30pm - 7:30pm : Registration & Networking Session
7:30pm - 8:15pm : Iftar & Dinner
8:15pm - 8:45pm : Emergence of Health Technology
8:45pm - 8:50pm : Toilet Break
8:50pm - 9:20pm : The Revolution of the Gaming Industry
9:20pm - 9:30pm : Networking Session
The Emergence of Health Tech Industry:
Healthcare technology, or "health tech," refers to the use of technologies developed to improve any aspect of the healthcare system. From this session, we will focus on the emerging trend available in the industry, what the opportunities are for the public, and how traditional business is adapting to the upcoming trend.
The speaker for this topic will be CC Leong, the co-founder of Minda.My. He will also share his experience on how he started the company and found the solution to this problem.
The Revolution of Gaming Industry:
Video games have been around for decades, providing entertainment for children and adults alike. They have evolved significantly from the early days of computer games. From this session, we will focus on the gaming industry trend throughout the years, the upcoming trend that we foresee in the future, and how the game developer will adapt to the forthcoming web3 and metaverse.
The speaker for this topic will be William, the founder of Twilight Foundry. He will also share his experience on how he started his career and the challenges of the industry in Malaysia.
About Minda.My:
Minda.My health tech company focuses on personal AI-based frequency health analysers, unlocking the value of Voval Biomarker Technology through data visualisation and automation to clients worldwide.MINDA's VOCAL BIOMARKER TECH can analyse your health status in just 3 minutes. It explores emotional imbalances and how the brain controls the process of fighting neurological conditions leading to physiological dysfunctions.
To find out more about Minda.My do check out this link: https://www.minda.my/
About Twilight Foundry:
Twilight Foundry Games is a Malaysian indie game development studio where the digital furnace runs hot deep into the night, forging games one memorable beat at a time. Our studio believes in providing a fair and inclusive collaborative environment.
To find out more about Twilight Foundry do check out this link: https://twitter.com/tfgames_
About Digital Penang:
Do check out our Linktree for upcoming event:
To find out more about Digital Penang initiatives and follow us:
Facebook - https://m.facebook.com/digitalpenang.my
Instagram - https://www.instagram.com/DigitalPenangMY/