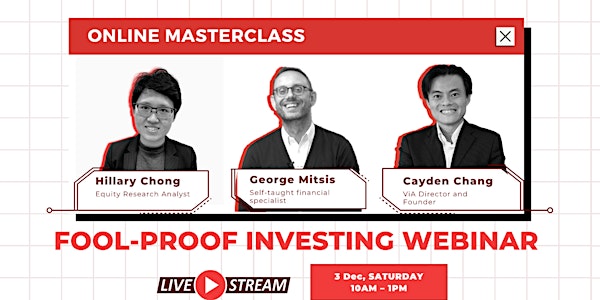 Fool-Proof Investing Webinar
Learn To Invest Your Cash and CPF Safely through Government Securities and High Yield ETFs That Will Beat The Bank's Returns.
About this event
What if you know how to maximize your CPF, Savings, and Invest in High Yield ETFs that are low-risks in a fool-proof manner?
In this investing webinar, our 3 speakers will share with you Fool-Proof methods on how you can maximize your idle savings or CPF in low risks, government-backed investments, and ETFs that are better than fixed deposits and bank interests.
Proudly Presented By
🔷 Hillary Chong, Equity Research Analyst (Maximize your cash, CPF, and SRS in government-backed security with a Maturity Period as Short as 6 Months)
Hillary will share how you can invest with a minimal amount of $1000 using your Cash, CPF, and SRS in a government-backed security you can trade on SGX with a short maturity date of just 6 or 12 months.
🔷George Mitsis (Guaranteed to Beat the Banks' Returns)
George will be sharing a simple-to-implement investment method for your idle savings that is better than banks' Interest, and Guaranteed Returns while 100% Capital Protected by our Government so that it's Absolutely Safe!
🔷Cayden Chang, ViA Founder (Investing in High-Yield ETFs)
He will be sharing exactly the various high-yielding ETFs (>15%/year) and how you can invest in them using a dummy-proof method.