Location
Shiseido Forest Valley @ Jewel Changi Airport
78 Airport Boulevard
Singapore
Singapore
Sales Have Ended
Registrations are closed
For more information, please visit www.xiunatureconnections.com . Or contact us at hello@xiunatureconnections.com .
Wellbeing and being well, in the heart of Jewel. Replenishing with therapeutic forest bathing, plus a walk through air on the Canopy Bridge!
About this event
Changi Airport Group, Jewel Changi Airport and Xiu Nature Connections are delighted to partner with the Singapore Tourism Board bring you a forest bathing experience in the Shiseido Forest Valley, as part of the Wellness Festival Singapore 2022.
We invite you to gentle mornings in the woods for your mental and emotional wellbeing.
Immersing in comfort, luscious green canopy and calmness, this exclusive 2-hour guided forest bathing experience will awaken your senses - literally and/or metaphorically. It is not just a walk in the forest, but a sensorial remembering of all of nature, including yourself. Curated and accompanied by Singapore's leading and most-experienced certified forest therapy guide(s), the experience will provide structure as well as openness to allow the natural unfolding of your sensorial re-discovery to self, others and all of nature.
Your sensuous morning continues with a bird's-eye view of the forest valley as you gently ascend and saunter along the Canopy Park and Canopy Bridge. With awakened senses, may this walk through air envelope you with more softness and wonder for the world.
Re-experience and re-discover this green oasis at the heart of our award-winning Changi Airport. May you step easefully into the rest of your day with bejewelled senses and a full heart!
What is included
A 2-hour guided forest bathing journey by certified forest therapy guide(s)
1x admission ticket to Canopy Park
1x admission ticket to Canopy Bridge
A forest-inspired gift.
What to expect
The forest bathing experience takes on a slow immersive pace. It is not a hike or a typical nature walk. It will not be strenuous, but you need to be comfortable to stroll/walk some stairs.
Certified forest therapy guide(s) will facilitate the experience. Nature and forest bathing invitations are suggested but are never compulsory.
Since we are immersing in a comfortable indoor forest/garden, outdoor/sports wear is optional.
Due to the more contemplative, slow and quiet nature of the experience, it is recommended for anyone aged 16 and above.
Electronic admission tickets for the Canopy Park and Canopy Bridge will be sent to you via email. These tickets are valid up till 30 June 2022, and you are free to choose to use it on your day of forest bathing or not.
You will receive a detailed information kit informing you of the meeting point and other details after registration.
Forest therapy and forest bathing are Science-backed. Research has shown them to benefit our health. You can find out more about forest therapy here.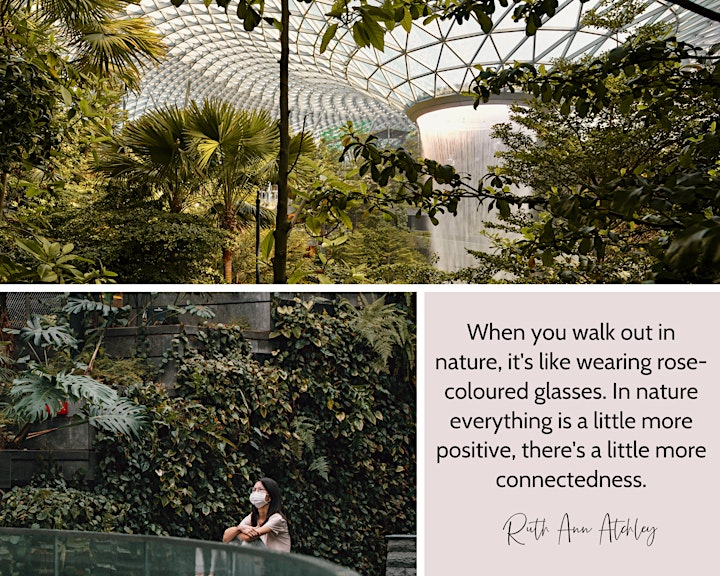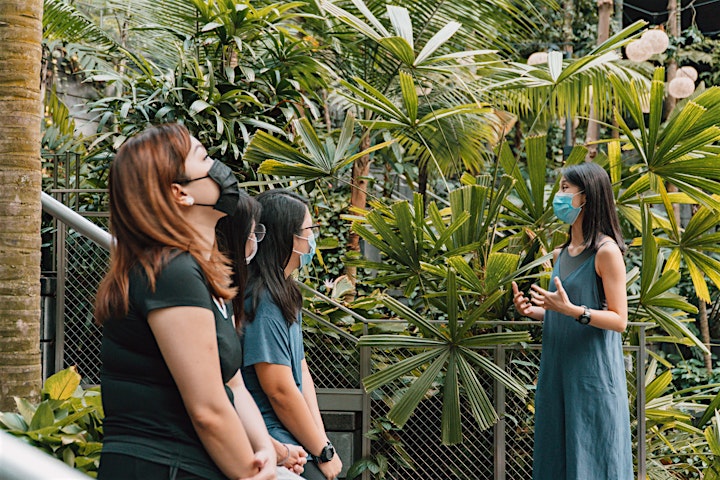 "Nature surrounds us, from parks and backyards to streets and alleyways. Next time you go out for a walk, tread gently ..." - David Suzuki
Reviews
"A gem of an experience. Starting my mornings bright and easy in the forest is so soothing and everyone should try it." - Guest
"One thing that surprised me about the experience was how we easily connected with our being and the surroundings." - Guest
"It's indeed an interesting session to learn a different way of experiencing a forest walk (without the bugs and mosquitoes!) using my own senses. It gave a calming and surreal feeling as everything slowed down." - Guest
Payments and registration
We also accept payment via Paynow and/or bank transfer. If you prefer to pay via Paynow and/or bank transfer, please write to hello@xiunatureconnections.com or DM us on our Facebook or Instagram to complete your registration and reserve your spot.
Registrations are strictly non-refundable.
COVID-19 restrictions and safety measures
Guests are required to:
Wear their masks at all times.
Maintain safe distance from others at all times.
Maintain personal hygiene at all times.
Access to the Canopy Park, Canopy Bridge and all attractions is limited to fully vaccinated adults and unvaccinated children aged 12 and below, with effect from 13 October 2021. Guests are to present proof of their vaccination status before entering the Canopy Park and attractions to the staff.
Please read our Terms and Conditions.
We reserve the rights to cancel and/or postpone the session if the minimum number of participants is not met. You will be able to register for another session without any further fees.
Important class details such as the exact meeting point etc. will be sent to you via a confirmation email from Eventbrite. Please read and retain that email.
Registrations are strictly non-refundable.
Photographs and/or videos may be taken at the sessions, and may be used for social media and publicity.
Questions? Please contact hello@xiunatureconnections.com .