Description
Nature & Me - a new dawn
Forest Bathing Day is the brain child of the Association of Nature and Forest Therapy Guides and Programs, USA.
On 8 September 2018, certified nature and forest therapy guides from around the world will be hosting forest bathing walks and events across the globe! Connecting with Earth, nature and other nature enthusiasts, no matter the distance.
Forest Bathing Day @ SG 2018 emphasises the new dawn of our relationships with nature - an intentional connection with our urban forests, an immersive exploration of our land and ourselves, an informative discovery of our innate need to (re)connect with nature.
Join us at our talks on forest bathing and biophilia, and Singapore's inaugural screening of awarding-winning film 'Love Thy Nature'! You will also have the opportunity to go on a guided forest bathing walk with certified forest therapy guides!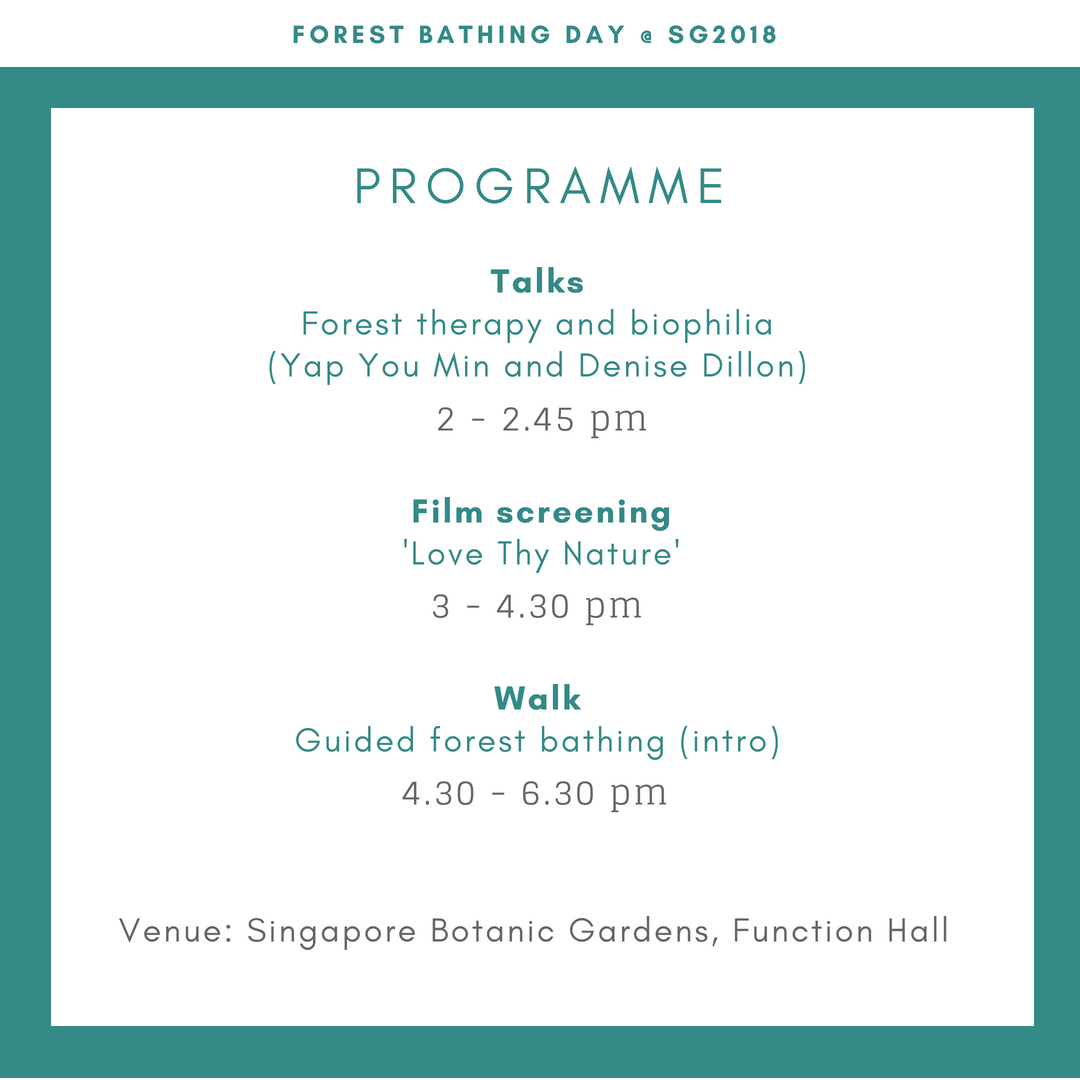 ---


"Love Thy Nature will light up your neurons, change your breathing, and deeply connect you to those you're with. The story will stay with you for a long time, because it's yours." - Wallace J. Nicholas, NY Times Bestselling Author





About the film
We've lost touch with nature. This disconnect hurts our health, dulls our spirit, and threatens our future. Narrated by Liam Neeson, Love Thy Nature is a cinematic journey through the beauty and intimacy of our relationship with the natural world. And it shows that a renewed connection with nature is key not only to our wellbeing, but also to solving our climate and environmental crises. Click here to read the full sypnosis and to watch the trailer.
---
About the speakers
You Min is a certified nature and forest therapy guide with the Association of Nature and Forest Therapy Guides and Programs, USA. A pioneer guide in Singapore and the Southeast Asia, she is passionate about sharing nature and forest therapy for well-being, especially for stressed out and disconnected city dwellers. Slowing down, re-connecting with nature and discovering oneself - these are part of her story. And her intention is clear - to support others on their journeys through her nature therapy practice. She conducts forest therapy for corporate workplace wellness and guides with Singapore's National Parks Board conducting nature therapy programmes. Spearheading nature therapy for wellness in the ASEAN region, You Min leads forest bathings at wellness retreats in Chiang Mai, Thailand. You Min is also a speaker at the International Forest Therapy Day 2018 seminar in Finland and at the Therapeutic Horticulture seminar by CUGE Research. Her academic background is in plant science, having earned a Master's degree in Life Sciences by research at the National University of Singapore. She is also a qualified educator and plant variety protection examiner.
Denise has a PhD in psychology and leads the Biophilia Research Cluster at JCU Singapore. She teaches into environmental psychology and has supervised several research projects aligning with the cluster focus, which draws on a local and global push for sustainability through an increase in opportunities for engagement with nature in high-density urbanised environments. Denise is an academic psychologist and certified Forest Therapy Guide (through the Association of Nature and Forest Therapy in the US) and has conducted Forest Therapy walks for members of the public in a number of locations in Singapore.
---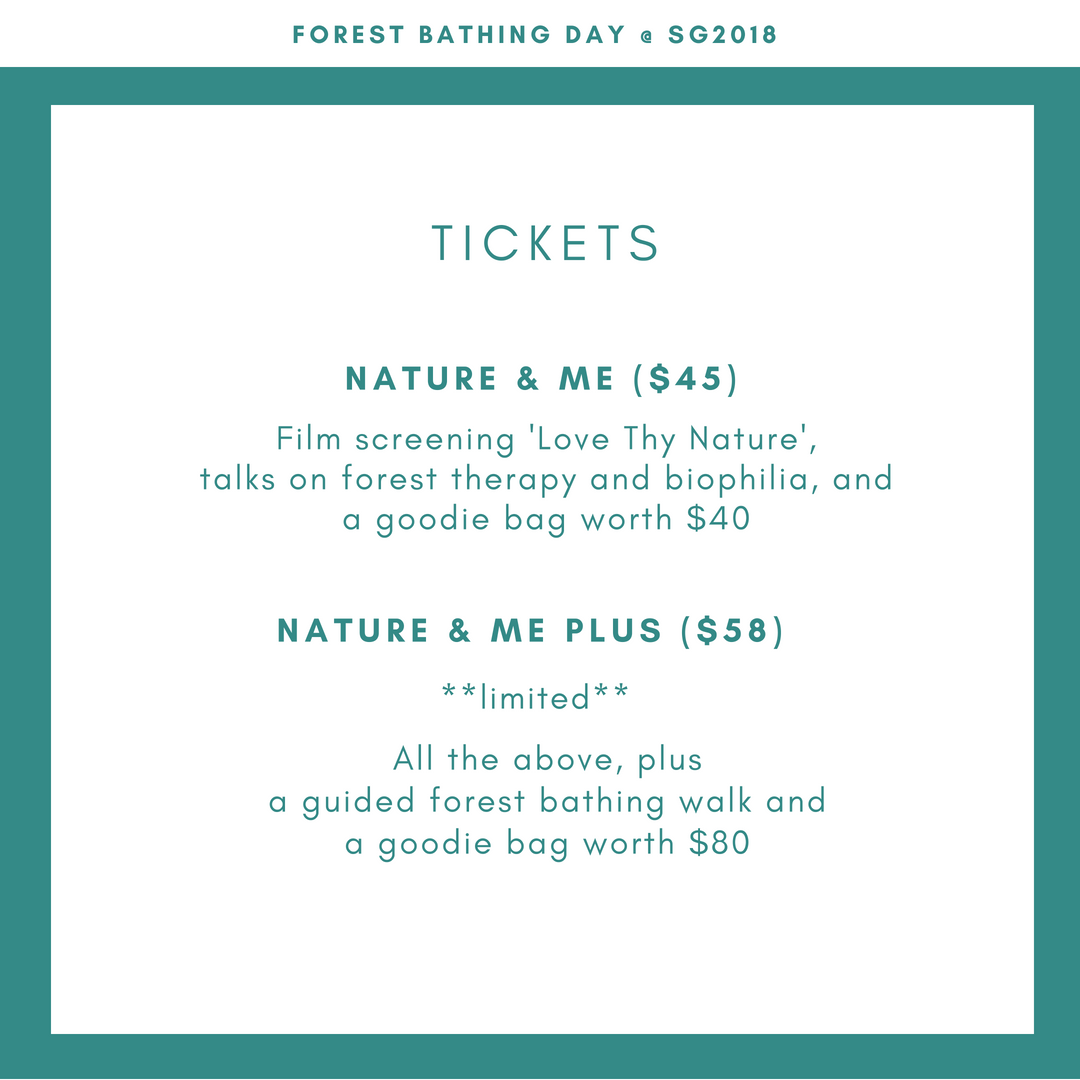 Early Bird Discounts
Register before 19 August 2018 and you can enjoy a 10% discount off your ticket price! Simply key in the code "FBD2018EARLYB10" at registration.
---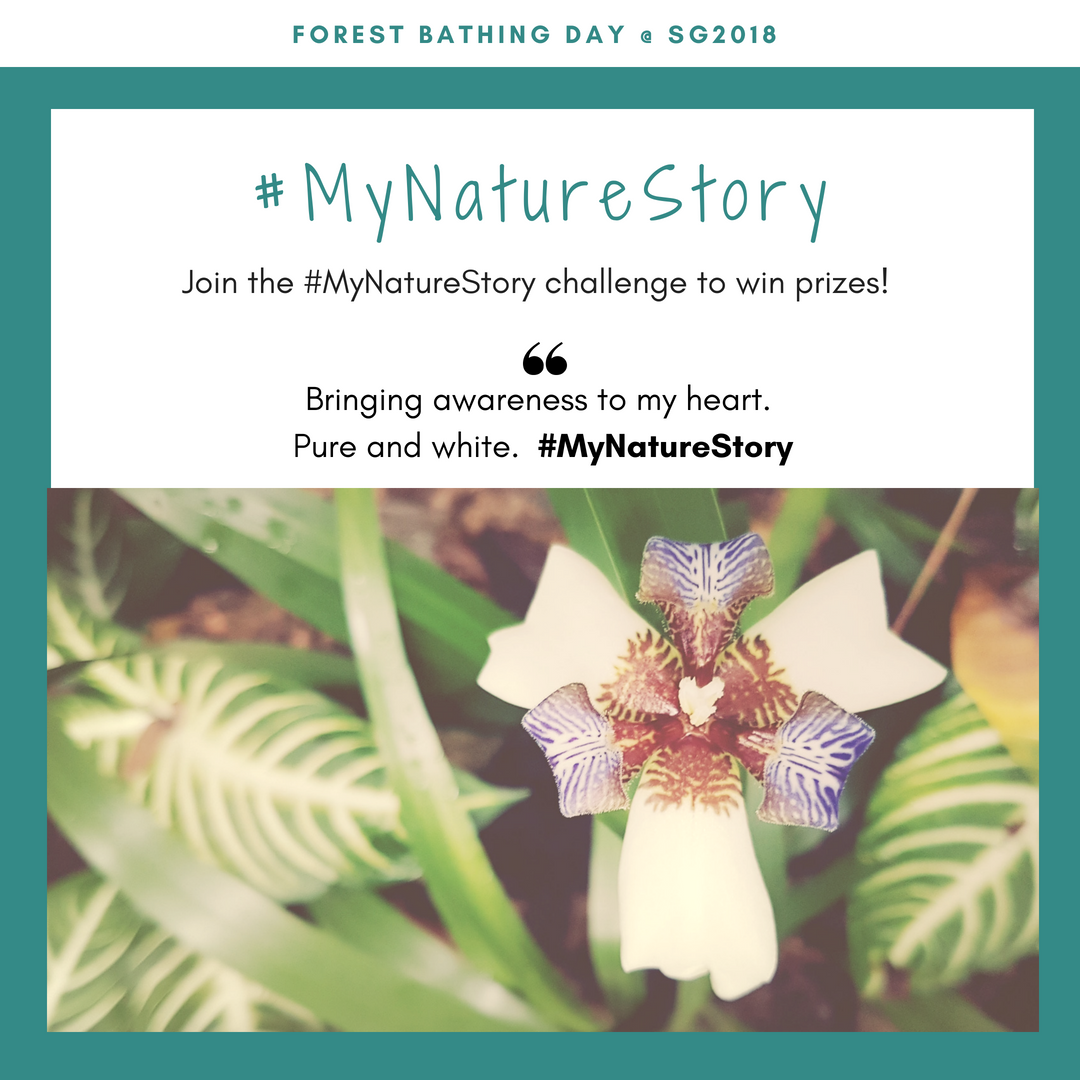 #MyNatureStory challenge
Participants can take part in the hashtag #MyNatureStory challenge between 8 - 15 September 2018 and stand to win prizes worth more than $100! Simply join the event, snap and post your favourite photo of nature in addition to a short write-up on the story that resonated with you. Tag us and hashtag #MyNatureStory! Click here for more information about #MyNatureStory challege. Terms and conditions apply.
---
Upon registration, you will receive a confirmation email detailing the venue, what to bring, etc.
---
Our partners and sponsors
---
Please read our Terms and Conditions.