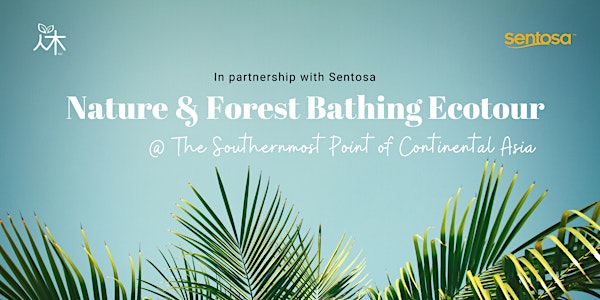 Multiple dates
Forest Bathing Ecotour @ Southernmost Point of Continental Asia (Jan 2021)
Enjoy a guided nature and forest bathing ecotour at The Southernmost Point of Continental Asia!
By 休 XIU NATURE CONNECTIONS
Date and time
Starts on Fri, 8 Jan 2021 15:30 +08
Location
Southernmost Point of Continental Asia Sentosa Singapore Singapore
About this event
Xiu Nature Connections and Sentosa are delighted to bring to you an immersive forest bathing ecotour.
This ecotour will guide you to enjoy the tranquility and nature on The Southernmost Point of Continental Asia - a lush little strip of islet off the Palawan Beach. A gentle and immersive experience, forest bathing has been demonstrated to improve one's mental and emotional well-being. On top of tending to your mind-body-spirit through this guided sensory journey, you will also connect with nature and explore the themes of sustainability and conservation of our land and waters. The well-being of Earth and us, occurs in tandem. Finally, enjoy an eco-conscious tea before leaving the islet with your new-found sense of aliveness and peace, and a re-membering with nature.
* This is not a hiking tour. You do not need have extreme fitness or physicality to join the experience, but you do need to be comfortable to stroll/walk for up to 20-minute with pauses - sometimes on terrains that may include the beach/sand, grass and stairs. Experiences are not strenuous.
What to expect
The experience takes on a slow immersive pace. It is not physical and not strenuous.
Depending on the group size, the tour is estimated to be around 2 - 2.5 hours.
A certified forest therapy guide will facilitate the experience. Nature and forest bathing invitations are suggested but are never compulsory.
Inclusive of materials (where required), light tea and snacks.
Due to the more contemplative, slow and quiet nature of the tour, it is recommended for anyone aged 16 and above.
Want to know more about forest bathing? Please watch the video In Between: A Natural Appeal here or check our website.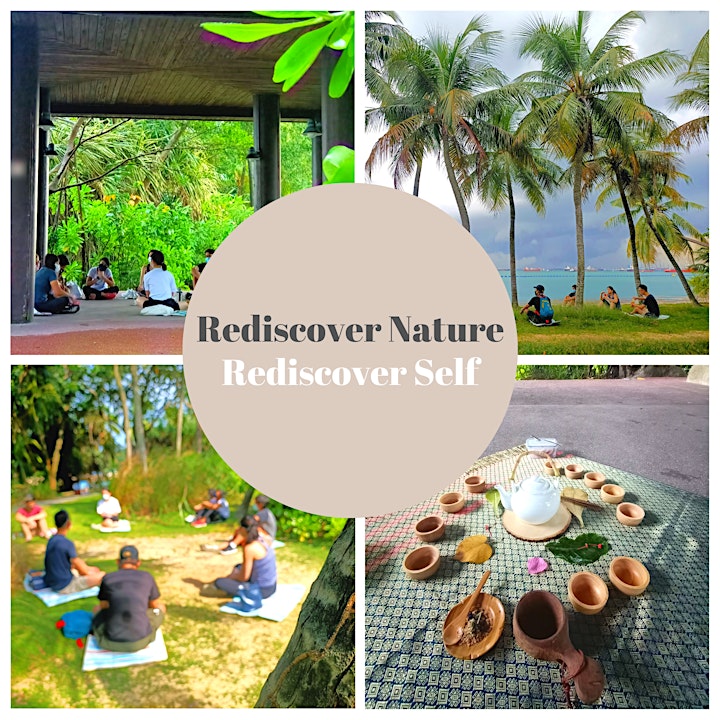 REVIEWS
"I was delighted by how relaxing the experience was. It was much more peaceful than I thought it would be."
"I received new perspectives and appreciation about sustainability and my environment."
"It was not about hiking or learning natural science. It's connecting with nature and giving myself time to soak in the environment ... a deeper way to appreciate my environment."
"Such a rare opportunity to be still and rest my mind! Slowing down is possible and delightful!"
Payments and registration
We also accept payment via Paynow and/or bank transfer. If you prefer to pay via Paynow and/or bank transfer, please write to hello@xiunatureconnections.com to complete your registration and payment.
You will receive the details of the tour (exact meeting point, things to bring etc.) via email at least 3 days before the tour. Please look out for the email from hello@xiunatureconnections.com .
We reserve the rights to cancel and/or postpone the session if the minimum number of participants is not met and/or unfavourable weather changes. You will be able to register for another session without any further fees.
Private groups and Bookings
If you will like to book a private or group session on other days/dates, please write to hello@xiunatureconnections.com .
COVID-19 restrictions and safety measures
Guests are required to:
Wear their masks at all times.
Check in and check out with Xiu Nature Connections and/or Sentosa.
Take their temperatures before the tour starts. Anyone registering a temperature higher than 38 degrees Celsius, and/or showing symptoms including cough, runny nose, sneezing, breathlessness will not be allowed to join and/or continue with the tour.
Maintain safe distance from others at all times.
Maintain personal hygiene at all times.
Other things to note:
Tour schedules and itinerary subject to changes without prior notice.
Wet weather - this tour proceeds even in light rain. Please bring an umbrella or rain coat or poncho. In the event of a thunderstorm, the tour will be canceled and guests can re-book for the next available session.
After registration, you will receive a confirmation email and information kit to share with you details such as exact meeting point, what to bring etc.
Please read our Terms and Conditions.
Questions? Please contact hello@xiunatureconnections.com .
About the organiser
休 means 'to rest'. Rest, is the basic ingredient in all approaches to wellness. To deeply rest and restore is a skill lost and forgotten as we traverse and hustle through our modern busy lives. To rest is to allow yourself to be in the space of no-thing-ness.
Through our programmes such as forest therapy (forest bathing or shinrin yoku) and yoga nidra, we invite you to rest. We invite you to re-connect. We invite you to rise.
From our regular forest bathing walks to yoga nidra workshops to customised rest programs, we are committed to promoting 'a good life' across all ages and communities in Singapore.
Private or customised nature connection programmes are available and are suitable for wellness, coaching as well as corporate retreats.
Join us to rest for our mental, emotional and physical wellbeing. Join us in #ThrivingFromRest !
Connect at hello@xiunatureconnections.com !