Description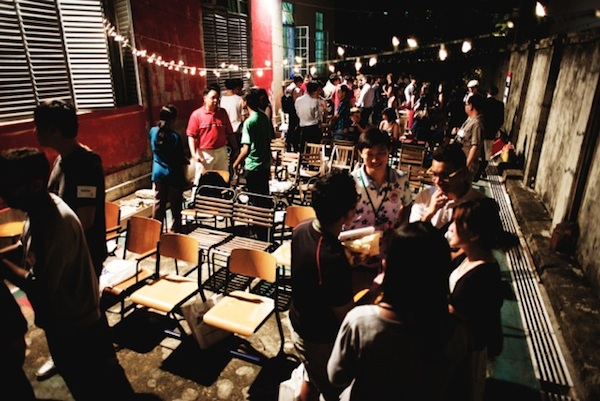 FORK4: 5 people doing curious side-projects.
NB. No more parking at Arts House! Get your lots at the Old Parliament House.
FORK is a celebration of neat side-projects; especially ones that make world a little better (and more authentic!). We bring (mostly) "unknown" independent tinkerers doing stuff they love – makers, entrepreneurs, educators, hackers – together with other creative geeks making impossible things.
In the spirit of creative collaboration, everything is shared under the creative commons license – so expect to adapt/remix/collaborate the night away. Check out previous FORK events here.
See you on the 29th! :)
Stay in the loop on FB and twitter
MEET THE FORKERS:
1. "RESONATE" - CELINE LIM and LEONARD LEE
We already know that music transcends language. And now, neuroscience research has shown that personalised music can traverse the gulf of time too. Personalised music can tap on the deep, long-term memories of people with dementia and help them reconnect with their loved ones and the world around them.
The Resonate project will use MP3 players to provide customised music playlists to people with dementia and other conditions, including depression and Parkinson's disease. We're looking at piloting this project in nursing homes and day-care centres.
The National Neuroscience Institute estimates that there are about 28,000 people, aged 60 and above, with dementia in Singapore today - not including people with early-onset dementia. This figure is expected to rise to 80,000 by 2030. Resonate is not a purely altruistic project - we see it as a musical investment for our old age too!
2. "PSYCHOGEOFORENSICS" - DEBBIE DING
Debbie Ding (b. 1984) is a Singapore-based visual artist, programmer and independent researcher based in Singapore. She facilitates the Singapore Psychogeographical Society, which is devoted to promoting a better understanding of the world through ludic adventures, independent research, digital documentation, and data/archival activism.
Debbie is interested in "psychogeoforensics" - which means to approach the various psychogeographical ambiances in an urban city from the domain of forensics. Through psychogeoforensics, one may view the city as the scene of the mystery, or as the missing artifact itself. It is hoped that by creating alternative avenues of public interactions and exchanges, people will be encouraged to construct or reconstruct their own narratives around various physical traces, histories, and archives that are often overlooked in an urban city.
3. "STATEOFBUILDINGS.SG" - EUGENE TAN, KELLY KOH, and GAD TAN
"The State of Buildings project is a celebration of histories, memories and relationships connected to buildings and places. We believe that every place is larger than itself. No single piece of information or account can ever pin down what a place truly is or means. Whether or not it still stands, it never ceases to exist. Contribute your transient encounters with these places, and together, shape the State of Buildings. Explore, Discover and Share"
4. "ANOTHER.BEAUTIFUL.STORY" - CHRISTOPHER ANG, DARRYL CHAN and WINFRED KWAN
'another.beautiful.story' showcases stories about artists, artisans and craftspeople. We celebrate the stories about their commitment to their passions, through storytelling.
Waxing lyrically over coffee about our love for great espresso, design and films, our curious little gang was formed to seek out the stories about the people behind the things we were inspired by. We wanted to meet and listen to the unique and different stories various artists, artisans and craftspeople had to share about their work.

'another.beautiful.story' is a non-profit and self-funded project, started by 3 dudes with regular day jobs - Christopher Ang, Darryl Chan and Winfred Kwan. We are always looking out for new stories to be told, always looking out for beautiful stories to be shared.
5. "WETHECITIZENS.SG" - ADRIANNA TAN and WINNIE LIM
What does that mean in 21st century Singapore? What will Singapore look like in 100 years? Will we be more inclusive, gentler, kinder, and more progressive? Will we be a Singapore which welcomes one and all, which treats every citizen as an equal, no matter their marital status, sexual orientation, religious belief, spoken language or any other defining characteristic? Beyond a Singapore Conversation, we need a Singapore dialogue. Let's get the ball rolling, right here. In 140 characters, for a start.
AND A SNEAK PEEK: " OUR MYSTERY PROJECT" - From the FORK people, Syinc!
We've been working hard on something really close to our hearts. It's a cross between the internet, ethnography, creativity, and being marginalised. Find out what it is at FORK!