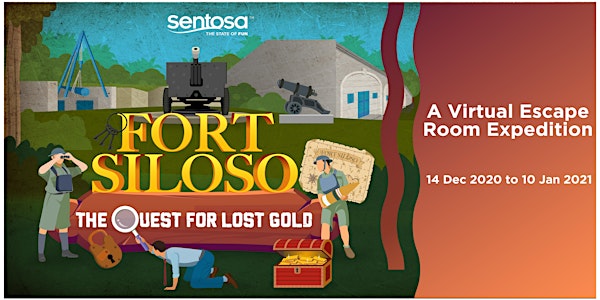 Fort Siloso: The Quest for Lost Gold
Embark on an adventure at the first-ever Virtual Escape Room set in Sentosa, Fort Siloso. Meet your friends online and escape together!
About this event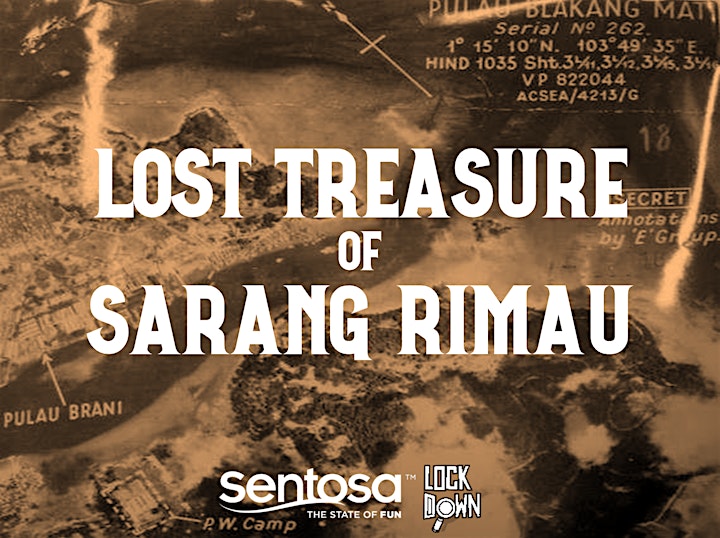 SYNOPSIS:
You have been ordered to evacuate with Arnold Watson and some fellow troops. As you were preparing to leave, you discovered an old package buried near a cannon. Written on it are clues to a pirates' treasure chest discovered by Private Joey when he first arrived in 1885. Can you find the treasure in time before the boat leaves you behind?  
Background:
Gather your friends now to search for lost treasures, solve puzzles, all while playing a fun virtual escape room game in the comfort of your home! This game is recommended for youths and adults age 13 and above.
Weekly Prize:
Top 3 teams with the best timings every week will win Sentosa Fun Pass (60 Tokens) worth $60 each for everyone in the team!
Grand Prize (Lucky Draw):All participating team who successfully complete the game will enter the lucky draw at the end of the event and stand a chance to win one of the following Hotel Staycation Package!
First Prize: Sea Breeze and Champagne Staycation (The Barracks Hotel, worth up to $2,805)
Second Prize: Garden Wing Staycation with Dining Credits(Shangri-La's Rasa Sentosa worth up to $2,205)
Third Prize: Rest and Relax Staycation(Amara Sanctuary, worth $1,065)
Tickets:
$20 per team of up to 6 players. Limited slots available. Grab them fast!
Play Slots:
Weekdays:14 - 18, 21 - 23 and 28 - 30 December 2020 and 4 - 8 January 2021 5pm & 7pm: 1 Team Per Session
Weekends, PH and Eve of PH:19 - 20, 24 - 27, 31 December 2020 and 1 - 3, 9 -10 January 2021 11am, 1:30pm, 3:15pm, 5pm, 7pm and 8:45pm: 2 Teams Per Session
Game Flow:
Each game will last approximately 60 minutes.The session is conducted over Zoom and facilitated by our game instructors. Each player will need access to Zoom on their computer, with a webcam function for video conferencing. Those without a webcam may also choose to use the Zoom mobile application. The latest version of Chrome browser and a stable internet access is also required for best gaming experience.After booking your session, an email will be sent 3 working days before your selected game date with the Zoom link. Names of your team members will also be requested.
Update:
Facebook:
http://www.facebook.com/sentosaofficial
http://www.facebook.com/lockdownsg
http://www.facebook.com/tywogames
Website:
https://www.sentosa.com.sg/questforlostgold
FAQ:
What is this escape game about?
Players will have to work as a team to decipher hidden clues, solve puzzles, and navigate through a 360-degree virtual recreation of Fort Siloso, to find the treasure before time runs out. Playable via Zoom, this game allows between 2 to 6 players. Suitable for youths and young adults.
What time should I join the session?
Please refer to your ticket description for the date and time of your session. Kindly join the online session 5 minutes early for registration and technical support. SDC and Lockdown Singapore reserve the right not to admit latecomers to avoid inconvenience to other players.
How many players are allowed to play in each session?
A minimum of 2 players and maximum of 6 players can play in each session
I still do not understand, or the link to the Zoom meeting does not work. What should I do?
For assistance or further enquiries, please email contactus@lockdown.sg.
TERMS AND CONDITIONS
Please logon 5 minutes before the session time stated for technical support, registration and team arrangement.
SDC and Lockdown Singapore reserve the right not to admit late comers to avoid inconvenience to other players.
The game is conducted in English.
A minimum of 2 players and maximum of 6 players can play at any one time.
You are required to download Zoom Video Conferencing software on your computer and a webcam function. No refunds will be given if you have any technical issues on your own devices.
Refunds, cancellations or rescheduling are not permitted once a booking is confirmed.
SDC reserves the right to change any of the terms and conditions without any prior notice.
By purchasing the tickets, you are deemed to have agreed to the terms stated herein.
Who are the organisers?
Sentosa is Asia's leading leisure destination and Singapore's premier island resort getaway, located within 15 minutes from the central business and shopping districts. The 500-hectare island resort is home to an exciting array of themed attractions, award-winning spa retreats, lush rainforests, golden sandy beaches, resort accommodations, world-renowned golf courses, a deep-water yachting marina and luxurious residences – making Sentosa a vibrant island resort for business and leisure. Making Sentosa its home, too, is Singapore's first integrated resort, Resorts World Sentosa, which operates South East Asia's first Universal Studios theme park. Welcoming a growing number of local and international guests every year, Sentosa is an integral part of Singapore's goal to be a global destination to work, live and play.
Lockdown Escape is the leading Singapore company specialising in real life escape games, in which players are trapped in the game and must exploit his or her surroundings in order to escape, emphasising greatly on observation and lateral thinking skills in order to solve the challenges and puzzles. ThinkOut Events is an event specialist company that designs offsite and large scale events which promotes team building and lateral thinking skills. Together with Lockdown Escape, over 300 MNCs have enjoyed a unique team building events.