Description
FOUNDERS DRINKS April 2014: Building For Global Growth

What it's all about
How do you create a product that's used in 192 countries across 34,000 cities? This April, learn from three superstars of community marketplace, Airbnb, as they share how they created a global product that has over 600,000+ listings worldwide, and helped over 11 million guests with their short-term accommodation needs.

Predictive Pricing - Dan Hill, Product Lead, Airbnb
One of the hardest questions for anyone selling a product is 'how much should I charge?' This question becomes even harder when you're selling highly unique items: rare collectables, time, tasks, journeys, space. For disruptive companies that enable people to sell previously unavailable products and services in an open marketplace, the challenge is magnified as little historical data or comparative models exist.
Airbnb discovered one of the most nerve-wracking and confusing moments for a new host is setting their price. How much should they charge? When should they change it? Putting a price on your home and experience is challenging! In 2013, Airbnb set out to develop a predictive pricing model to help hosts confidently set the best price for their space, and know when to change it. Airbnb then integrated dozens of signals, some obvious and some unexpected and new.
How Airbnb solved the mystery of predictive pricing (Fast Company)
Internationalizing Airbnb - Jason Katz Brown, Airbnb
Front-end developers don't want to have to manually curate databases of phrases. Translators shouldn't have to mindlessly reduplicate the site for each language variant, in particular for changing American to Singaporean English or Simplified to Traditional Chinese. We'll look at how Airbnb internationalizes its web site and apps while minimizing the workload of engineers and translators.
Growth and Virality at Airbnb - Gustaf Alstromer, Product Manager, Growth, Airbnb
Gustaf works for Airbnb in San Francisco as a Product Manager on the Growth team. The Growth team builds products and experiences that grow the number of people who travel and host on Airbnb. Most of Airbnb's users already hear about Airbnb from their friends and the products that Airbnb builds help amplify that message. Gustaf will also give examples from their most recent project - Referrals.
***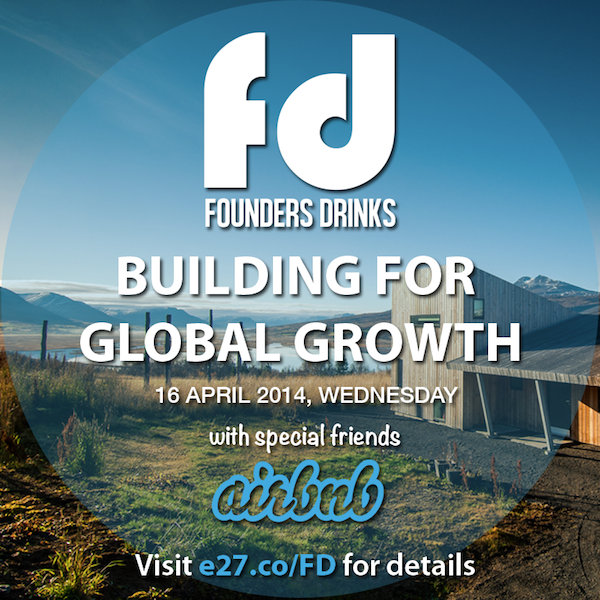 ***

Who is it for?
- Teams that want to create or are developing a product with a global fit
- Technical and product teams that want to achieve growth through smarter technical processes
- Travel-focused startups and businesses
***
Network with fellow founders and investors
Founders Drinks is a platform for founders and founding teams to share their stories and learnings.

Passionate entrepreneurs, developers and investors kick back with a drink and learn from the successes of each other, and also to connect and form valuable relationships with each other.

Whether you're new to tech and business or an experienced mentor, there's always something and someone new to meet at Founders Drinks.
***
Event Details
Date: 16 April 2014 (Wednesday)
Time: 06:30 PM – 09:00 PM
Venue: Hood Bar and Cafe
Address: 201 Victoria Street, Bugis+, #05-07, Singapore 188067, Singapore
Cover: $10.70 (Pre-registeration) / $20 (At-the-door) – Cover includes 1 complimentary drink
Be part of Founders Drinks with the hashtag #E27FD on all good social networks
***

***
Supporting the Spirit of Entrepreneurship

Become a Founders Drinks Sponsor

Be a cornerstone of community events and interact with an amazing community of innovative tech leaders who are impacting their markets daily.
For more information on sponsorship packages and how your brand can be involved, please contact our Business Development team at roy@e27.co.
Organiser of Founders Drinks April 2014: Building For Global Growth
e27 is your go-to platform for insights, connections, talents and funding opportunities, with a vision to empower entrepreneurs with the tools to build and grow their businesses across APAC.
Year on year, e27 refreshes our flagship conference and trademark early-stage startup programme - Echelon Asia Summit and TOP100 APAC - to engage the APAC market by taking our Roadshow to over 15 cities. This serves to facilitate the cross border engagement and growth of the most promising startups with the support of industry leaders (including governments, tech corporates and community leaders). 
Tech News e27.co 
ECHELON Conferences https://e27.co/echelon
Weekly Newsletter https://e27.co/signup
Twitter twitter.com/e27co
Facebook facebook.com/e27
Google+ bit.ly/e27_gp
LinkedIn https://www.linkedin.com/company/404308/  
Apart from our homegrown events Echelon Asia Summit and TOP100, e27 also organises multiple offline events for external clients across the region all year round, the most recent being Singapore Demo Day for Taiwan Accelerator and Thailand and Malaysia Roadshow for MOIBA (Korea).
Contact us at contact@e27.co and engage@e27.co  to explore opportunities for media exposure and collaborations or just to say hi!