Your FREE 14 Day home Yoga program to help you connect with and balance your 7 chakras so you can intuit, love and trust.
About this Event
COVID has marked 2020 with change & instability. To support you, I've created this FREE 14 Day home Yoga program designed to help you connect with and balance your 7 chakras so you can intuit, love and trust even when faced with difficult situations.
In this FREE 14 Day home program you receive daily resources through email to support you to balance your chakras using yoga, breath, reflection and self-care. There are 2 days dedicated to each chakra:
The first day you will receive a short Yoga practice to balance that chakra;
The second day you'll receive an exercise for reflection or self-care activity to connect with that chakra 
11 - 12 Nov: Root Chakra
13 - 14 Nov: Sacral Chakra
15 - 16 Nov: Solar Plexus
17 - 18 Nov: Heart Chakra
19 - 20 Nov: Throat Chakra
21- 22 Nov: Third Eye Chakra
23 - 24 Nov: Crown Chakra 
What are the chakras? How can they help you? 
The chakras are wheels of energy in your spine which correspond to energy centers in your body. When in balance, they contribute positively to your behavior, patterns, and general well-being. Each of them correspond to a different part of you, for example: 
Anahata, your heart chakra relates to ability to feel love, to love others and be loved. When this is out of balance, you may feel unloved, or unconnected with those around you 
Manipura, your Solar Plexus relates to your inner power, your self-worth and ability to take action. When this chakra is out of balance, you might feel unmotivated, down and unable to take action. 
COMMONLY ASKED QUESTIONS:
I am a beginner, can I join in?
Yes! Classes are all levels with options for beginners.
I don't have a yoga mat, or yoga blocks. Can I still join in?
Yes! All you need is a padded surface such as a carpetted floor or non-slip towel to practise on. If you don't have yoga blocks, toilet rolls do just fine!
Is this really free?
Yes! This is a 100% FREE offering to support you through this difficult period. Register to begin your journey; you start on 11 Nov!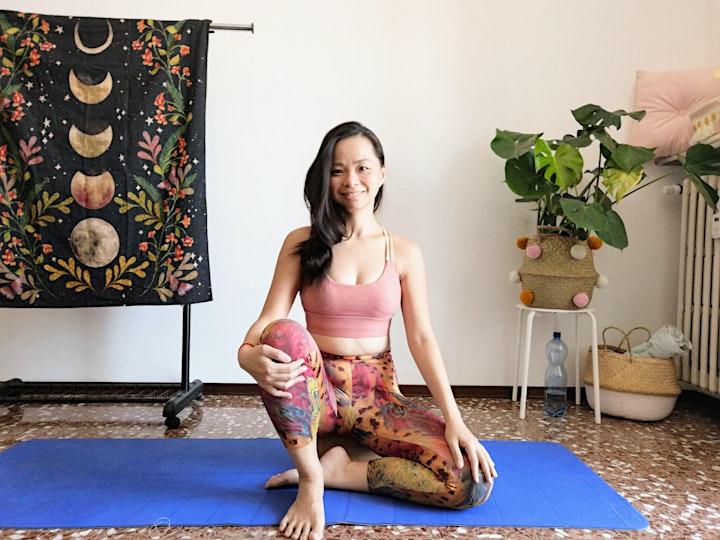 Your guide: Wenlin Tan
(Resident teacher at YogaUnion, Turin, Italy)
Wenlin Tan is a E-RYT® 200, RYT® 500, YACEP®, IAYT-IT Yoga-Alliance certified Yoga trainer who has been studying movement since she was 9. Originally from Singapore, Wenlin is now based in Turin, Italy, and has taught for private resorts, hotels, studios and Yoga festivals and led retreats, workshops and masterclasses. Students know her for her unique teaching style which integrates Qigong, Somatics, Vinyasa Yoga and Eastern Philosophy, and her warmth, humour, knowledge and clarity.
Wenlin offers support and guidance so you can intuit, love and trust yourself better.