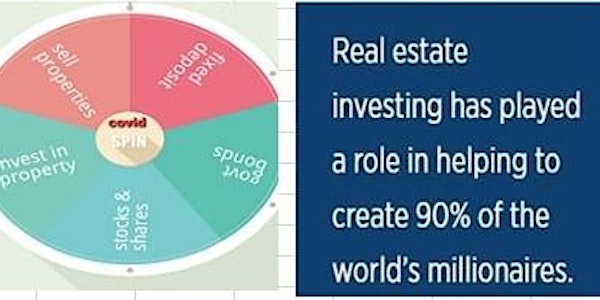 Multiple dates
Free: 90% Of All Millionaires Started In Property Investing, Why Not You?
Spot Properties That Generate High ROI In Just 5 Steps. Capturing The Current Heating Up Singapore Property Market.
By Leads Generation And Event Marketing Associates
Date and time
Thu, 7 Jul 2022 19:00 - Thu, 29 Jun 2023 21:30 +08
Location
Novena Square Office Tower A 238A Thomson Road #13-08 Singapore, 307684 Singapore
About this event
Free: 90% Of All Millionaires Started In Property Investing, Why Not You?
This is an on-site event in Singapore NOT a zoom event.
📣 𝐀𝐬𝐤-𝐀𝐥𝐥-𝐘𝐨𝐮-𝐂𝐚𝐧 𝐂𝐨𝐦𝐩𝐥𝐢𝐦𝐞𝐧𝐭𝐚𝐫𝐲 𝐋𝐈𝐕𝐄 𝐒𝐞𝐦𝐢𝐧𝐚𝐫
𝐃𝐨 𝐲𝐨𝐮 𝐡𝐚𝐯𝐞 𝐭𝐨𝐨 𝐦𝐮𝐜𝐡 𝐨𝐧 𝐲𝐨𝐮𝐫 𝐩𝐥𝐚𝐭𝐞 𝐨𝐫 𝐧𝐨𝐭 𝐞𝐧𝐨𝐮𝐠𝐡 𝐭𝐢𝐦𝐞? Yet, having temptations to step foot into property investment.
⏳ It is not necessary for you to track the property market on a daily basis to be a successful investor. This is because 𝐩𝐫𝐨𝐩𝐞𝐫𝐭𝐲 𝐢𝐧𝐯𝐞𝐬𝐭𝐦𝐞𝐧𝐭𝐬 𝐚𝐫𝐞 𝐠𝐞𝐧𝐞𝐫𝐚𝐥𝐥𝐲 𝐥𝐞𝐬𝐬 𝐯𝐨𝐥𝐚𝐭𝐢𝐥𝐞 than the stock market.
𝐖𝐞 𝐮𝐧𝐝𝐞𝐫𝐬𝐭𝐚𝐧𝐝 𝐭𝐡𝐚𝐭 𝐲𝐨𝐮 𝐡𝐚𝐯𝐞 𝐲𝐨𝐮𝐫 𝐨𝐰𝐧 𝐜𝐨𝐦𝐦𝐢𝐭𝐦𝐞𝐧𝐭𝐬 𝐚𝐧𝐝 𝐢𝐭 𝐢𝐬 𝐭𝐨𝐮𝐠𝐡 𝐭𝐨 𝐣𝐮𝐠𝐠𝐥𝐞 𝐛𝐞𝐭𝐰𝐞𝐞𝐧 𝐲𝐨𝐮𝐫 𝐜𝐚𝐫𝐞𝐞𝐫 𝐚𝐧𝐝 𝐟𝐚𝐦𝐢𝐥𝐲.
🗣 We hear you! Hence, we are doing a detailed analysis of the attractive developments to feed you ALL the information you will need!
⭐️ 𝐂𝐨𝐦𝐩𝐥𝐢𝐦𝐞𝐧𝐭𝐚𝐫𝐲 𝐌𝐚𝐬𝐭𝐞𝐫𝐜𝐥𝐚𝐬𝐬! FREE No-Obligation Discovery session for ALL, YOU Decide After That!
In 𝐨𝐮𝐫 𝐮𝐩𝐜𝐨𝐦𝐢𝐧𝐠 𝐜𝐨𝐦𝐩𝐥𝐢𝐦𝐞𝐧𝐭𝐚𝐫𝐲 𝐋𝐈𝐕𝐄 𝐒𝐄𝐌𝐈𝐍𝐀𝐑, Dr. Patrick Liew & team will share ALL essential tips and strategies for both beginner investors and astute investors to clarify any doubts you have related to property investment!
THIS could the opportunity you have been waiting for the whole year to realise your fullest potential! 💡
𝐓𝐀𝐊𝐄 𝐇𝐎𝐌𝐄 𝐖𝐈𝐓𝐇 𝐘𝐎𝐔..
✅ Dr. Patrick Liew's Proven Formula & Model to spot undervalued properties EARLY in any part of the world.
✅ Outlook of real estate investment in Singapore and other parts of the world to help you make better property purchase decisions.
✅ The HOTTEST property areas watchlist in 2023
✅ The ONLY FREE CHANCE for you to ask our team of experienced investors & analysts ALL your burning questions.
✅ Recognise the hotspot areas for value identification
✅ Tips to track the property markets for busy investors
✅ Guide to using cost-benefit analysis to determine if the project is justifiable and feasible
🎁 Bonus: FREE property checklist + ROI Calculator.
About the organiser
If you are searching for ways to build generations of wealth
Don't do it alone.
A comprehensive affiliate leverage system is here for you
You can partner with ihub Global with an open mind to explore more opportunities.
I wish you success in your business.