Description
Digital technologies are changing job roles across industries. In the age of digital automation, digital skills can protect you! Studies have shown that occupations requiring high digital skills have 3 times fewer tasks that can be automated.
As a result, skills such as digital marketing and data analytics became the new buzz words in the news. To thrive in the transformed industries, it is clear that digital skills are required.
Keen to know more but don't know where to start?
We've put together a full-day workshop to give you a glimpse into 3 of the top digital skills that are critical for PMEs to understand. This workshop will cover Coding with Python, Digital Marketing as well as Data Analytics.
Who is this workshop for?
PMEs who want to experience and align themselves to the digital skills required in the New Digital Age.
* Note that this workshop is for working professionals who are Singaporean/ PR and above the age of 21.
How much do I need to pay?
Nothing!
Lithan collaborated with The Lifelong Learning Council and LearnSG to conduct this workshop free of charge for Singaporeans and Singapore PR.
Hoewever, you will have to bring your own laptop to participate in the activities for this workshop.
This 1-day workshop will only be running on 24th and 31st March with only 50 slots each! Tickets are allocated on a first come first serve basis. Register early to avoid disappointment.


Important:
All registration will be subjected to the approval and acceptance by Lithan. Registration will be finalised upon receiving a confirmation call from Lithan.
Workshop details: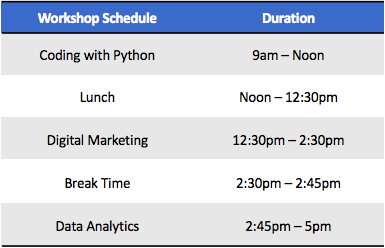 Take this chance to understand which digital skills you want to pursue!
---
Your registration will constitute your agreement to our Terms of Use & Privacy Policy