FREE "Fast & Fury" Online Leads Generation Workshop

Thursday, 22 September 2016 from 13:00 to 17:00 (Singapore Standard Time Singapore Time)
Event Details
FREE 4 HRS INTENSIVE HANDS-ON WORKSHOP
<2 Non Core CPD Points>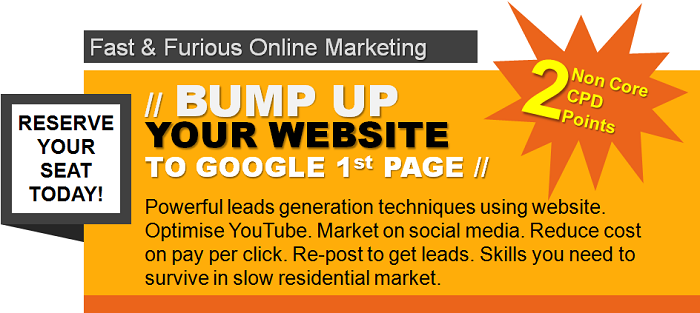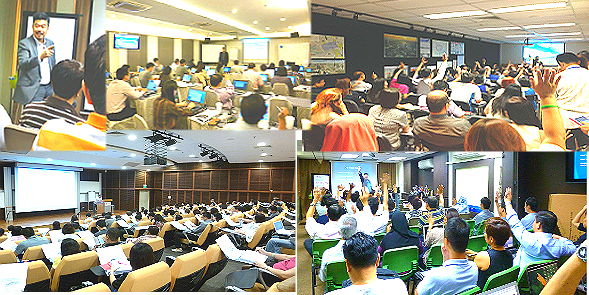 More Than 1,500 Property Agents Have Learned These "Quantum Leap" Online Skill For High Sales Performance Very Easily & How They Could Get Hot And Highly Qualified Buyers and Investors Who Are Ready to Transact Soon! EVEN IN THIS BAD MARKET!
SO CAN YOU!!
Come for this "Mind-Blowing" Hands-On Workshop & You'll Discover..
 (Don't Forget to scroll down Below & Read:
"TOP 5 Fatal Errors in Online Marketing Agents Must Stay Away To Survive")
RAVING REVIEWS OUR GRADUATES:-  
  
"WORKS LIKE MAGIC! Applied your online techniques for my new launch City Gate Project & it got me 15 qualified clients. I secured 3 direct investors cheques with a total deal of S$6,000,000. It's like a dream…"
Ace Sun, Associate Branch Director, PropNex


"It's Incredible… I really don't regret coming to your class.
I put your techniques into practice immediately then I closed 2 deals with $18,997 in commission! I really appreciate what you have taught me!" 

Stephen, Senior Manager, PropNex 

  


Close a HDB Shop Office @ Kreta Ayer Road within 1 week after attended your class. I also received 15 calls during that time and another 2 more calls within 5mins while writing you this testimonial..It's very very useful"

Julie Tan
Senior Team Director
SLP Scotia PTe Ltd
About The Principal Lecturer
 Joseph Siat has more than 15 years of experience in the real estate industry. He is a renowned property consultant specialising in the  commercial property sector. As a frequent  top manager in the agency, he conducts powerful training in various commercial property disciplines. In 2006, he became a SEO practitioner adopting powerful online marketing methods to boost his sales performance. As a result, he imparted this online marketing skill sets to his agents and they too reaped incredible 5 to 6 digit in commission sale results as well. Today, he is being sought after much for his online marketing expertise primarily in real estate.
In addition, he is also a renowned property consultant specialising in the commercial property sector. With years of going through "roller coaster" peak & bottom moments that describe a tough real estate career, he's still emerged victorious & also garnered many prestigious awards. As a frequent top director in the agency, he's conducted powerful training in various commercial property disciplines. Today, he has expanded his Digital Marketing capabilities to coaching those in various industries outside of real estate.


 ...In this Workshop, I will also 'Shout Out'
Critical Early Warnings About Some 
FATAL ERRORS That YOU "Die Die"
Must Avoid in Digital Marketing.
Why So?? If Not..You will witness in HORROR how your Advertising Expenses Will "Shoot-Up" the roof and CRIPPLE your Sales!!
Without you knowing it! So just some...
Top 5 Fatal Errors

 

In Online Marketing Agents Must Stay Away To Survive & Even Succeed In This Soft Market
1.  Error#1 "To Survive This Soft Property Market, You Must Increase Advertising $$" 
Many RES have fallen into this 'Trap'. The rationale is that in order to capture a diminishing number of clients' calls, you need to increase advertising costs by 200% - 300% in order to capture the 'Lion's Share' of Leads. Hence, their expenses shot up tremendously. STOP..DON'T DO THAT! 


With careful application of some of these strategic online techniques, RES can drastically cut down advertising costs by 60% -100%. Don't rub your eyes…you see it right….even 100% which means ZERO COST Online Marketing. Come find out! 


2.   Error#2 "Employ Lots of High-Cost Digital Marketing" 
Digital marketing is becoming more & more a 'Must Have'. As technology is getting more & more advanced, RES will find themselves paying higher & higher for these marketing services provided by some 'Crocodile' advertisers.


Well, do you know they are only interested in increasing their service packages fees? DON'T BE FOOLED! 


As highlighted above, ZERO COST Online Skills Exist! When executed correctly, you will drastically cut down high advertising cost, YES...by a Whopping 100%.


Lots of our participants scored 5 to 6 figures in commission sales just by employing some of these techniques. Come discover some of these techniques!
3.   Error #3 "Search Engine Optimization (SEO) is Useful For Property Agents" 
SEO is VERY important as it will bump-up & rank your website on the 1st page of Yahoo or Google search results. Because 95% clients search online for properties and when they can find your portal, they will submit their enquiries or call you at once. 


Yes, AT ONCE. Which means FAST SALES!


Here's the Big Problem. SEO is too High Cost & can take 3 – 6 months to Rank. Some agents even take expensive SEO courses and have gotten more confused at the end. Total Waste of Time & Money.  So, SEO IS NOT FOR AGENTS! It's just too complicated.
 
What you need is a "Fast & Furious" method which can bump up your website to page 1 in just A FEW MINUTES…YES, JUST A FEW MINUTES! And Even At a fraction of your advert cost. Come Discover How! 


4.  Error #4 "Agents Should Attend Any Courses on Online or Social Media Leads Generation" 
Seriously, 95% of these courses are not even Real Estate focused. The trainers themselves are not even RES or some claim to be Ex RES with only less than 5 years' experience who obviously have not gone through enough market downturns to coach us on how to overcome instead of quitting.
 
"A Karate Student Must be Taught By A KARATE Master"
Agents should be taught by veteran agents! 
So, Isn't it important to have a 100% Real Estate focused online leads generation class?
 
Why? Haven't you encountered just too too many annoying DISRUPTIONS from participants' FAQs on other Irrelevant (non-property related) businesses during one of these non-RES focused workshops? Wedding planning, swimming courses, online cosmetics shopping, tuitions enrichment biz, the list goes on.
 
Miserably only less than 10% 'airtime' were given to real estate. Seriously, why would you pay so much for these courses only to be robbed of precious time for property focused learning?


Selling real estate & consumable products are totally different and don't let any "Online Coaches" tell you OTHERWISE!


How You Know? Just study the testimonials of their students and you will know why!  Because only 5% of them are from agents.


If so, then how can you be convinced that this workshop will benefit you? Truly Wasting Time & Money!
 
Come to this workshop & you will witness 100% Property Agents' Testimonials of how they achieved "Quantum Leap" in their sales performance by 200% or more. 100% Agents' Testimonials...Don't Miss IT!!

 
5.  Error#5 "Pay Per Click (PPC) Adwords Is Too expensive & 90% of RES Cannot Afford It" 
Very few property agents employed this advertising method which is by far most powerful! Using this will Reap HUGE Sales as it harnesses the power of Instant page 1 ranking of their websites in Google search result pages.
 
But do you want to pay S$5,000 – S$10,000 for this service?
 
GOOD NEWS! Our participants have managed to cut down 80%-95% of this costs and they have the statements of account to prove it. COME SEE IT! 


There you have it. It's all about the costs. The Agent who can survive & even succeed in this soft market is the one who can DRASTICALLY cut down their marketing cost. More Importantly, to even Reap 5 to 6 figures Commission! 
 

In This Workshop, You Will 

Discover....

 
NO MORE HYPE-MARKETING!!
How you can tag team as New Launch Project Core Team I/Cs or Team Members to gain Double/ Triple fold enquiries of qualified leads to your new launch projects.


Definitely better response than high-cost marketing paying & using thousands of brochures, big size banners, ad spaces on buses, taxis, MRTs, shopping Malls, coffee shop tables etc.
No more waiting in frustration for queue numbers to serve walk-in clients whom you desperately want to close. And because the numbers are so low, your chance of closing is so slim.

In this workshop, you will get to learn how a "Virtual Core Team" managed to secure close to 100 Leads for new launch projects that astound even other "road show" marketing team. Obtaining all these ready buyers without even moving their butts!! 
WEBSITES THAT CAN HYPNOTICALLY ATTRACT CALLS DAILY !
YES Daily! From both clients & Co-broke agents! IT'S TRULY an uplifting feeling to receive new client calls both overseas or local by email enquiries averagely EVERYDAY 24/7 even while you are sleeping.
You See, your websites don't sleep. Able to showcase them on Page One of any search engine (Google, Yahoo, Bing etc.) result pages would statistically give you higher chance of Call Leads within 24 hours a day. 
High Net Worth Clients = HUGE COMMISSION
Close to 100% of high net worth clients are predominantly not HDB buyers or sellers. So by focusing on marketing the right high value property is the key to "hunt" them out. 
It's not Rocket Science. You don't need expert skills by advertising agency to create campaigns to reach this group of Cash Rich Investors.
You just need to know what keywords or search terms they used online to search for these high value investment properties. Come discover some of these terms. 
Most Powerful Technique Ever - DYNAMIC RE-POSTING!
YES, THE ULTIMATE! No websites required. Most Effective & Fastest Response with Incredible Results. Above All, It's As Low As S$ 0 COSTS!!
By adopting these techniques, your clients will be motivated to pick up the phone & call you like 'Bees to Honey'. Plus much more techniques like our Extremely Low-Cost ENHANCED SOCIAL MEDIA MARKETING. 
  Now in this current bad market condition, won't this be incredibly useful for RES
Discover How A Struggling Agent 
Reaped 
More Than 
$300,000



In Commission 
Within 1 Month 

Closing 
High Net Worth Clients
FREE 4 HRS INTENSIVE HANDS-ON WORKSHOP DATES
*Bring your laptop for training purpose 

Date: 22 Sept (Thurs), 4 Oct (Tues)
Time: 1:00pm - 5:00pm
Venue: 10 Anson Road #28-04 International Plaza Singapore 079903 
Register here for Free 4 Hrs Commercial & Industrial Workshop by David Poh (also entitled for 2 non core CPD points).

For more information,
Contact us at +65 9238 5229 
Organised by: 
  Asia Wisdom Group
In Partnership with: 
PropNex
When & Where

#28-04 International Plaza
10 Anson Road
Singapore, Singapore 079903
Singapore

Thursday, 22 September 2016 from 13:00 to 17:00 (Singapore Standard Time Singapore Time)
Add to my calendar
Organiser
Asia Wisdom Group and its related companies are focused on real estate businesses. We are a boutique real estate services provider specializing in commercial & industrial market. Our group businesses and services are evolved around the core competence of commercial & industrial real estate investments. The group fills the vacuum in the real estate industry of commercial & industrial.