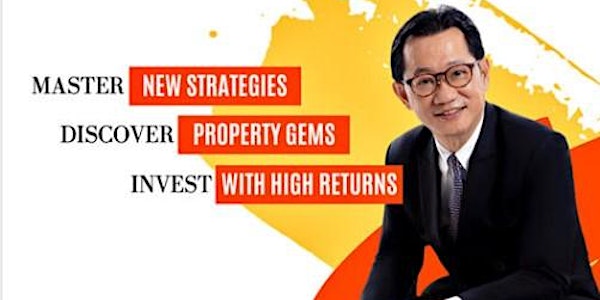 FREE : How To Invest In Hot Property When You Are Not A Millionaire Yet?
Discover The HOT Property In Singapore & Overseas To Invest And Generate Consistent Passive Income To Recession-Proof Yourself.
When and where
Location
Novena Square Office Tower A 238A Thomson Road #13-08 Singapore, Singapore 307684 Singapore
About this event
This is an on-site event in Singapore NOT a zoom event.
A Deep Recession is coming - How Ordinary Salaried Employees Can Invest In To Become A Rich Landlord And Generate Consistent Passive Income To Recession-Proof Yourself.
About this Event
FREE: How To Invest In Hot Property When You Are Not A Millionaire Yet?
1. The beginner's guide to property investment.
2. How to protect and grow your wealth in the upcoming recession?
Date: Every Thursday, 10, 17, 24 November 2022. 1, 8, 15 December 2022.
Time: 7 pm to 9.30 pm
Venue: 238A Thomson Road #13-08 Novena Square Office Tower A, Singapore 307684.
"Capturing The Heating Up Singapore Property Market."
Many people say they'll invest in property when they get rich. But sometimes it takes investments to make money – the other way around.
𝐓𝐨 𝐛𝐞 𝐟𝐫𝐚𝐧𝐤, 𝐲𝐨𝐮𝐫 𝐭𝐢𝐦𝐞 𝐨𝐟 𝐭𝐡𝐞 𝐲𝐞𝐚𝐫 𝐢𝐬 𝐀𝐍𝐘 𝐭𝐢𝐦𝐞 𝐟𝐫𝐨𝐦 𝐧𝐨𝐰. The moment when you decide that enough is enough and you would like to do something for yourself and your loved ones in the new year to come.
It's possible to get into property investments even if you don't have a few million dollars lying around – but not everyone knows about it.
It has been a long dreadful year for many, what else have you got to lose?
If there is still any lifeboat left that will positively turn your financial growth around, it is going to be this upcoming ALL about Property Investment LIVE seminar.
Gain EXCLUSIVE FY2022 property insights and strategies that will benefit you EVEN IF YOU are just an ordinary man or woman without knowledge, time, or experience.. 𝐜𝐚𝐮𝐬𝐞 𝐞𝐯𝐞𝐧𝐭𝐮𝐚𝐥𝐥𝐲 𝐲𝐨𝐮 𝐰𝐢𝐥𝐥 𝐨𝐰𝐧 𝐚𝐭 𝐥𝐞𝐚𝐬𝐭 𝟏 𝐩𝐫𝐨𝐩𝐞𝐫𝐭𝐲 𝐲𝐨𝐮𝐫𝐬𝐞𝐥𝐟.
𝐒𝐭𝐚𝐫𝐭 Property Investing in 𝟐𝟎𝟐2 𝐨𝐧 𝐭𝐡𝐞 𝐑𝐢𝐠𝐡𝐭 𝐅𝐨𝐨𝐭.
LIMITED seats left due to safe measurements. 200% VALUE-PACKED SEMINAR! No more time for gimmicks and drama. Register now!
In this session, you will learn:
✅ Why 2022 will be the best time to buy your first investment property? How to capitalize and make profits while everyone else is panicking about losing their jobs!
✅ How to get started in property investing with less than SGD$50,000?
✅ Why you shouldn't wait to buy property, and instead BUY PROPERTY AND WAIT? If you don't learn this now, you'll hate yourself 5 years down the road!
✅ 7 tips for identifying undervalued, under-appreciated properties that you can easily turn in hands-on PROFIT.
✅ How to invest in a property with LITTLE or NO MONEY?
✅ Little-known ways to find capital to invest in a property that other property investors would never want you to know! Hint: it's legal, ethical, and moral.
✅ Discover the MAPIC formula...that ensures there's almost ZERO RISK to invest in any property.
✅ Join and network with a community of Seasoned property investors to learn from them!
✅ How to minimize your risk without cutting into your profit?
✅ Why your house is not an Asset and is COSTING YOU A LOT OF MONEY! Here's what you need to do instead!
✅ Is it really possible to get properties that give not only capital appreciation, but also high rental yields (4% to 12%)? Find out more at the workshop!
✅ How to Safely Buy your VERY FIRST PROPERTY (HDB/Condo etc.)?
✅ Here is a method that is helping homeowners to retire in the next 8 years or less.
✅ How to Sell your properties significantly ABOVE Market Price
✅ Here's a quick way to flip a property and profit $20,000 in weeks!
✅ How to Accumulate Multiple Properties to Earn 5-Figure PASSIVE INCOME
There are countless examples of people who attended this free workshop and bought their first investment property within 6 months.
This is a MUST-ATTEND event.
Dr. Patrick owns MAPIC which is arguably the largest property investment community in Singapore. Most of the Singaporean property trainers you see right now are trained either directly or indirectly by Dr. Patrick
Dr. Patrick Liew will be sharing with you his strategies on how you can spot the next global property hotspots and reveal 5 hot property gems that he is currently looking at.
There'll be Q&A at the end of the session so you can consult Dr. Patrick about anything you want to ask.
Companies and businesses pay him thousands of dollars for his time, you get it now FOR FREE.
Wait...There's more!
Register right now and receive the following gifts:
** an Ultimate Property ROI Assessment Tool (worth $298)
** A 100 SIMPLE & EASY WAYS To Increase The Selling Price Of Your House Manual (worth $49)
So be sure to register and secure your place in this upcoming presentation.
About the speaker: Dr. Patrick Liew is one of the most successful entrepreneurs and investors around. He has helped list three companies publicly in Singapore, Australia, and the USA.
He was the CEO and Chairman of HSR Global Ltd (currently known as 3Cnergy Ltd), a publicly-listed company on the Singapore Exchange (SGX-ST). HSR has done billions of dollars in property transactions.
This is going to be a value-packed 2 and half-hour presentation.
You are going to be learning a lot about property investing for FREE.
The main focus of this event would be education.
Click on the link to select a date to register!