Multiple Dates
FREE Info Workshop - Breathwork Meditation Facilitators Training Level 1
FREE Info Workshop for Sage Sapien Meditation & Breathwork Facilitators Training `Level 1
About this event
Join this FREE INFO workshop where you will engage in a powerful shamanic breathwork & meditation practice with Founder of Sage Sapien Soul Academy, Johnson Chong followed by a Q&A about the level 1 certification program.
** There are 2 Info Sessions, please select one of times that you can attend. You must register on Eventbrite to receive the unique one time zoom meeting link.
Discover your path forward to becoming a 100hr Certified Breathwork and Meditation Teacher in the upcoming training program Oct 25th, 2021 - Dec 17, 2021 (Yoga Alliance CEU credits are available for YA teachers)
Pre-requisites: This training is a continuing education course for existing...
Yoga, Pilates Teachers
Meditation Teachers
Coaches
Therapists
Healers
ABOUT THE TRAINING Oct 25th:
This is a 100 hour 8 week onlineYoga Alliance certified continuing education course, where you will learn to use the fundamentals of yogic pranayama (breathwork) and marry it with shamanic principles to create the framework for deep transformation.
The intention of this program is help facilitators (yoga, pilates, meditation teachers, coaches, therapists, etc) to develop transformational skills that directly impact their clients and student's energy bodies in life changing ways.
In this program you will learn :
The most impactful yogic pranayama practices.
Energetic activation through cultivating kundalini through various mudras.
Bioenergetic release work to clear and upgrade the chakra field and energy body.
Blueprinting techniques using the breath.
The science of the breath.
Visualisation techniques using sacred geometry.
Shamanic Journeying to amplify the meditative experience.
A unique 6 part cuing method to frame your sessions and classes.
ABOUT YOUR TRAINER :
Johnson Chong is the best-selling and award-winning author of Sage Sapien: From Karma to Dharma. He is a shaman and the founder of Sage Sapien Soul Academy where he trains aspiring meditation and breathwork teachers. The Academy also offers self development courses where they integrate the teachings of yoga, meditation, breathwork and shamanic healing. Their courses are designed to help people quiet the mind, awaken the heart and free themselves of the roadblocks that keep them from living more authentically and joyfully. He has spoken and led workshops at companies like Unilever, Facebook, Nike, Macquarie, Insight Timer, UBS, UOB and more. Johnson is a native New Yorker, and has lived on 3 continents, currently based in Sydney, Australia.
Johnson's passion is creating a bridge between ancient wisdom and direct modern application. In his dynamic coaching style, he integrates the practical and most useful parts of yogic wisdom, meditation, somatic movement, energy medicine and shamanic journeying to help his clients breakthrough daily self-criticism and emotional overwhelm. The unique experiences that Johnson curates offer a profoundly healing self-discovery experience, followed by very practical and actionable steps to create the most powerful breakthroughs.
As a certified InnerGuidanceTM coach, a Four Winds Energy Medicine Health Coach, and Reiki Master in conjunction with his background as an advanced E-RYT 500 Hr Yoga Teacher Trainer, and PMA Pilates Teacher Trainer, he has an expansive knowledge on the inner workings of human psychology and how it gets trapped in the physical and mental bodies.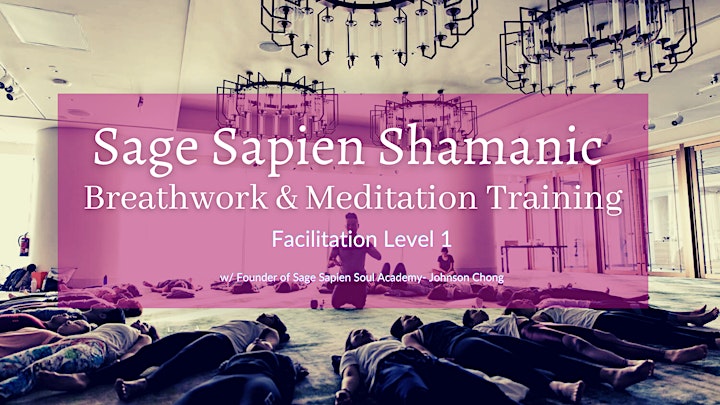 Organiser of FREE Info Workshop - Breathwork Meditation Facilitators Training Level 1