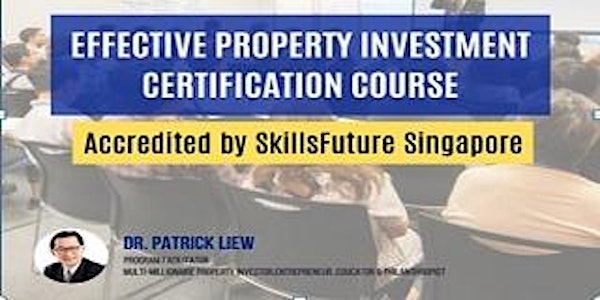 FREE Live Webinar: Effective Property Investment Course For All Homeowners
Are You Searching For A Staring Point In Property Investing? Get All Your Questions Answer Here.
About this event
Take notes:
This online webinar event is only for locals & permanent residents of Singapore
Effective Property Investment Course For All Homeowners
(Accredited by SkillsFuture Singapore)
by Dr. Patrick Liew
Online Webinar
About this Event
Date: Every day from Monday to Sunday
Time: 8.00 pm - 9.00 pm
Venue: Online event
In this session, you will learn:
📢 𝟏𝟎𝟎% 𝐒𝐤𝐢𝐥𝐥𝐬𝐅𝐮𝐭𝐮𝐫𝐞 𝐂𝐥𝐚𝐢𝐦𝐚𝐛𝐥𝐞 𝐏𝐫𝐨𝐠𝐫𝐚𝐦
❌ NO Out-of-Pocket Expenses*
Evidently, real estate will always be in demand due to the limited supply and most importantly it is timeless!
Investing in real estate can be your side hustle to achieve financial stability and reach your financial dreams.
Not only do you get to acquire first-hand knowledge in real estate investment yet you get to build your wealth. Isn't this a win-win solution? 👏🏻
Come hang out with Dr. Patrick Liew in this FREE live webinar where he imparts his knowledge and skills needed to make safe, sound, secure, and sustainable property investments!
𝐖𝐇𝐀𝐓 𝐘𝐎𝐔'𝐋𝐋 𝐓𝐀𝐊𝐄 𝐀𝐖𝐀𝐘 𝐅𝐑𝐎𝐌 𝐓𝐇𝐈𝐒 𝐅𝐑𝐄𝐄 𝐋𝐈𝐕𝐄 𝐒𝐄𝐒𝐒𝐈𝐎𝐍...
✅ How to be a savvy property investor
✅ Staying educated on the real estate market
✅ Understand the benefits of investing in overseas properties
✅ Curate your own property portfolio to maximize your returns based on your risk appetite
Register Now To Receive Your Exclusive Webinar Link!