| | |
| --- | --- |
| Free PSLE, 'O' Level, 'A' Level Seminars | |
Event Details
MASTER the ENTIRE PSLE/'O'/'A' level syllabus
in 1 week this June and Score As!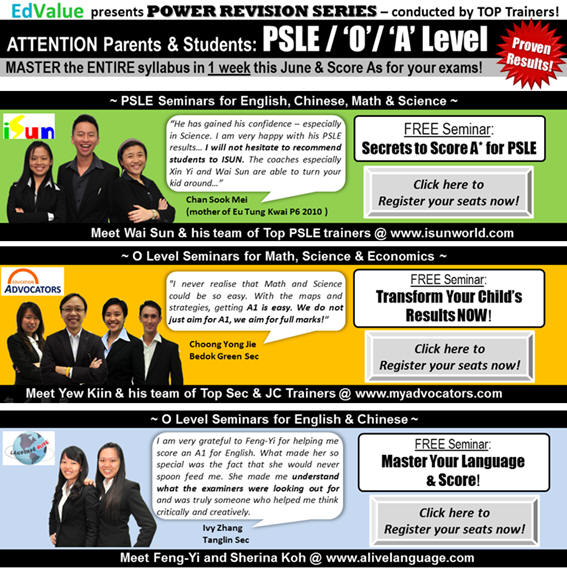 "He has gained his confidence –especially in Science. I am very happy with his PSLE results… I will not hesitateto recommend students to ISUN. Thecoaches especially Xin Yi and Wai Sunare able to turn your kid around…"
- Chan Sook Mei(mother of Eu Tung Kwai P6 2010)
"I never realise that Math andScience could be so easy. With themaps and strategies, getting A1is easy. We do not just aim forA1, we aim for full marks! "
-  Choong Yong Jie, Bedok Green Sec
I am very grateful to Feng-Yi for helping me score an A1 for English. What made her sospecial was the fact that she would neverspoon feed me. She made me understand what the examiners were looking out forand was truly someone who helped methink critically and creatively.
 - Ivy Zhang ,Tanglin Sec
We have a proven track record of transforming results!
Be part of our 2011 success story now!
The series of Power Revision program is back by popular demand!

Edvalue is bringing to you this intensive revision crash course that is tailored for students taking their PSLE/'O'/'A'levels thisyear in collaboration with 3 top academic coaching centres in Singapore!
Over a week in June, we will cover the entire PSLE/'O'/'A'level content for the subject, so that students can build a strong foundation before they start doing practice papers.
Imagine how much time you can free your child up for other subjects by completing the syllabus for English, Chinese, Math, Science and Economics this June!
Our Power Revision workshops are available for English, Chinese, Math, Science and Economic subjects.
Let your child begin your PSLE/'O'/'A'level preparations now, and face the exams with full confidence!
We have install a series of FREE seminars where you and your child can attend to find out the "Secrets to score As for PSLE/'O'/'A' level".
Seats are limited. Lock in your seats today!
Organizer
EdValue.com is your One-Stop Education Portal for all Tuition and Enrichment Centres in Singapore. You can Search for Tuition Classes or Enrichment Programs such as Music, Arts, Sports, Baking, etc. You can even share your experiences through Reviews and Ratings after attending classes conducted by the various centres to help our Members' Community make informed decisions before signing up. In addition, you can stay in touch with the latest Educational News in Singapore, be informed of the upcoming Educational Events such as Workshops, Seminars and Conferences. You can even check out the comprehensive listing of Educational Resources on Articles, Videos and Books available to enhance your learning experience.