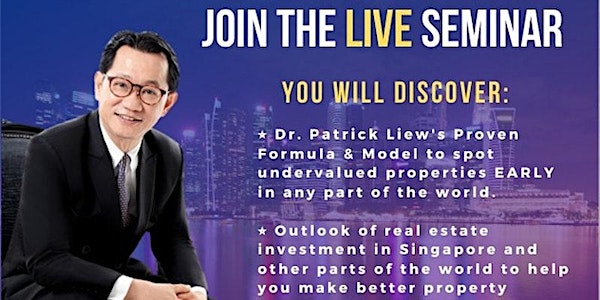 Multiple dates
FREE Seminar: Insider Tips In Property Investing by Dr. Patrick Liew
Capturing The Heating Up Singapore Property Market. Spot HOT Properties That Generate High ROI In a Simple Way..
By Leads Generation And Event Marketing Associates
Date and time
Wed, 7 Jul 2021 20:00 - Thu, 29 Jun 2023 21:30 +08
Location
Novena Square Office Tower A 238A Thomson Road #13-08 Singapore, Singapore 307684 Singapore
About this event
This is an In-person physical event in Singapore
FREE Seminar: Insider Tips In Property Investing by Dr. Patrick Liew
Who Is Dr. Patrick Liew & Why Him?
About this event
📢 𝐖𝐚𝐧𝐭𝐢𝐧𝐠 𝐭𝐨 𝐢𝐧𝐯𝐞𝐬𝐭 𝐢𝐧 𝐚 𝐥𝐨𝐜𝐚𝐥 𝐨𝐫 𝐢𝐧𝐭𝐞𝐫𝐧𝐚𝐭𝐢𝐨𝐧𝐚𝐥 𝐩𝐫𝐨𝐩𝐞𝐫𝐭𝐲 𝐭𝐨 𝐠𝐫𝐨𝐰 𝐲𝐨𝐮𝐫 𝐰𝐞𝐚𝐥𝐭𝐡?
𝐁𝐔𝐓 𝐮𝐧𝐬𝐮𝐫𝐞 𝐨𝐟 𝐰𝐡𝐞𝐫𝐞 𝐚𝐧𝐝 𝐡𝐨𝐰 𝐭𝐨 𝐬𝐭𝐚𝐫𝐭?🤔
It's possible to get into property investments even if you don't have a few million dollars lying around – 𝐛𝐮𝐭 𝐧𝐨𝐭 𝐞𝐯𝐞𝐫𝐲𝐨𝐧𝐞 𝐤𝐧𝐨𝐰𝐬 𝐚𝐛𝐨𝐮𝐭 𝐢𝐭.
Our PROVEN Blueprint has helped more than 350 students in our academy to achieve an 𝐜𝐨𝐦𝐛𝐢𝐧𝐞𝐝 𝐩𝐫𝐨𝐩𝐞𝐫𝐭𝐲 𝐜𝐚𝐩𝐢𝐭𝐚𝐥 𝐮𝐩𝐥𝐢𝐟𝐭 𝐨𝐯𝐞𝐫 $𝟑𝟓 𝐌𝐈𝐋𝐋𝐈𝐎𝐍 𝐭𝐨𝐝𝐚𝐲❗🤯
𝐘𝐞𝐬, $𝟑𝟓,𝟎𝟎𝟎,𝟎𝟎𝟎. 😱
How exactly? 🤯
Reserve your FREE spot in our upcoming free seminar to discover for yourself PROVEN STRATEGIES and KEY METHODS that will help you make the best property decisions for you and your family regardless of where you live...
How would you like to learn from the man himself who has helped many others make millions of dollars during the Global Economic Crisis and SARS Crisis over a decade ago? 🤔
Dr. Patrick Liew will be running the property investment seminar FREE OF CHARGE! With over 300,000 students in over 61 countries, he has successfully been able to help many of them achieve financial freedom through property investment and he has also helped to list multiple companies in different countries. Today, Dr. Patrick Liew is one of the most successful entrepreneurs and investors in the region.
So let's face it. if there is still any lifeboat left that will positively turn your financial growth around, it is going to be this upcoming ALL about Property Investment LIVE seminar.
𝐓𝐀𝐊𝐄 𝐇𝐎𝐌𝐄 𝐖𝐈𝐓𝐇 𝐘𝐎𝐔...
⭐ Dr. Patrick Liew's Proven Formula & Model to spot undervalued properties EARLY in any part of the world.
⭐ Outlook of real estate investment in Singapore and other parts of the world to help you make better property purchase decisions.
⭐ The HOTTEST property areas watchlist in 2023.
⭐ The ONLY FREE CHANCE for you to ask our team of experienced investors & analysts ALL your burning questions.
🔥 So YOU can use these SAME EXACT STRATEGIES to profit in this crisis too! 🥳
✨ 💫The LIVE webinar is starting soon, register now! 🚀
About the organiser
If you are searching for ways to build generations of wealth
Don't do it alone.
A comprehensive affiliate leverage system is here for you
You can partner with ihub Global with an open mind to explore more opportunities.
I wish you success in your business.