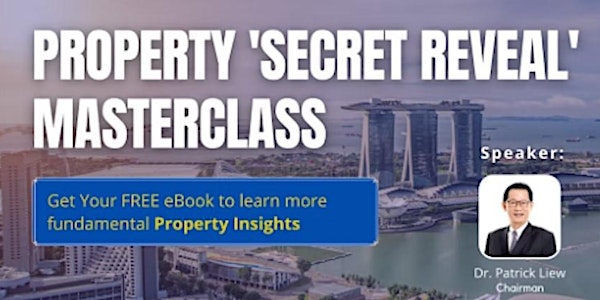 Multiple dates
FREE Seminar: Live Property Investing Master-Class by Dr. Patrick Liew
FREE Live Physical Property Investing MASTERCLASS, Strategies, And Tips Sharing Session by Dr. Patrick Liew
By Leads Generation And Event Marketing Associates
Date and time
Thu, 1 Apr 2021 19:00 - Thu, 22 Jun 2023 21:30 +08
Location
Novena Square Office Tower A 238A Thomson Road #13-08 Singapore, Singapore 307684 Singapore
About this event
Take note:
this is an on-site event in Singapore NOT a zoom event.
FREE Seminar: Live Property Investing Master-Class by Dr. Patrick Liew
How to invest in properties to become a rich landlord and generate consistent passive income to recession-proof yourself.
About this Event
🔥*4 HOTTEST Property Gems In Singapore & Overseas Which ANY Salaried Employees Can Invest In The Next 3 Months And Generate More Than 7% Returns* Per Annum!*🏠
Date: 3, 10 May 2023 Wednesday, 18, 25 May 2023 Thursday, 1, 8, 15, 22 June 2023 Thursday
Time: 7.00 pm to 9.30 pm (Registration starts at 6.45 pm)
Venue: Near Novena MRT238A Thomson Road, #13-08 Novena Square Office Tower A Singapore 307684
Learn a blueprint that will help you easily own multiple properties without putting stress on your finances!
· Find out how it's possible to get into property investments EVEN IF you don't have a lot of cash
· A Masterclass that can point you to properties which YOU can invest in today that is EQUIVALENT to the price of a car.
· more than 350 students in our academy to achieve an 𝐜𝐨𝐦𝐛𝐢𝐧𝐞𝐝 𝐩𝐫𝐨𝐩𝐞𝐫𝐭𝐲 𝐜𝐚𝐩𝐢𝐭𝐚𝐥 𝐮𝐩𝐥𝐢𝐟𝐭 𝐨𝐯𝐞𝐫 $𝟑𝟓 𝐌𝐈𝐋𝐋𝐈𝐎𝐍 𝐭𝐨𝐝𝐚𝐲 as proof that this WORKS!
· This is NOT some get-rich-quick scheme. If that is what you're looking for, just keep scrolling. But f𝐨𝐫 𝐭𝐡𝐞 𝐫𝐞𝐬𝐭 𝐥𝐨𝐨𝐤𝐢𝐧𝐠 𝐭𝐨 𝐮𝐧𝐜𝐨𝐯𝐞𝐫 𝐏𝐑𝐎𝐕𝐄𝐍 𝐩𝐫𝐨𝐩𝐞𝐫𝐭𝐲 𝐢𝐧𝐯𝐞𝐬𝐭𝐦𝐞𝐧𝐭 𝐬𝐭𝐫𝐚𝐭𝐞𝐠𝐢𝐞𝐬 𝐚𝐧𝐝 𝐠𝐮𝐢𝐝𝐞𝐬, register your FREE seat HERE NOW!
· Get the ONLY CHANCE to ask a team of experienced investors ALL your burning questions FREE OF CHARGE!
· Personalised Property Investment Consultation – "Handhold" guidance and mapping out your investment journey with you to help you achieve your goals!
Hurry! Register to get your FREE seat NOW!
About the organiser
If you are searching for ways to build generations of wealth
Don't do it alone.
A comprehensive affiliate leverage system is here for you
You can partner with ihub Global with an open mind to explore more opportunities.
I wish you success in your business.