Free Specified Investment Product (SIP) Course

Saturday, 8 June 2019 from 10:00 to 12:00 (Singapore Standard Time Singapore Time)
Event Details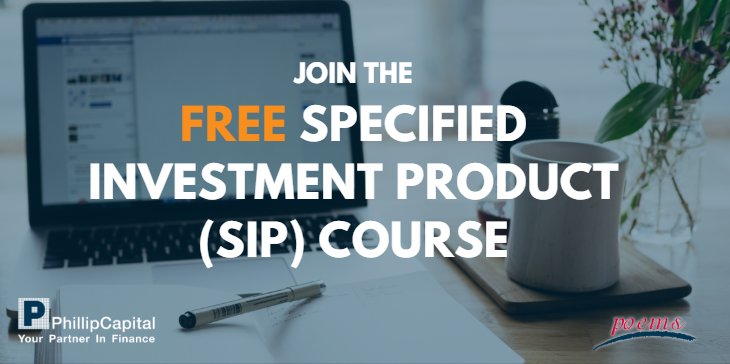 Topic:                    Free Specified Investment Product (SIP) Course
Speaker:               Mr Wong Kon How – SGX Academy Speaker
Date:                     8 June 2019, Sat
Time:                     10.00am – 12.00pm
Venue:                  Phillip Investor Centre, Marine Parade
Synopsis
Have you ever wanted to trade Exchange ETFs/Structured Warrants/DLCs but have not passed the Customer Account Review (CAR) or have an expired CAR?
Join us for free SIP training courses brought to you by SGX Academy trainers. The trainers will walk you through the SGX SIP Online Educational Module during the course. If you pass the module during the course, you will receive a S$20 Shopping mall voucher upon certificate submission on the spot! Don't miss this opportunity to get your SIP module passed! 
Prerequisite for the seminar participants:
This seminar is meant for customers who are non-SIP exempted or non-SIP qualified

Bring along your mobile phones, iPad or tablets with 3G/4G access in order to do the module during the session

Create your account for the module before attending the session via the following 

link

 or bring your user ID and password if you have taken the SGX SIP Online Test previously
Availability for this seminar is on a first-come-first-served basis. For enquiries, please contact us at 6812 1577 or email to pitctk@phillip.com.sg.
Speaker Profile 
Mr. Wong Kon How – SGX Academy Speaker
Kon How has more than 20 years of trading experience in the finance industry. He manages his own funds and founded Weipedia Private Limited. He specializes in the study of behavioural finance, or market psychology, and is an investment strategist. He is also an expert in risk management.
Kon How regularly conducts workshops for industry practitioners, fund managers, private bankers, propriety traders, dealers and retail investors. His clients include securities and derivatives exchanges, regulators, investment banks, institutions and brokers. His delivery has gained good reviews and testimonies from partners and clients. He also conducts training sessions for Trading Representatives as part of their Continuous Education Program in Hong Kong, Malaysia, Singapore and Thailand.
Kon How studied Engineering but was passionate about investment and trading. This led him to pursue a career in the financial sector after his graduation. He first began as an apprentice in SiMEX and a floor runner in 1995. Since then he has been a floor trader, financial dealer and an active practitioner in the Securities and Derivatives market.
Highlights:
Year 2008 was the turning point in the financial market. Kon How had accurately forecasted the downturn of STI and Dow Jones during the early 2008. During the same period, he also presented the continual uptrend in the Gold market from USD900 level. While he was in Hong Kong in late 2014 and early 2015, he addressed that 2015 would be a year with good volatility for Asian markets.
FAQ:
1. What are SIPs?
Specified Investment Products are products that have structures, features and risks that may be more complex in nature. The current list of Specified Investment Products includes:
 -        Certain Exchange Traded Funds (ETFs)/ Exchange Traded Notes (ETNs)
 -        Futures
 -        Structured Warrants
 -        Daily Leverage Certificates (DLC)
 -        Callable Bull/ Bear Contracts (CBBCs) (Not available on SGX yet)
 -        Certificates
Specified Investment Products listed on SGX derivatives market include:
 -        Futures
 -        Options
Unlisted products include:
Contracts for Differences (CFDs)

Foreign Exchange Margin Trading

Structured Deposits and Dual Currency Investments

Structured Products

Unit Trusts and Investment-linked Insurance Policies
2. Why do I need to pass SIP?
If you do not have the relevant knowledge or experience to understand the risks of SIPs, you need to take SGX SIP Online Educational Module.
3. After passing SIP, what do I need to do?
Please submit Customer Account Review (CAR) & Customer Knowledge Assessment (CKA) form physically or via POEMS upon certificate submission. Your status will be updated and able to trade Listed SIP products (indicated as @ in POEMS).
 4. How do I know if I am exempted or I have already submitted CAR form?
Please contact your trading representative or call and email us at 65311555 and talktophillip@phillip.com.sg respectively.

When & Where

Phillip Investor Centre - Marine Parade
Blk 80 Marine Parade Central
#01-782
Singapore, 440080
Singapore

Saturday, 8 June 2019 from 10:00 to 12:00 (Singapore Standard Time Singapore Time)
Add to my calendar
Organiser
Since 1975, the PhillipCapital network has grown into an integrated Asian financial house with a global presence that offers a full range of quality and innovative services to retail and high net worth individuals, family offices, corporate and institutional customers.
Our comprehensive suite of financial products and services includes broking in securities, futures, foreign exchange, bonds, precious metals and commodities, unit trusts, contracts for difference, exchange traded funds; fund management, managed accounts,  insurance planning, regular savings plans, investment research, equity financing and property consultancy*. Institutions can also benefit from our corporate finance and advisory services as well as information technology solutions.
With more than 3,500 employees and over 1 million clients worldwide, our assets under custody/management totals to more than USD 30 Billion with shareholders' funds in excess of USD 1 Billion.
PhillipCapital (with headquarters in Singapore) operates in the financial hubs of 16 countries, including offices in Malaysia, Cambodia, Indonesia, Thailand, Hong Kong, China, Japan, India, Sri Lanka, Australia, UAE, UK, France, Turkey and USA. 
Information on any and all independent PhillipCapital members and the respective financial services they offer can be obtained from www.phillip.com.sg. Members can otherwise be identified by their authorised use of PhillipCapital brand name along with their own name in their documentation and literature.