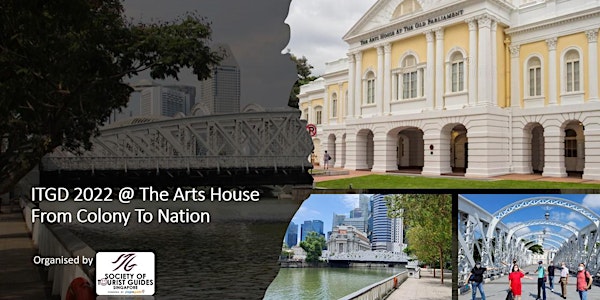 Free Tours ITGD 2022 @ The Arts House - From Colony To Nation
Free Walking Tours organised by Society of Tourist Guides Singapore in celebration of the International Tourist Guides Day (ITGD) 2022
When and where
Location
The Arts House 1 Old Parliament Lane Singapore, 179429 Singapore
About this event
Join us on Saturday, 9 April from 10am to 4pm at The Arts House @ Parliament Lane for an exciting discovery of the civic district, recounting Singapore's transformation "FROM COLONY TO NATION" (殖民地到共和国). 3 different walking tours have been curated to explore this transformation. The tours will be conducted in English and Mandarin at 15 mins interval. Each tour's duration is about 45 mins. The tours are:
Tour 1: The Arts House @ The Old Parliament – stories retold
路线1: 旧国会艺术之家——旧议会风云回顾
Tour 2: Story of Three Bridges – Elgin, Cavenagh and Anderson
路线2:三桥的成长岁月——埃尔金,加文纳,安德逊桥的故事
Tour 3: Old Waterfront – New Waterfront
路线3:潮声依旧景物迁——海滨的今昔
Register now to get your ticket for the free tour!