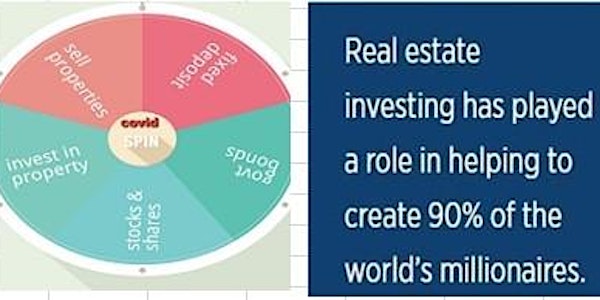 Multiple dates
FREE: Uncertainly = Best Chance In Property Investment,. Where, When, How?
How to invest in properties to become a rich landlord and generate consistent passive income to recession-proof yourself.
By Leads Generation And Event Marketing Associates
Date and time
Thu, 19 Nov 2020 19:00 - Thu, 22 Jun 2023 21:30 +08
Location
Novena Square Office Tower A 238A Thomson Road #13-08 Tower A Singapore, Singapore 307684 Singapore
About this event
This is an on-site event in Singapore NOT a zoom event.
FREE: Uncertainly = Best Chance In Property Investment, Where, When, How?
A Proven Formula To Buy Lower Prices Properties In Any Pandemic
About this Event   
FREE Property Investing Advice by Dr.Patrick Liew ... CEO and Chairman of HSR Global Ltd
The beginner's guide to property investment.
How to protect and grow your wealth in the upcoming recession!
Date: 3, 10 May 2023 Wednesday, 18, 25 May 2023 Thursday, 1, 8, 15, 22 June 2023 Thursday
Time: 7.00 pm to 9.30 pm (Registration starts at 6.45 pm)
Venue: Novena Square Office Tower A, 238A Thomson Road, #13-08 Singapore 307684, Near Novena MRT
What You Will Learn?
✅ Why 2023 will be the best time to buy your first investment property?  How to capitalize and make profits while everyone else is panicking about losing their jobs!
✅ How to get started in property investing with less than SGD$50,000
✅ Why you shouldn't WAIT to buy the property and instead BUY PROPERTY AND WAIT.? If you don't learn this now, you'll hate yourself 5 years down the road!
✅ 7 tips for identifying undervalued, under-appreciated properties that you can easily turn hands for PROFIT.
✅ How to invest in a property with LITTLE or NO MONEY?
✅ Little-known ways to find capital to invest in a property that other property investors would never want you to know! Hint: it's legal, ethical, and moral.
✅ Discover the MAPIC formula...that ensures there's almost ZERO RISK to invest in any property.
✅ Join and network with a community of Seasoned property investors to learn from them!
✅ How to minimize your risk without cutting into your profit?
✅ Why your house is not an Asset and is COSTING YOU A LOT OF MONEY! Here's what you need to do instead.
✅ Is it really possible to get properties that give not only capital appreciation, but also high rental yields (4% to 12%)? Find out more at the workshop!
✅ How to Safely Buy your VERY FIRST PROPERTY (HDB/Condo etc.)?
✅ Here is a method that is helping homeowners to retire in the next 8 years or less.
✅ How to Sell your properties significantly ABOVE Market Price
✅ Here's a quick way to flip a property and profit $20,000 in weeks!
✅ How to Accumulate Multiple Properties to Earn 5-Figure PASSIVE INCOME
There are countless examples of people who attended this free workshop and bought their first investment property within 6 months.
This is a MUST-ATTEND event.
Dr. Patrick owns MAPIC which is arguably the largest property investment community in Singapore. Most of the Singaporean property trainers you see right now are trained either directly or indirectly by Dr. Patrick.
There'll be a Q&A at the end of the session so you can consult Dr. Patrick about anything you want to ask. His time is extremely valuable! Others pay him $2000/hour for 1:1 consulting.
About the speaker:  
Dr. Patrick Liew is one of the most successful entrepreneurs and investors around. He has helped list three companies publicly in Singapore, Australia, and the USA.
He was the CEO and Chairman of HSR Global Ltd (currently known as 3Cnergy Ltd), a publicly-listed company on the Singapore Exchange (SGX-ST). HSR has done billions of dollars in property transactions
This is going to be a value-packed 2.5 hours seminar. You are going to be learning a lot about property investing for FREE.
The main focus of this event would be education.
Click on the Red Button "select a date" & register!
Why Dr. Patrick Liew? 
One of the Top property Investors, who is so passionate and dynamic about property investments.
He will address the  2  biggest concerns in property investments and how to overcome them and he will open up your mind.  
Extracted here is an old video made in 2017 (click the link below), 
Now in 2023, he comes with a better and richer experience and more real examples to share with you. 
About the organiser
If you are searching for ways to build generations of wealth
Don't do it alone.
A comprehensive affiliate leverage system is here for you
You can partner with ihub Global with an open mind to explore more opportunities.
I wish you success in your business.