FREE Virtual Wellness Event! Learn about daily nutritional essentials for your body!
About this Event
Where health and wellness are concerned, the approach should be unique for you. Join us at this free virtual wellness event to learn about the nutritional essentials your body needs to fight the effects of ageing, boost your energy, manage inflammation and improve your overall well being!
Be part of this FREE virtual wellness event! Find out more and register your interest today at bit.ly/ylsgYOUeNutritionEvent
Details of YOUniquely Essential: Nutrition:


Date: Saturday, March 20, 2021
Time: 1p.m. - 5 p.m.
Facebook Page: fb.com/youngliving.sg
Event Highlights:
Interactive Games
Educational Talk Shows
Cooking Demonstration
Attractive Prizes & Giveaways
Exclusive NEW Member Promotions and lots more!
#YOUniquelyEssential #YOUniquelyEssentialNutrition #Wellness #Nutrition #Health #Inflammation #HealthyAging #HealthyLiving #Collagen #SkinHealth #Beauty #Fitness #Lifestyle #OverallHealth #CleanBeauty #Skincare #Antioxidants #GojiBerries #TCM #NaturalSolutions #HolisticHealth #Holistic #YoungLiving #YoungLivingSingapore #EssentialOils #CollagenDrink #NingXiaRed #ImmuneHealth #Immunity #YLEO #YLSG #EatWell #LiveWell #LiveHealthy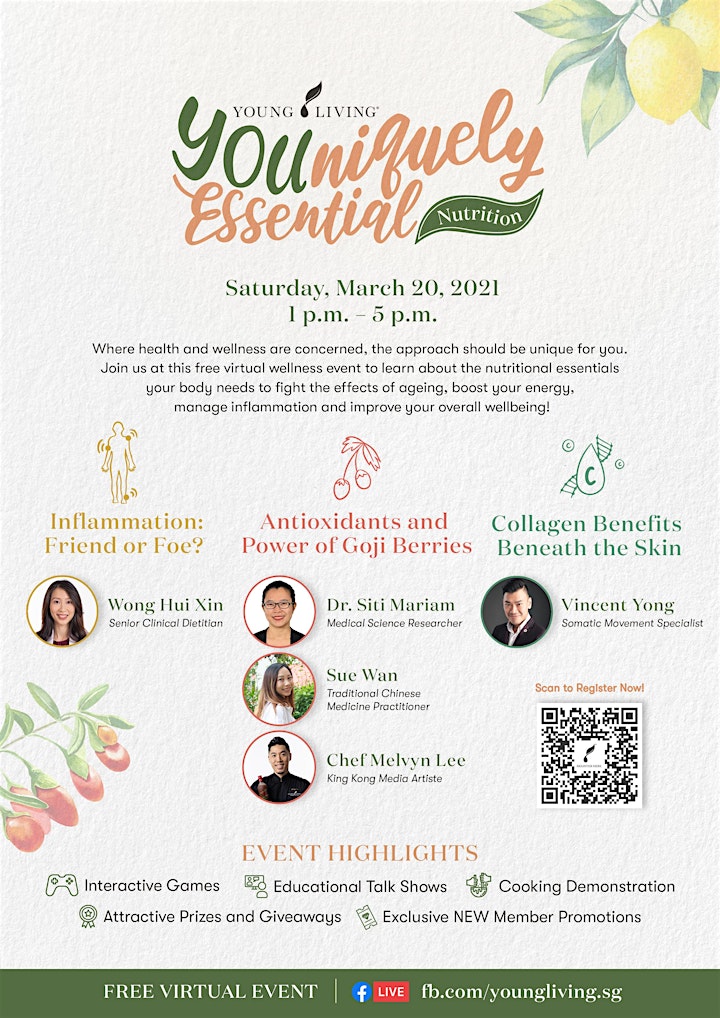 Let us share with you 5 reasons why you should get registered for YOUniquely Essential: Nutrition Event!
Here goes...
1. Learn essential tips and information from experts about Inflammation, Antioxidant and Collagen.
2. Be inspired to improve YOUr lifestyle!
3. Join the fun from the comfort of YOUr home!
4. Stand a chance to win lots of giveaways and prizes!
5. Be a better YOU!
What other better reasons to have than these? Grab your friends and family to experience this explorative wellness event with you! It's always better with a friend, don't tune in alone! 🤗
Tune in for FREE on Saturday, March 20 on fb.com/youngliving.sg
Click 'Going' to register here: bit.ly/ylsgYOUeNutritionEvent