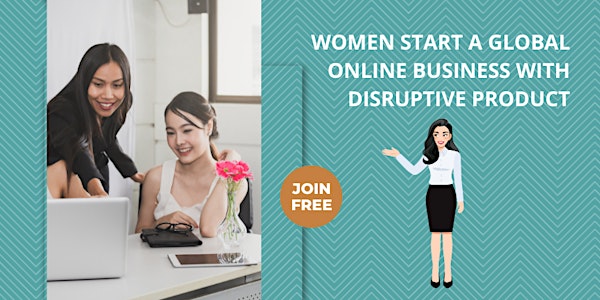 Free Webinar: Women Start A Global Online Business With Disruptive Product
Free Workshop: Women Start A Global Online Business With Disruptive Product
When and where
Location
Phnom Penh - - Phnom Penh, 12302 Cambodia
About this event
Are you looking for another way out to start your own business?
Or looking for another part time to do?
Join us in our session, we will go through how to go about it to start a business of your own.
Agenda of the session:
1. What is a disruptive technology and you can take advantage of it?
2. What are most people focusing on after the pandemic?
3. How you can leverage on a stem cell research scientist?
4. How to leverage on an unique global e-commerce to build your business?
We will confirm your seats via WhatsApp.
Limited seats. Register NOW to get your seat to start an online business.
👉🏼 You can help someone else to fulfill their dreams of self-employment by sharing this! 🙂
#onlinesmallbusiness #onlinehomebusiness #onlinebeautybusiness #onlinelifestylebusiness #onlineopportunitybusiness #onlinesellingbusiness #onlineskincarebusiness #onlineservicesbusiness #businessopportunityonline #onlineearningbusiness #womensupportingwomen #femaleentrepreneurs #supportlocal #womenempoweringwomen