Forging Deeper Self-Awareness & Connections in our Family
About this event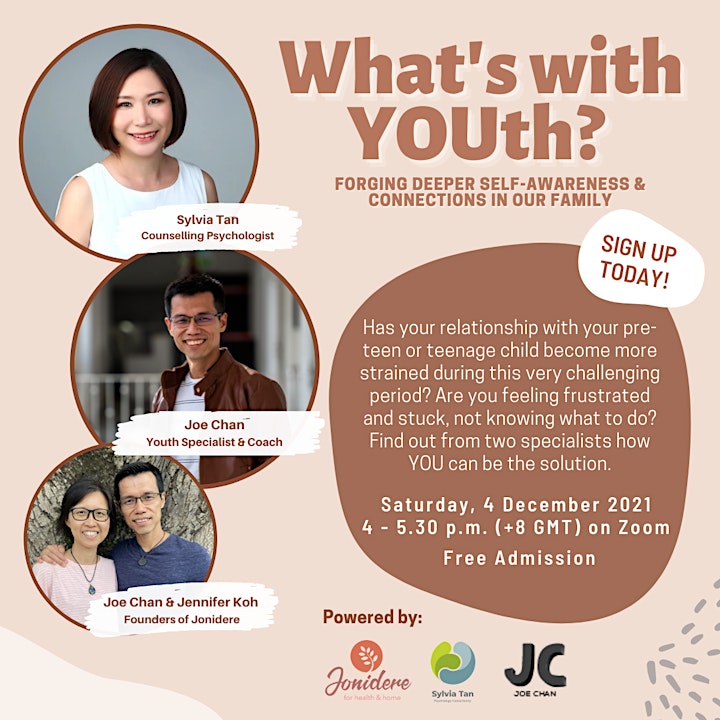 Has your relationship with your pre-teen or teenage child become more strained during this very challenging period? Are you feeling frustrated and stuck, not knowing what to do? Find out from two specialists how YOU can be the solution.
More about our hosts and speaker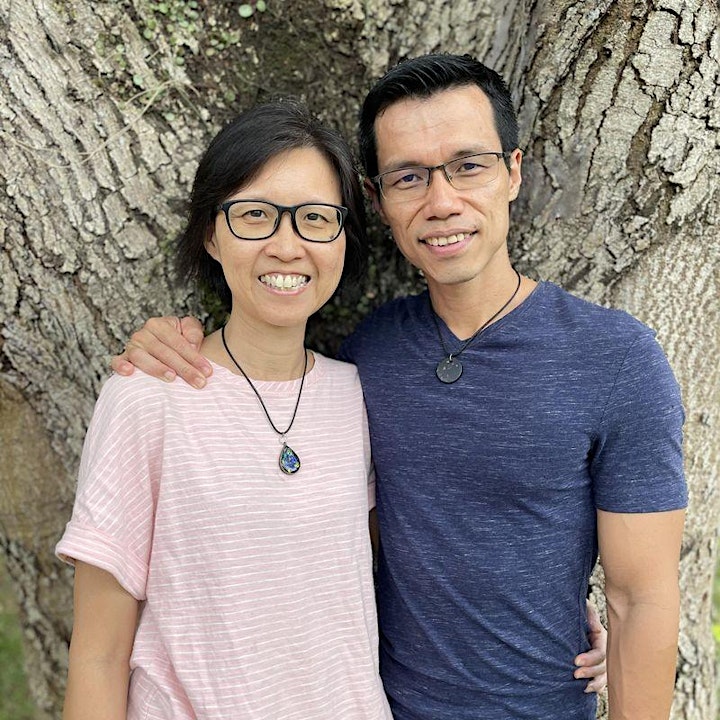 Joe Chan & Jennifer Koh (Hosts)
Founders of Jonidere
Having a keen interest in fitness, Joe has been employing sports to engage with his youths at work. Jennifer is a Holistic Health Advocate who is passionate to empower others in the area of health and wellness. Together, they founded Jonidere with the purpose of helping others achieve optimal, holistic health and wellness in the long run. No matter what our present state is, we can start making choices today for ourselves and our loved ones towards optimal health and wellness. Joe and Jennifer hope to journey with you towards your well-being and wholeness in every aspect of your life!
Sylvia Tan
Counselling Psychologist
Sylvia is a registered Counselling Psychologist and Clinical Supervisor with the Singapore Register of Psychologists. She earned her Master of Psychology (Counselling) degree from Curtin University, Perth, Western Australia in 2002. After graduation, she worked in Australia for many years before relocating back to Singapore in 2014.
In all, Sylvia has 17 years of clinical experience working as a psychologist in outpatient psychiatric clinics, community and government agencies both in Australia and Singapore. She has seen adults, adolescents and children with mental health difficulties such as depression, bi-polar disorder, anxiety, trauma, complex trauma, psychosis or personality difficulties. She has also worked with couples and families undergoing martial difficulties, divorce and separation.
Over the past 10 years, Sylvia has developed expertise in the area of couples and family work, in particular, with divorce and separation. Sylvia previously worked in the Singapore Family Justice Courts as the Principal Court Family Specialist, and is now working part time in the Community Psychology Hub where she supervises psychologists working in the Divorce Specialist Support Agencies (DSSAs). Sylvia has extensive skills in custody evaluation, dispute resolution, couples therapy, and family reunification work where there have been allegations of family violence, child abuse, or parental alienation. She has conducted trainings locally and internationally on divorce-related matters such as impact of divorce on children, child inclusive dispute resolution and parental alienation. Sylvia has also co-authored papers on divorce and the Singapore Family Justice System.
To Sylvia, mental health issues can be traced back to negative early life experiences or relationship breakdowns. Hence, much of her therapeutic approach deals with early negative childhood experiences, so as to enable deep healing, restoration of self and relationships. She mostly uses "third wave" psychotherapeutic approaches such as Acceptance Commitment Therapy, Schema Therapy, Internal Family Systems Therapy and Hakomi Experiential Psychotherapy in her work with clients.
In terms of her work with families, Sylvia believes in the preservation of family relationships. She also believes that every child has the right to be free from family conflict, and have healthy relationships with both parents. Hence, she has made it her mission to help children and families how to cope with divorce, heal from family conflict, and restore relationships with each other, so that they can thrive in their mental wellbeing, and lead rich and meaningful lives.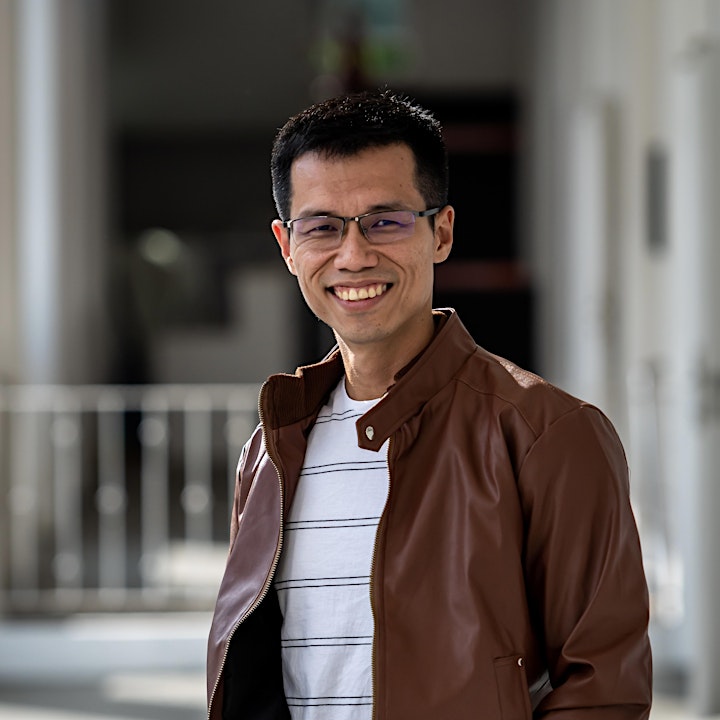 Joe Chan
Youth Specialist & Coach
Joe specializes in working with young people. Being the pioneer of the Youth Service at REACH Community Services (Singapore), he has the privilege of working with various stakeholders and partners in the government, private sector and the community through various youth programmes and services.
As a youth work practitioner, Joe is genuinely convinced in the power of human potential in any young person today. He believes that as long as we can create the right conditions for growth and development around the young person, we will then be able to shape his future.
Due to his passion for learning and sharing, Joe has had the privilege to deliver presentations in professional conferences and platforms both locally and internationally on the applications of the Solution Focused approach in youth work. Recently he has also published a book "Youth Lenses", and is a contributor to the following books "Solution Focused Practice in Asia", "The Solution Focused Approach with Children and Young People" and "Solution Focused Practice Around the World".
Joe's background in Social Work, Emotional Intelligence, Solution Focused therapy and coaching has helped to form his practice and perspectives. Today, he is also a Master Solution-Focused Practitioner (IASTI) and a Professional Certified Coach (ICF).
In terms of his personal life, Joe is an active sports enthusiast who regularly does dragon boat training, gym training and yoga. He believes that together we can change the world, one young person at a time!
Organizer of FREE What's with YOUth? Webinar
At Jonidere, we believe in achieving optimal, holistic health and wellness in the long run. Our purpose of hosting FREE online health events is to increase health awareness in the community. Today, you can start making choices for yourself and your loved ones towards optimal health and wellness. We hope to journey with you towards your next small sparkling moments where you can experience well-being and wholeness.