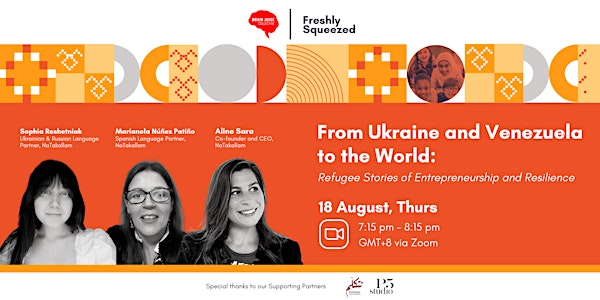 Freshly Squeezed: From Ukraine and Venezuela To The World
Crisis often reveals resilience, creativity and the power of the human spirit.
About this event
Freshly Squeezed is back with a conversation featuring 3 amazing guests from NaTakallam, a refugee-powered language learning platform that continues to amaze us with their brilliant work.
Hear from NaTakallam's Co-founder, Aline Sara; Ukrainian refugee, Sophia Reshetniak and Venezuelan refugee, Marianela Núñez Patiño as they generously share their moving journeys with us:
Aline on her entrepreneurship journey especially through the pandemic and what she has learned from the community of unbeatable refugees she gets to work with.
Sophia on fleeing Ukraine with her younger sister, having to leave her family behind and building a new life as a young educator.
Marienela on having to give up her thriving travel business, being forced to live in hiding while nurturing her love for the environment as an ecologist and passionate recycler.
Come and be part of a very special evening. We look forward to hosting you.